Bitcoin
Bitcoin's rally above $15,000 has reignited debate over whether the cryptocurrency is so-called digital gold or a perilously risky bet as investors grapple with the coronavirus pandemic.
The world's most popular virtual unit has gained over 30 percent in value in almost three weeks up to Friday, taking it close to its December 2017 peak when it reached nearly $20,000.
After a rollercoaster ride on markets since then, it began its latest meteoric rise on October 21, after US online payments provider PayPal announced that it would enable account holders to use cryptocurrency.
"It is the validation of a market which was still relatively uncertain a few years ago," said Simon Polrot, president of Paris-based crypto-assets association ADAN.
Bitcoin was created in 2008 by the pseudonymous Satoshi Nakamoto, and marketed as an alternative to traditional currencies.
Unregulated by any central bank, it was sold as an attractive option for investors with an appetite for the exotic — although criminals have also seen its under-the-radar appeal.
However, after bitcoin surpassed $1,000 for the first time in 2013, it has increasingly attracted the attention of financial institutions.
The more recent arrival of big players in the virtual market, such as PayPal and Mastercard, are "very important signals" solidifying that trend, according to Polrot.
– Millennial appeal PayPal said it would allow users to buy and sell using bitcoin as well as other cryptocurrencies such as Ethereum and Litecoin.
"The migration toward digital payments and digital representations of value continues to accelerate, driven by the Covid-19 pandemic and the increased interest in digital currencies from central banks and consumers," the company said.
The US Federal Reserve and European Central Bank are holding consultations on the possible launch of their own virtual currencies, while China's central bank started experimenting with digital payments in four cities in April.
Investment banking giant JPMorgan Chase has joined industry players in the increasing optimism around bitcoin.
After PayPal's announcement, analysts at the bank compared the cryptocurrency to gold.
"Bitcoin could compete more intensely with gold as an 'alternative' currency over the coming years given that millennials will become over time a more important component of investors' universe," they said.
They noted that the total capitalisation of the cryptocurrency market is 10 times lower than gold, with some speculating it could steadily close that gulf.
That viewpoint represents a significant shift given JPMorgan chief Jamie Dimon described bitcoin as a "fraud" two years ago.
"Crypto could constitute a form of safe haven in a context where confidence in fiat money is a little undermined," said Polrot.
As with gold, bitcoin could benefit as central banks gush out trillions in stimulus support to counter the devastating effects of the Covid-19 pandemic, potentially diluting the value of their currencies.
Both gold and bitcoin are "mined" — virtually, by computer users, in the cryptocurrency's case — and have a finite supply, in contrast to hard cash printed in unlimited amounts by central banks.
Charles Morris, whose company ByteTree specialises in cryptocurrencies, argues bitcoin is "very much a growth asset, behaving like a tech stock".
He noted that like gold, some people in Iran, Venezuela and Turkey have in recent years used cryptocurrency to shield their savings from runaway inflation.
However, others point to the highly volatile and speculative nature of cryptocurrencies.
"There is no room for bitcoin in a serious forex portfolio," said a London trader who asked to remain anonymous, noting the unit had lost a quarter of its value in March alone before resuming its rally more recently.
Source: guardian.ng
Author: By AFP
What is the exchange rate of USD (US Dollar) / CHF (Swiss franc) on Sunday November 8, 2020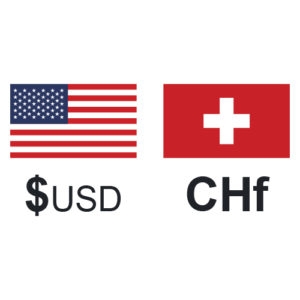 Get the latest mid-market rate for USD (US Dollar) / CHF (Swiss franc) for Sunday November 8, 2020 right here.
The latest rates for USD (US Dollar) / CHF (Swiss franc) are available below. As a leading finance news site the team at Born2Invest collates and analyses the latest Forex Market data to bring you live information to help you make the right forex trading decisions.
Sunday November 8, 2020 1 USD (US Dollar) is worth 0.89989 of CHF (Swiss franc) .
Remember to always trade with a reputable broker. It's also possible to apply forex concepts to cryptocurrency trading.
Forex trading is inherently risky and there are countless forex pairs to choose from. The only way to make a profit from forex trading is to understand how the market works. Luckily for you the Born2Invest forex team has collated some forex trading tips to get you started.
Forex trades are always made using currency pairs. Whenever you buy one currency you are selling another. In every pair there is a base currency, for example USD (US Dollar) and a quote currency, which would be CHF (Swiss franc).
The price of a currency pair represents the amount of quote currency, or CHF (Swiss franc), that you will need to spend in order to purchase a single unit of USD (US Dollar), the base currency. So using the current example you would need to spend 0.89989 of CHF (Swiss franc) in order to purchase 1 USD (US Dollar).
Forex pairs can be broadly separated into three categories; the majors, the commodity currencies, and the cross currencies:
Major currencies are the most traded currencies on the market. Which currencies make the cut will vary, but almost all lists will include EUR/USD, USD/JPY, GBP/USD, and USD/CHF
Commodity currencies are currency pairs where their value is closely tied to a commodity such as oil, coal, or iron ore. Examples include AUD/USD and USD/CAD
Cross currencies are currency pairs which don't include USD. Examples include EUR/GBP and EUR/JPY.
Cryptocurrency trading shares many similarities to forex trading. Specifically the concepts of currency pairs and high price volatility. That being said there are some key differences. Cryptocurrencies don't operate like fiat currency and many are tied to a project or product. The crypto market is also highly unregulated, which makes it inherently risky compared to trading forex.
Additionally most cryptocurrency trades happen on exchanges. These are generally unregulated and come with a certain degree of risk that many investors would find unacceptable. One alternative is to trade using a CFD broker which allows crypto pairings, but this means you will not directly own and cryptocurrency you buy.
Source: born2invest.com
Bitcoin Pulls Back After The Joe Biden Win
It has been quite a week of patience for the US and the entire world in general. Whether the politics made it a bad or good week depends on the view that anyone holds. However, for the Bitcoin (BTC) hodlers, it was a great week.
The price of the flagship crypto is up by over 8.5% in the past seven days. It is now hovering around $15,000 and has spent over 100 days above $10,000. This price action by Bitcoin has had some experts forecasting a new spike. Others are now taking a trip down memory lines and reviewing 2016 for some positive signs.
Back in 2016, it was also a period of pre-election, and stability was followed by a massive rally. The next level of resistance for Bitcoin is $17,000. Will bitcoin reach this level? A lot of that depends on how far it drops first.
The whales are optimistic as election day saw 58,861 BTC moving out of Binance which translates to a staggering $816 million. This movement could be the result of a deal. However, it is also possible that whales are getting ready for a price rally.
Almost $1B also moved away from a Silk Road wallet for the first time since 2015. It could be the result of a hack but time will tell on that issue. On its part, PayPal is optimistic about the future of BTC. The payments firm is increasing its weekly buying limits from $10,000 to $15,000.
The crypto also has a new friend in the United States Senate. Republican Cynthia Lummis won her race to represent Wyoming. She first acquired bitcoin back in 2013 and she believes that the digital currency can become a reliable store of value.
But, it is not only bitcoin that is doing well currently. The underlying bitcoin technology is also on a roll. The Associated Press managed to use a blockchain to publish election results while guaranteeing that these numbers could not be hacked. A member of the Australian Senate, Andrew Bragg, has been relentlessly pushing the blockchain to come as a way of easing financial compliance.
Gibraltar has joined the Global Blockchain Business Council as an observing member. Interestingly, the British Overseas Territory joins over 50 countries on the council, and it plans to promote the use of blockchain across the island.
The local arm of HSBC in Bangladesh has also managed to make the country's first international blockchain trade finance transaction. The involved digital letter of credit took barely 24 hours to process. Without the use of a blockchain, the same process would take five to ten days.
Bitcoin and the underlying blockchain may be on the rise. However, decentralized finance (DeFi) markets are starting to cool off. Ethereum fees are significantly down but Electroneum is awake and active. This cryptocurrency payments network is marking its third anniversary. It aims to expand the use of its ETN coin and also grow its AnyTask gig platform.
Source: www.cryptovibes.com