Indian stock-market indices are likely to open in green on Friday, on the back of positive cues from the global markets. At 7:45 am, the SGX Nifty was down 1% at 8.56 points pointing towards a lower start for Nifty50.
These are the stocks to watch out for during the trading session today:
According to reports, the board of Future Enterprises is likely to discuss the proposal to merge other listed group entities, such as Future Lifestyle, Future Retail, and Future Supply Chain Solutions, with itself on Saturday. After completing the process, Ambani's owned Reliance Industries will be investing ₹8,500 crore in the merged entity by way of additional capital, said the report.
Divi's Lab and SBI Life Insurance
Advertisement
The shares of Divi's Lab ended nearly a percent higher, whereas SBI life Insurance tanked nearly 2% yesterday.
Wipro has set up a blockchain-based gas trading platform for Uniper Global Commodities SE. The platform is built in collaboration with Uniper Global utilises a consortium model for all ssLNG market participants to help transform the trading market space, which will result in significant market efficiencies and cost savings for traders.
The shares of Wipro closed nearly 2% lower yesterday.
Indian Overseas Bank
Advertisement
The shares of IOB closed nearly 5% higher yesterday.
Premier Explosives
The shares of IOB closed over 1% lower yesterday.
Future Enterprises
"The company is unable to service its obligations in respect of the interest on non-convertible debentures (NCDs) due on August 16, 2020, since August 16, 2020 was holiday, interest was due on 17 August 2020," Future Enterprises said in a filing to stock-exchanges.
The shares of Future Enterprises closed over 5% higher yesterday.
Hindalco
Advertisement
The shares of Hindalco closed nearly a percent higher yesterday.
Punjab National Bank, Oil India, Indiabulls Housing Finance, Coffee Day Enterprises, Rossari Biotech
SEE ALSO: India's e-commerce is now even bigger than pre-COVID – smaller cities add to the bounty while metros continue to lead
Source: otcpm24.com
Author: News Bureau
Gold Fractal Predicts the Ethereum-Based LEND Could Double in Months Ahead
Like other crypto assets, LEND underwent a strong correction last week. The cryptocurrency came under pressure due to Bitcoin and Ethereum diving lower as the legacy market slipped. LEND also suffered from a short-term collapse in DeFi, caused by the exit of Chef Nomi from SushiSwap.
Analysts remain optimistic on the cryptocurrency, which is the native token of Aave, for a variety of fundamental and technical reasons.
A fractal analysis first noticed by a leading cryptocurrency trader suggests that LEND will surge over 100% in the months to come.
The fractal suggests that LEND's macro price action looks similar to gold's price action since the abolishment of the gold standard. The comparison suggests that LEND is on the verge of a parabolic growth trend, having consolidated after an initial uptrend.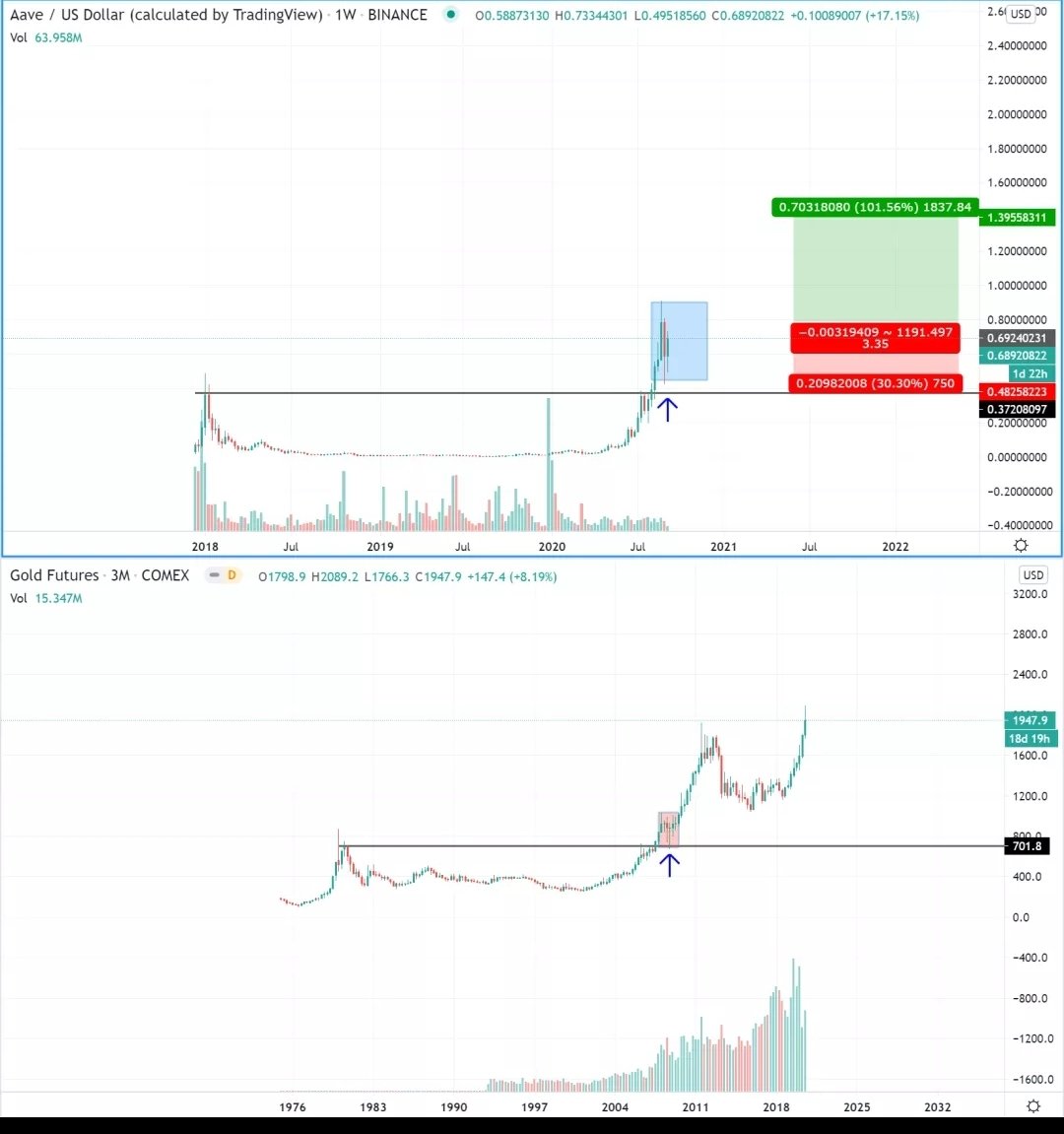 Chart of LEND's price action over the past few years with a fractal analysis/comparison to gold's price action over the past few decades by crypto trader SmartContracter (Twitter handle). Chart from TradingView.com
Top venture capitalists in the industry are optimistic about LEND's potential in the ever-changing DeFi space.
Spencer Noon of DTC Capital argued that the fact Aave has managed to garner over $1 billion worth of value locked in its contracts without liquidity mining schemes is a positive sign for the protocol's product-market fit:
"One of the best signals of PMF in #DeFi is if a project can succeed w/o extra incentives (liquidity mining). @AaveAave doesn't have LM yet it's still one of the biggest beneficiaries of new yield farming activity. At $1.26B TVL and only $759M mcap—the fundamentals are so strong."
This was echoed by Multicoin Capital managing partner Kyle Samani. He said that Aave's product-market fit would mean that if he had to choose one DeFi asset on Ethereum to own for two years, it would be LEND:
"If I had to hold a single Ethereum based DeFi asset for 2 years, it would be $AAVE. By far the best combination of: product/market fit, token distribution, community, pace of innovation, and reasonable valuation with upside to go."
How these long-term trends will affect short-term price action, though, is currently not clear.
Source: www.newsbtc.com
Author: Nick Chong
Crypto exchange Kraken wants to hire an Ethereum evangelist
Cryptocurrency exchange Kraken is seeking an Ethereum specialist to serve as the face of the firm's endeavors in the ecosystem.
According to a job posting, the Lead Ethereum Strategist position would have internal and external responsibilities related to the second-largest cryptocurrency. Externally, the person would be tasked with appearing in media interviews and serving as a thought leader on social media by communicating "the value proposition of the Ethereum ecosystem in an informed and opinionated voice."
Internally, the person would "inform Kraken's Ethereum focus and strategy including how to be positioned with respect to DeFi applications and new token listings."
Whoever ultimately serves in this role would also advise the exchange on product development initiatives.
The listing's posting comes as the market for decentralized finance applications continues to heat up, and today many of these protocols are built on Ethereum. In terms of trading, DeFi coins have grown from roughly 2% of exchange trading volumes to 14% since the beginning of the year.
As for Kraken, the firm has listed a number of DeFi-related tokens recently, including LINK and COMP.
The Ethereum evangelist would join a team known for its bitcoin community thought-leaders. These include Pierre Rochard, who serves as the firm's bitcoin strategist, and Dan Held, Kraken's growth lead.
© 2020 The Block Crypto, Inc. All Rights Reserved. This article is provided for informational purposes only. It is not offered or intended to be used as legal, tax, investment, financial, or other advice.
Source: finance.yahoo.com
Author: Frank Chaparro
Gemini to accept deposits in PAX Gold, Amp and Compound
Crypto exchange Gemini will begin accepting deposits in PAX Gold (PAXG), Amp (AMP) and Compound (COMP) with trading to start Sept. 15.
Gemini will offer US dollar trading pairs for PAXG, AMP, and COMP via its ActiveTrader platform and API connections. The exchange will also offer trading and custody support for 12 cryptos and custody for 13 cryptos.
Gemini co-founder Tyler Winklevoss tweeted the addition of PAXG, COMP and AMP shows the exchange's commitment to DeFi.
The #DeFi revolution is upon us. @Gemini is now accepting deposits for $AMP @amptoken, $PAXG @PaxosStandard, and $COMP @compoundfinance. Trading to begin on 9/15! https://t.co/2Yj2IoxpCY
— Tyler Winklevoss (@tylerwinklevoss) September 11, 2020
Gemini said in its statement that the three assets "expand the range of our platform and further our mission to empower the individual through crypto." The exchange said it worked closely with the New York State Department of Financial Services to gain approval to offer services for new assets.
Many major exchanges have started listing popular DeFi tokens. Coinbase, Houbi, Poloniex, OKEx and Binance have all listed different DeFi projects.
Even as Gemini lists DeFi tokens, Winklevoss is still bullish on Bitcoin. He predicted Bitcoin would reach $500,000.
Source: www.bitcoindoorway.com
Author: by admin
What Da Hey-all is This Fool Thinking? – WATCH the Video! – EURweb
*Have you heard about Ice Cube's "Contract With Black America" campaign? He's been out promoting it to make it part of the conversation in the upcoming presidential election.
Cube says the contract serves as a "blueprint to achieve racial economic justice." He also said in a conversation with TMZ Live that been in contact with both Joe Biden and Donald Trump to outline his demands.
"The end game is to get a candidate to adopt this plan because it's needed for Black America," said Cube as he discussed his contract. Cube says he washed his hands of identity politics. In other words, he's will to vote Trump back into office if he meets his demands before his Presidency is up.
"[Me and Biden's team] talked about a few things," said Cube. "Making sure that a fair amount of government contracts go to Black businesses, and I say Black specifically because the word 'minority' has actually hurt us because every minority usually gets something but us. I really wanna focus on economics. I think economics could fix a lot of these other social problems. They're moving full-speed on dealing with social issues. The same amount of energy needs to go into getting us out of this economic hole that Black people have found themselves in generation after generation. We have to close this wealth gap."
Ice Cube assures that both parties "understand that something big needs to be done."
Check out what he has to say, below.
MORE NEWS: 'Basic Conversation': Snoop Dogg Calmly Lists All The Groups Trump Has Disrespected (Watch)
Voting for nothing makes no sense. They don't just want your vote. They need your vote. pic.twitter.com/FjY0voUVjw
— Ice Cube (@icecube) September 8, 2020
Voting for nothing makes no sense. They don't just want your vote. They need your vote. pic.twitter.com/FjY0voUVjw
— Ice Cube (@icecube) September 8, 2020
Ice Cube also explained the ideas behind the 'Contract with Black America' with Jemele Hill on her podcast.
Source: mobile.eurweb.com
Author: Published 12 hours ago on September 12, 2020
By Fisher Jack