BTT is up 8% in the past 10 hours after a significant price spike.
BCH has been slowly climbing up, outperforming many cryptocurrencies in the past few weeks.
WAVES saw a massive 13% price explosion in the past six hours.
The entire cryptocurrency market had a great week gaining close to $30 billion in market capitalization. Bitcoin and other major coins suffered a slight pullback; however, not all coins had a correction, here are the three top gainers of the past 24 hours.
BTT managed to establish a daily uptrend after setting several higher lows and higher highs. The digital asset gained around $40 million in market capitalization in the past week, and it's now aiming to hit the last daily high at $0.0003 with the help of the uptrend.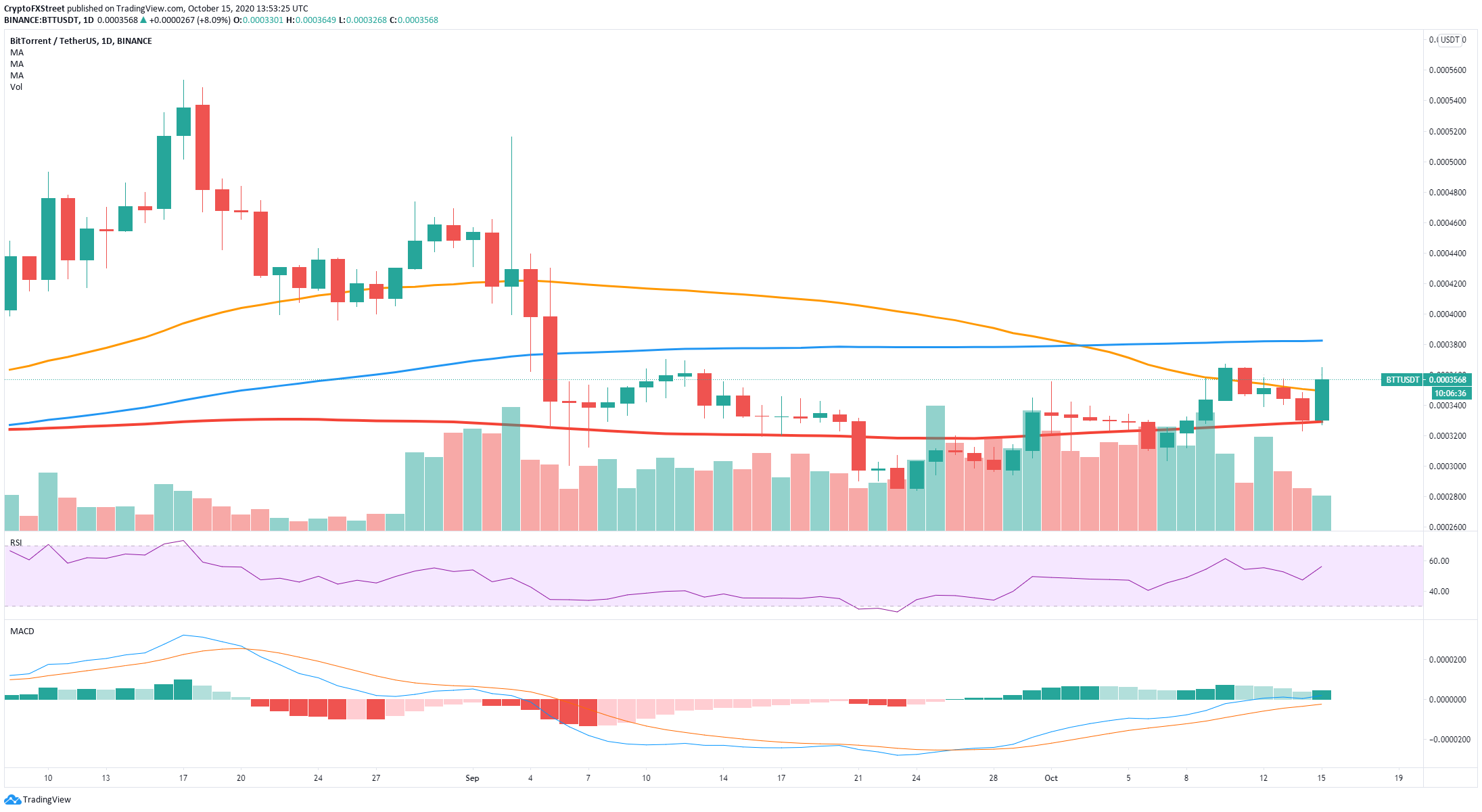 On the daily chart, the bulls have managed to defend a critical support level at $0.00033 in the form of the 200-SMA. The price is currently above the 50-SMA, which bulls are looking to turn into a support level after the close of today's candlestick.
The MACD has remained bullish since September 26, and trading volume has increased a lot since the beginning of September. The next potential price target for bulls would be $0.00038, where the 100-SMA is currently located. The RSI is not overextended and will not stop the price for now.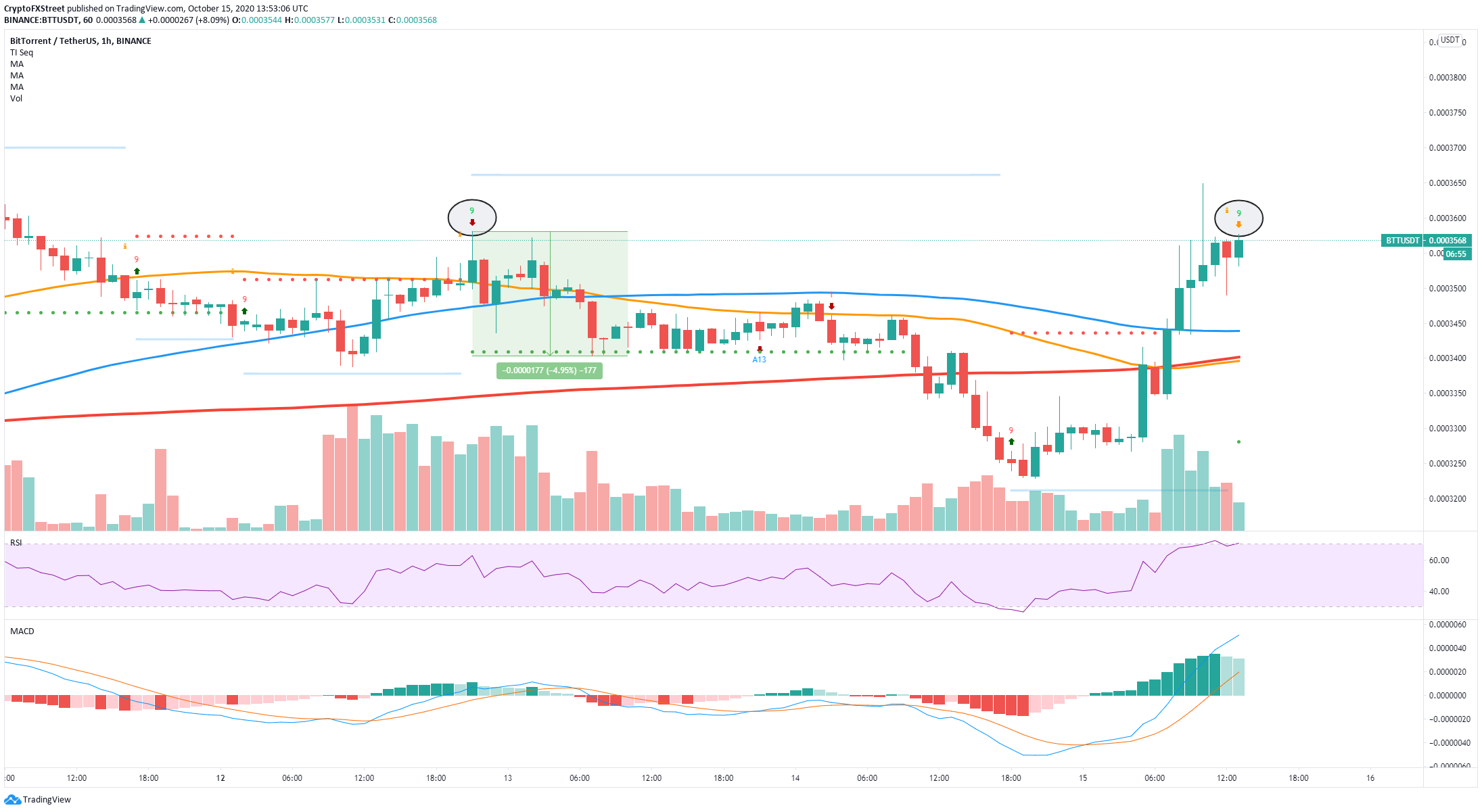 On the other hand, the 1-hour chart is showing bearish signs. The TD sequential indicator has just presented a sell signal. The trading volume is declining despite the past surge, usually an indication that bulls are weak. The last sell signal had a lot of follow-throughs, dropping the price of BTT by 5% within the next 15 hours.
There are several essential price levels for the bears. The nearest support level on the hourly chart is the 100-SMA, located at $0.00034. The 50-SMA and the 200-SMA coincide at $0.00034, which would be the next target price.
BCH has been trading inside a 4-hour uptrend at a slow but steady pace. The price has established several higher lows at $233, $237, $250, and $257 currently and many higher highs. The uptrend is robust, and bulls are looking for more.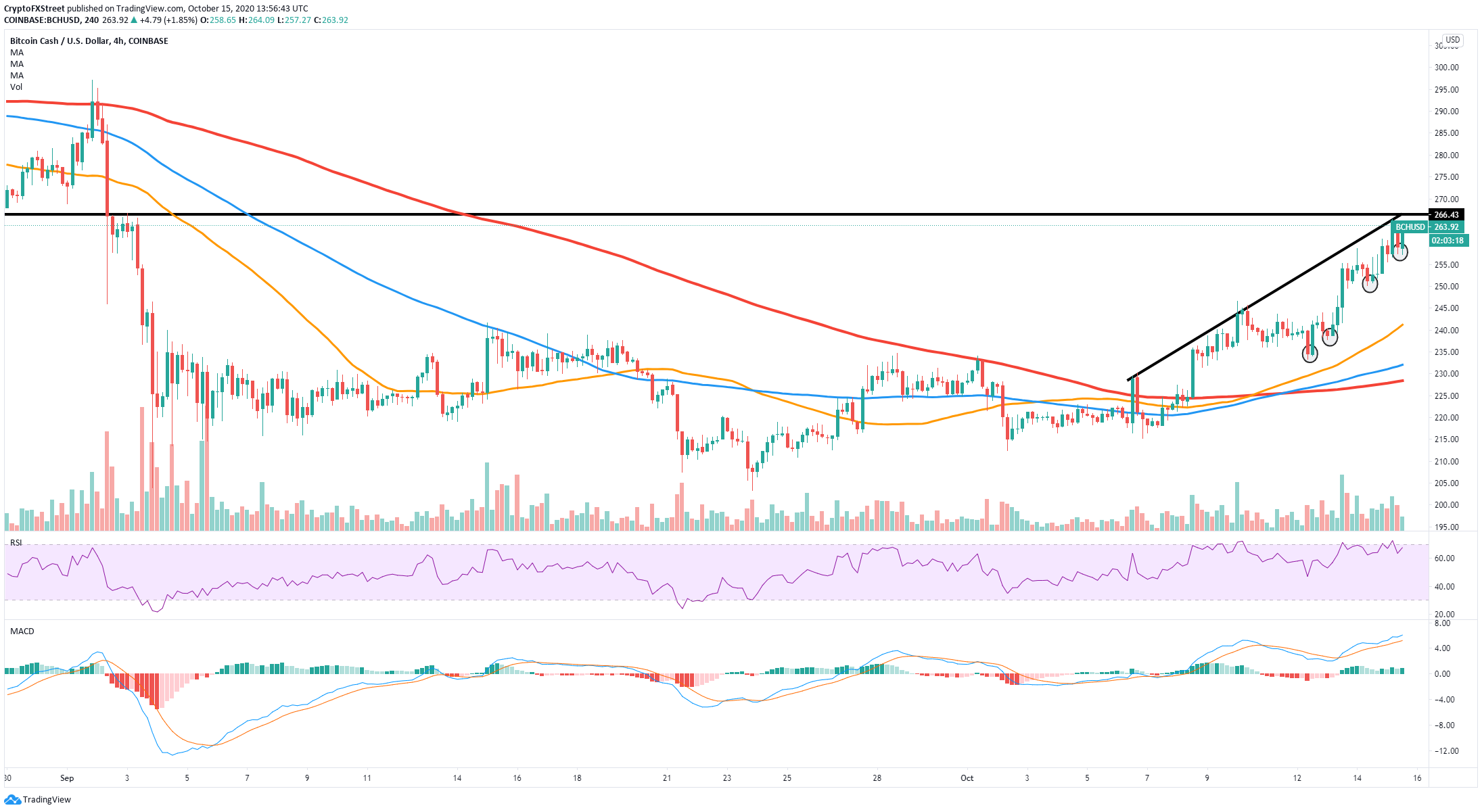 The MACD turned bullish on October 13, and it's not showing signs of weakness just yet. Although it has been extended for some time, the RSI didn't stop the bulls from pushing BCH higher. The next target price is located at $266, a high established on September 3.

The IOMAP chart actually shows that the strongest resistance area is located between $296 and $306, with close to 1 million BCH in volume. This means that a breakout above $266 can easily push BCH towards $298 and $306 in the longer-term.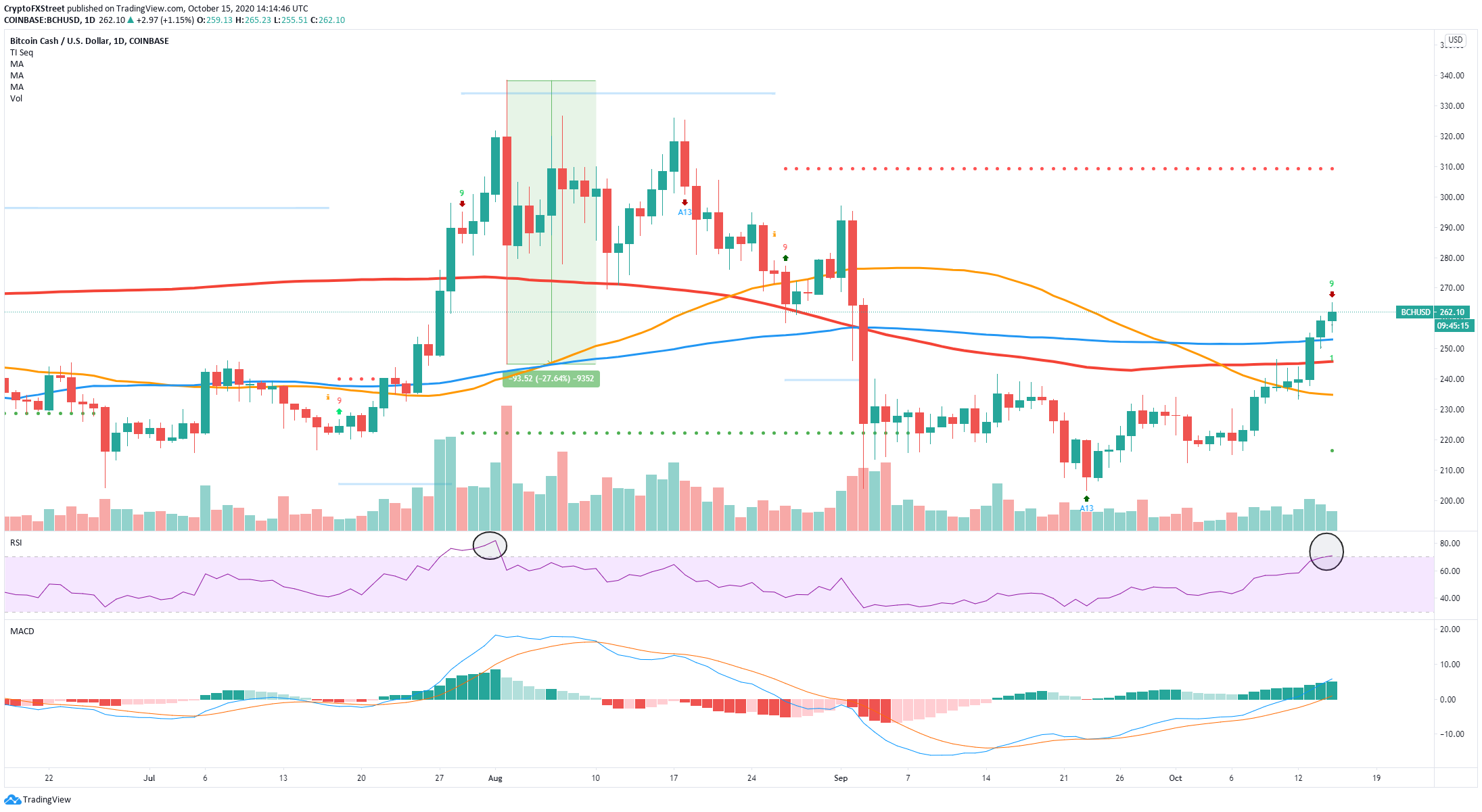 On the daily chart, the TD sequential indicator has presented a sell signal, and the RSI is overextended for the first time since July 2020. The last time the RSI was overbought, the price of BCH eventually had a major 27% crash.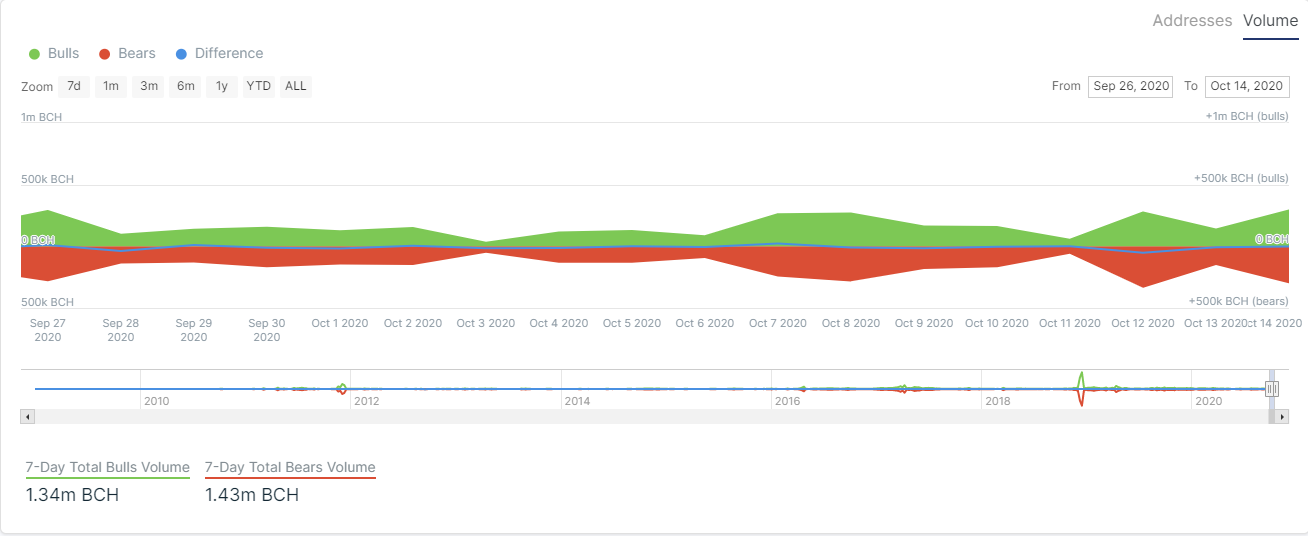 Selling pressure seems to be increasing for BCH as the 'Bulls and Bears' chart shows the bears are in control with a volume of 1.43 million coins in the past seven days as opposed to only 1.34 million for the bulls. At the very least, the digital asset could fall towards $253, where the 100-SMA is currently located on the daily chart.
WAVES had a major price spike in the past 24 hours, climbing from a low of $2.43 to a high of $2.7. In the past week, the digital asset has gained around $40 million in market capitalization, positioning itself as the 56th largest cryptocurrency in the market.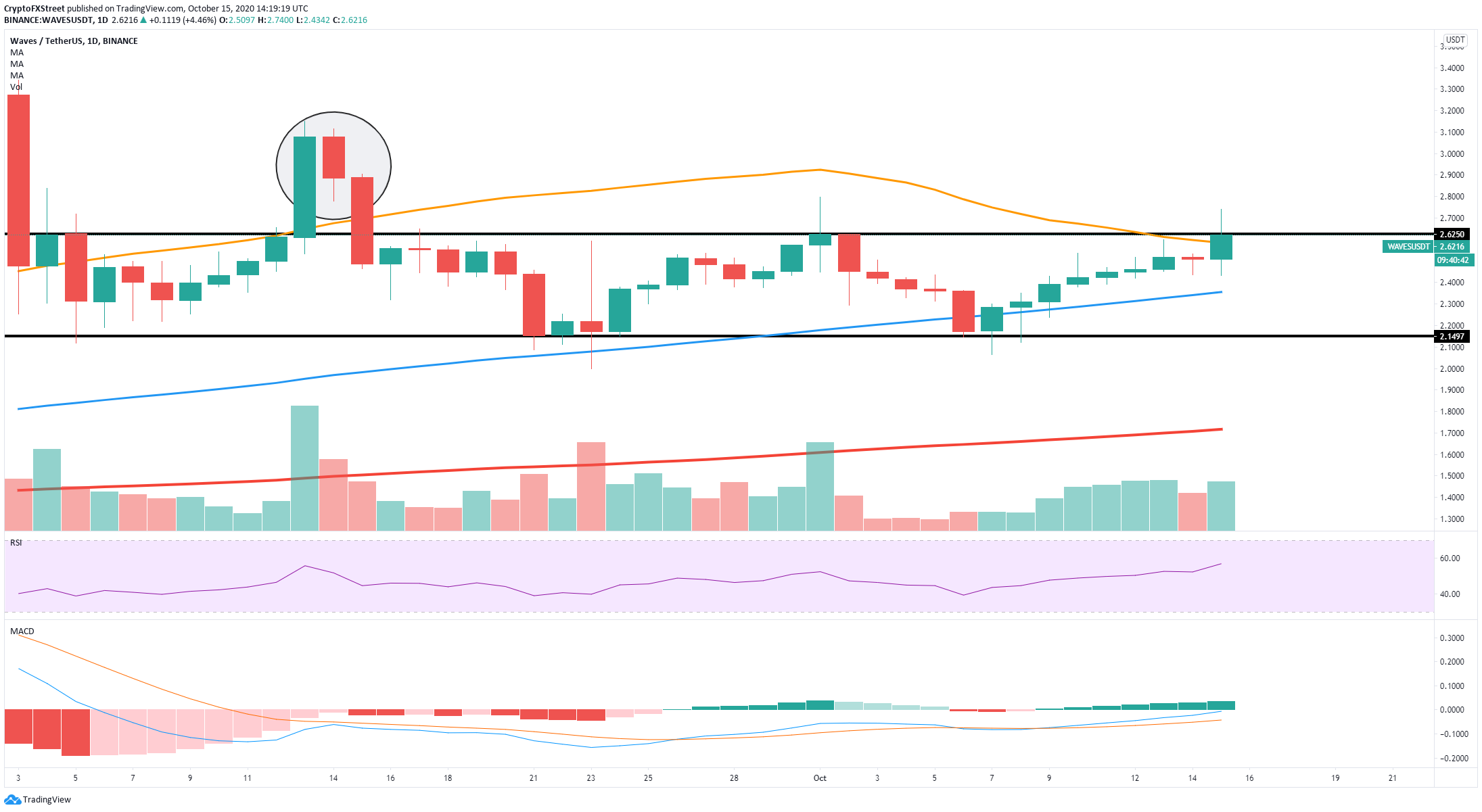 WAVES is trading inside a tight range on the daily chart that only had a crack on September 13. The most significant resistance level is $2.62, a level that has been tested several times in the past month. It also basically coincides with the 100-SMA on the daily chart.
A breakout above both levels would most likely push WAVES up to $3.14, which is the high of September 13 during the first breakout. The MACD turned bullish on October 8, and it's gaining a lot of strength; meanwhile, the RSI is not overextended yet.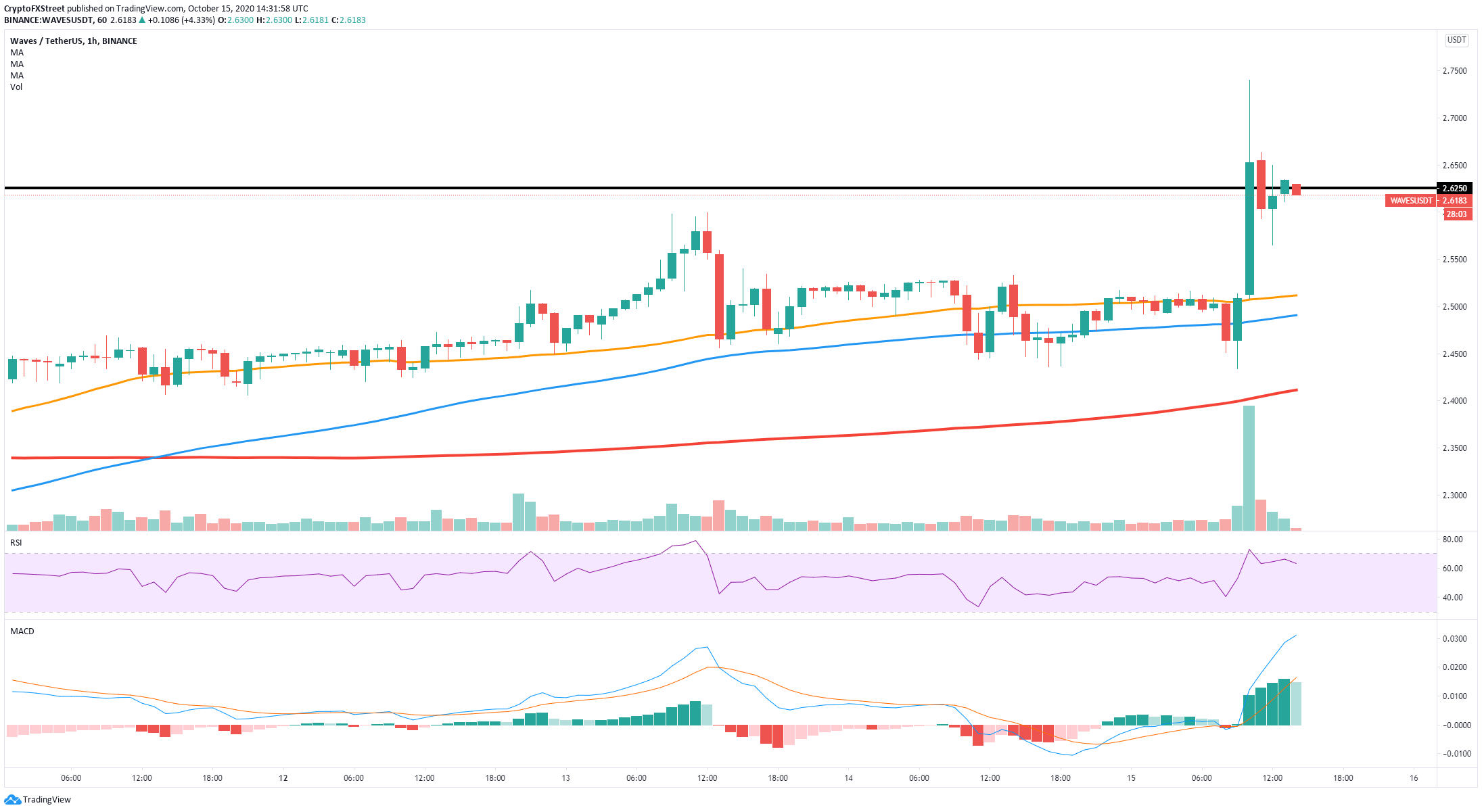 It's important to note that WAVES already attempted to breakout above the crucial $2.62 resistance level and got rejected again. The rejection hasn't been too strong, but it's still a bearish sign in the short-term. The RSI is close to overextension on the hourly chart, which makes it difficult for the bulls to see a definitive breakout above $2.62.
Another rejection from the resistance level could push WAVES down to $2.5, where both the 100-SMA and the 50-SMA are located. The huge spike in trading volume on the breakout had no continuation, another bearish sign. The lowest target price for bears would be $2.4, the 200-SMA.
BTT bulls are looking at the next potential price target at $0.00038, where the 100-SMA is currently located on the daily chart. A bullish breakout for BCH above $266 can quickly push BCH towards $298 and $306 in the longer-term. WAVES bulls need to pay close attention to $2.62. A breakout can drive the price towards $3.14.
On the bearish side, BTT looks at $0.00034, 100-SMA, located on the hourly chart. For BCH, at the very least, it could fall towards $253, where the 100-SMA is currently located on the daily chart. The lowest target price for WAVES bears would be $2.4, the 200-SMA.
Source: www.forexcrunch.com
Author: FX Street
Website
Council Post: Inside The Bonkers World Of Hiring
John M. O'Connor (Career Pro Inc.) is a multi-year career coach, outplacement and career services leader based in North Carolina.
getty
Tyler Fitzgerald: "Anybody can fly plane, now here: I'll check you out. Put your little hands on the wheel there. Now put your feet on the rudder. There. Who says this ol' boy can't fly this ol' plane? Now I'm gonna make us some Old Fashioneds the old-fashioned way, the way dear old Dad used to!"
Benjy Benjamin: "What if something happens?"
Tyler Fitzgerald: "What could happen to an Old Fashioned?"
This is a scene from It's A Mad, Mad, Mad, Mad World, a madcap movie from way back, starring a sheer ton of old comedians and comic actors. It's just not a far cry from today's supposedly super-sophisticated, artificial intelligence- (and I do mean artificially intelligent) based hiring world. It's simply a mad, mad, mad, mad world of hiring today. With more metrics, more systems, more access and tools, it has become a mad, mad world for jobseekers and for hiring authorities and organizations alike. Let me explain the crazy.
The Avalanche Of Applications
In no time in modern history has there been more access to more people who are looking for a job than now. With the advent of LinkedIn, ZipRecruiter, Indeed, Google, corporate websites and the internet in general, a company can ask for résumés and get thousands dropped in their lap in a matter of days, if not hours. Code words from recruiters to candidates today if you ask them if you have a chance at a job? They might say things like "It's a candidate-rich market" or "We have had a strong response." Openings for some popular jobs can be opened and closed in a day or less. The sheer weight of the numbers makes the job difficult for recruiters and candidates to find their needle in the haystack (recruiters) or their possible interview among the throngs (candidates).
The Advent Of Assessments
One of my chief people officer clients worked for a company that uses what they think is a valid assessment test before nearly anybody gets interviewed. The C-suite team of this company created powerful growth by buying at least ten companies in just a couple of years and has not stopped since. My client hired our company to handle her search, saying, "I love the company but I could not breathe. I ate lunch at my desk and I was on 24/7. I need you all to help me navigate the new waters." I asked her about their famously unpopular assessment test used to screen everyone (except some of the leaders!). She said, "Well, I hated it. It weeded out the extraordinary for the ordinary, but they swear by it and will never change." The hiring world's maddening problem? Assessments actually can help hiring or performance but are often not administered in the way they were intended. And they're becoming even more popular.
There's Lots Of Discrimination — With A Little 'D'
Before my dear readers start sharpening their saws for the employment world, talent-acquisition types and the human resources department middlepeople who seem to stand in the way of common-sense hiring, hear me out. Words can have more than one meaning. In general, the word discrimination can mean:
• the unjust or prejudicial treatment of different categories of people or things, especially on the grounds of race, age or sex or
• recognition and understanding of the difference between one thing and another.
I asked one of the top independent recruiters in the Southeast this: "How much do companies discriminate when they are evaluating candidates?" He knew I was referring to the first meaning, the kind of meaning that the U.S. Equal Opportunity Commission and attorneys would be very interested in. He said: "Hardly ever. If anything, the whole diversity and inclusion [D&I] movement's moved the bar over. Most employers are trying to find ways to hire more diverse and inclusive workforces." That's a good thing, right? I think so. He thought so. So the greater good is being served!
Not so fast. He said this and we both laughed: "Now it usually comes down to personal pet peeves and really arbitrary things that may get you bounced [not hired] or included [hired]."
Hiring Pet Peeves Rule Final Decisions
After all the assessments, good-faith D&I efforts of today's conscientious workforce and dripping-with-good-intentions human resources pros, a lot of hiring comes down to goofy, off-the-cuff pet peeves. Here are some reasons final decision-makers or the proverbial hiring managers have used to discriminate against or not hire certain final-round candidates, in no pecking order:
• There was something about him that just didn't sit right with me. I don't know what it is.
• I don't think she would fit well in our culture.
• She seemed kind of awkward on that video call. Did you see that picture behind her? Plus, I am not hiring someone who does their final interview from their bedroom!
• Her answer to that question was way too long. We don't need a long-winded person in this role like our last one.
• Do you think he will dress like that in front of clients? This is a client-facing role. Those colors do not work.
• Did he even answer that question? I thought his eyes were darting all over the place on the video call. That was weird.
• I like dog people. He seems like a cat person. Did you see those cats in the background? We shouldn't hire a cat person, right?
• Didn't you think he had fingernail polish on? That was a little distracting. Did you see that? Hmm.
Gleaned from the frontlines of hiring, I kind of cannot believe that these little distractions, these pet peeves, possibly wrecked today's most vetted and informed, AI-powered, ATS-strengthened final interviews. But they do. The last line of hiring goes back to the old human gut instincts and petty, silly and sometimes-maddening little details. What is old-fashioned is new!
Forbes Coaches Council is an invitation-only community for leading business and career coaches. Do I qualify?
Source: www.forbes.com
Author: John M. O'Connor
Black Women And Breast Cancer: Mary J. Blige EmPOWERs Survival
Nine-time Grammy Award winner, Mary J. Blige, is educating and empowering Black women to get … [+] screened for breast cancer.
"My aunt and Godmother passed away from breast cancer. If they knew that a mammogram could have saved their lives, I believe they would be here today."
For Mary J. Blige, singer-songwriter, actress and philanthropist, breast cancer is deeply personal. It's a major reason why she is using her influential voice to promote breast cancer screening among Black women. October is recognized as Breast Cancer Awareness Month, and the disproportionate impact of the disease among Black women is far from subtle.
According to the American Cancer Society (ACS), about one in three Black women will be diagnosed with cancer (any type) in her lifetime and one in five will die from the disease. Breast cancer mortality, specifically, is 40% higher among Black women versus white women, according to the Centers for Disease Control and Prevention (CDC), despite similar incidence of the disease between both groups.
But the nine-time Grammy award-winner aims to change these numbers and save lives – and she's not alone. Ms. Blige has joined forces with Ms. Linda Goler Blount, MPH, President and CEO of the Black Women's Health Imperative (BWHI), to launch the P.O.W.E.R. of Sure campaign, aimed to address the health disparities impacting Black women including mammography screening rates. It stands for Prevention, Own your health journey, Wellness, Early detection and Results.
Linda Goler Blount, CEO/President, Black Women's Health Imperative, ….
"Black women don't get screening mammograms in large part because their providers don't recommend it," states Ms. Goler Blount. "Since Black women on average get breast cancer 5 to 7 years younger, early screening is critical. There's no biologic reason for these health disparities."
Disparities are all too familiar to Joy Reid. The charismatic MSNBC host who discusses racial disparities, politics, the pandemic and other breaking news on The ReidOut, lost her mother, Philomena Carryl Lomena, to the malignant disease.
"Breast cancer is a beast, and we have to take it seriously if we're going to defeat it," remarks Ms. Reid. "My mother fought it from her 40s until she passed from metastatic breast cancer at age 57. That devastating loss has made me hyper-aware of my health and vigilant about performing self-checks and getting my annual mammogram."
MSNBC Anchor, Joy Reid, lost her mother to breast cancer. "We have to take it seriously if we're … [+] going to to defeat it."
To complicate matters, studies show that Black women can have denser breast tissue than white women. Dense breast tissue shows up white on a mammogram, as do cancer cells, making it difficult for the radiologist to spot a tumor.
"50% of all women have dense breasts so if you're told you have dense breasts, don't panic. It's normal," resports Pooja Voria, MD, MBA, Past President of the Washington State Radiological Society. "The best thing to do is to get your annual screening mammogram and see your doctor once yearly for a breast exam."
When it comes to effective screening tools, mammography remains the gold standard for detecting breast cancer. Hologic, Inc., a medical technology company, has partnered with BWHI to provide 3D mammography at healthcare facilities nationwide in an effort to increase access to screening for Black women.
Dr Hung Wai Ka, a breast surgeon, shows what a 3D image of the breast looks like using tomosynthesis … [+] (3D mammography) .
"A relatively newer type of imaging called tomosynthesis mammography creates 3D-like images," says Dr. Voria, Breast Imaging Co-Section Chief at Radia PS in Seattle. "It improves our ability to see through the tissue and detect smaller cancers. For women who are at higher risk for breast cancer (>20% lifetime risk), the ACS recommends an annual breast MRI as a supplement to annual screening mammography."
Knowledge is power. As a former primary care doctor to homeless women and men, I cared for several female patients with late-stage breast and cervical cancers. Most of which were preventable with early detection using mammography and Pap smears, respectively. "No one ever told me," they'd recall, a cloak of melancholy shrouding their faces. Mary J. Blige knows the feeling of not knowing.
3D mammogram at the Dubin Breast Center at the Tisch Cancer Institute at Mount Sinai Hospital, New … [+] York City.
"Growing up, a little black girl living in the 'hood, no one speaks of a mammogram, no one speaks of anything like this," the multi-platinum recording artist reflected. "It's up to me to help some other teenager out there, not just by my voice but by my example," Ms. Blige declares with conviction.
The R&B superstar wants to empower every young Black girl worldwide. "When it seems like no one believes in you, believe in the power of YOU. You'll be surprised at just how powerful you are and how much you can do just by having confidence in yourself and taking care of yourself. Without your health, you have nothing. Without your mental health, you're not going to do well. I know this because I've LIVED this."
The disparities in breast cancer screening among Black women affects ALL of society, remarks Ms. Goler Blount. "If we simply doubled the screening rate, we're talking 1800 to 2400 black women who don't die from breast cancer. This has an impact on our families, on our communities. Disparities don't arise from biology and genetics, but from structural and systemic bias."
Black women are twice as likely to be diagnosed with aggressive (triple negative) breast cancers. … [+] But early detection using mammography can help.
There's nothing like a pandemic to expose the existing cracks in the U.S. healthcare system. Preventive measures – be it mammography or masks – have never been held as a beacon of pride in the U.S. Education, employment and housing are all part of health. We proudly display multi-billion dollar military aircraft carriers, while public health funding dwindles each year. Yet, disease claims far, far more lives than war. World Wars I and II killed ~520,000 Americans. Cancer alone claimed 600,000 lives in the U.S. in 2017. ONE YEAR. Add in the remaining top-five illnesses by mortality (heart and lung disease, stroke and Alzheimers), based on CDC data, and we've exceeded a million lives lost, in just 2017. Mostly preventable.
I'll give the last word to two remarkable Black women.
Mary J. Blige: "Health is wealth. Love yourself from the inside-out. Don't beat yourself up, don't be ashamed. This is about getting information about your health."
Linda Goler Blount: "I would say, listen to Mary J. Blige."
Source: www.forbes.com
Author: Lipi Roy, MD, MPH