Bitcoin price made another attempt to gain momentum above $13,200 against the US Dollar, but failed. BTC is likely to react to the downside if it continues to struggle near $13,200 and $13,300.
Bitcoin corrected lower below $13,000, but it found support near $12,800.
The price is back above the $13,000 zone and the 100 hourly simple moving average.
There is a key bullish trend line forming with support near $12,880 on the hourly chart of the BTC/USD pair (data feed from Kraken).
The pair must gain strength above $13,200 to continue higher towards $13,500 in the near term.
Bitcoin price failed to stay above the $13,200 zone and started a downside correction. BTC broke the $13,100 and $13,000 levels, but the bulls were able to defend the $12,800 region.
A low is formed near $12,790 and the price is currently rising. It is back above the $13,000 zone and the 100 hourly simple moving average. There was a break above the 50% Fib retracement level of the recent drop from the $13,247 high to $12,790 low.
On the upside, the $13,150 level is an initial hurdle for the bulls. It is close to the 76.4% Fib retracement level of the recent drop from the $13,247 high to $12,790 low. There is also a connecting bearish trend line forming with resistance near $13,200 on the hourly chart of the BTC/USD pair.
Source: BTCUSD on TradingView.com
Bitcoin price must clear the $13,200 resistance and gain momentum to continue higher. The next major resistance on the upside is near the $13,300 level, above which the price might test $13,500.
If bitcoin fails to climb above the trend line and the $13,200 resistance zone, there could be a bearish reaction. An initial support is near the $13,000 zone and the 100 hourly simple moving average.
A downside break below the 100 hourly SMA could lead the price towards the $12,800 support. There is also a key bullish trend line forming with support near $12,880 on the same chart. A clear break below the trend line support could open the doors for a larger decline in the coming sessions.
Technical indicators:
Hourly MACD – The MACD is struggling to gain momentum in the bullish zone.
Hourly RSI (Relative Strength Index) – The RSI for BTC/USD is still above the 50 level, with positive signs.
Major Support Levels – $13,000, followed by $12,800.
Major Resistance Levels – $13,150, $13,200 and $13,500.
Source: cryptocoinfactory.com
Crypto Group Review 2020 – Is it a Scam or a Profitable Trading Robot?
We are reviewing the Crypto Group after receiving tens of requests from our readers across the globe. This trading system has gone viral in the last few weeks.
It has been featured in leading media platforms and has thousands of reviews on review platforms such as TrustPilot. Moreover, it's ranked number 2 on Google Trends in the Bitcoin-related keyword section.
But is Crypto Group legit? Also, is it true that at least 70% of those who trade with it make good profits? You will find answers to all these questions in this review.
90% claimed win-rate
$/£ 250 Min Deposit
Requires less than 15 minutes per day to use
We have done rigorous legitimacy tests on Crypto Group, and it seems legit. This system is not only based on some of the best trading technologies in the industry but has a proven track record.
Amazingly, the majority of people making fortunes with Crypto Group have no prior background in trading. Here is a highlight of the key points to be discussed in this review.
Crypto Group is a reputable brand owned and operated by the Crypto Group Foundation.
It was launched in the UK in 2016 and instantly became popular with bitcoin enthusiasts due to its alleged insane profitability.
Crypto Group System has reportedly contributed a fair share to the number of people who have become millionaires through crypto trading.
This trading robot popularity is also tied to its reputable partner brokers. These brokers offer the best order implementation systems.
Experts are fronting Crypto Group as the tool to use to make money in the covid19-driven bitcoin boom of 2020.
You probably have no idea about automated trading if you are completely new to trading. Do not worry; we will explain the whole concept below. But do not worry if the language is too technical since you do not need to understand everything to trade with Crypto Group System successfully.
Automated trading involves an intelligent computer program conducting the buying and selling of an asset for you. With the advancement of technologies such as Artificial Intelligence, computer programs are proving to be better decision-makers than humans.
This is because they can accurately analyze a lot of data and within a microsecond. It would take an AI program about a millisecond to analyze what a human can analyze in a whole week.
Trading robots analyze data to identify patterns that are likely to repeat in the future and make trading decisions on them. This means that they take market positions that translate into profits when the forecast is realized.
Some trading robots such as the Crypto Group can also trade news. News trading involves scanning the internet for breaking news, determining how they will affect crypto prices, and implementing matching trades. Any political or social-economic piece of news has a degree of impact on asset prices.
As mentioned above, Crypto Group trading decisions are based on data patterns and also emerging news.
The robot analyzes historical data to predict future price patterns. This approach to trading is known as technical analysis. Expert traders agree that a good technical analysis strategy has the potential to generate handsome profits.
As stated above, the Crypto Group uses AI algorithms to analyze big data within milliseconds. This explains the robot's supposed 90% accuracy.
Crypto Group learns to adapt to changing market data through the subset of AI known as Machine Learning (ML). Technical analysis best suits volatility trading through fast-paced trading systems.
Crypto Group System utilizes HFT trading techniques such as scalping to take advantage of small price movements. Also, as mentioned earlier, this robot uses AI to read news and predict their impact on crypto prices direction.
For instance, if the POTUS announces measures that encourage crypto use, the robot reads this news before the markets and buys low to sell high. If a negative announcement such as a law that suppresses crypto use is announced, Crypto Group System sells its crypto holdings.
This cushions the user from falling prices and allows them to buy low. Asset prices are known to momentarily dip and later regain when unfavourable announcements are made.
Trading with the Crypto Group is surprisingly easy, but you must read its trading instructions before going live.
Failure to adjust the trading conditions appropriately can lead to a negative trading outcome. It's worth noting that the Crypto Group System works through reputable robot brokers. All automated trading systems use brokers as a link to the market.
Legit trading systems such as Crypto Group invest in reputable and regulated brokers. And as mentioned earlier, these brokers have powerful systems to prevent slippage.
Click here to go to the Crypto Group website and signup for free. You need to submit your best phone number and email since this is what the robot uses to communicate to users.
New accounts are only approved after confirming the phone number via an SMS and email through a link sent via mail. All users are also assigned a partner broker at this stage. Remember that the broker is the link to the market, and all deposits happen through them.
Fund your Crypto Group account through the partner broker. Most brokers support multiple deposit options, including wire transfer, debit and credit cards, e-wallets, and even bitcoin.
Crypto Group has allegedly agreed with its partners not to charge any non-trading fees. Its partner brokers seem to be adequately regulated, and hence your deposit is safe with them.
The Crypto Group System demo offers users a live trading experience without risking the trading capital. With the demo, you get to try different settings using virtual capital of $10,000.
The outcome of the demo is close to what you should expect in live trading. This is because it uses the same trading technologies and backtests on real historical data.
Market outcomes are cyclical, and hence trading events tend to repeat themselves over time. This explains why trading on a demo that runs on historical data simulates real market events with a 99% accuracy.
You must peruse through the Crypto Group System trading guide and engage their dedicated account manager thoroughly while on this stage.
Shift to live trading only when you are comfortable with the Crypto Group System demo platform.
Remember that all trading is auto and hence no skills are needed to make money with the Crypto Group System. It takes about 15 minutes daily to set up the trading conditions and kick start a live session.
Crypto Group System allows you to automate all activities, including reinvestments and withdrawals. You only have to define the amount and time, and the robot will do the rest for you.
Crypto Group System is trending in 2020 due to several reasons. Firstly, its users have been reviewing positively en-masse on review sites such as TrustPilot.
The reviewers seem to confirm its incredible profitability claims. Secondly, analysts are predicting a massive crypto boom in the coming months. For instance, Robert Kiyosaki has previously predicted that bitcoin will hit $75k in the coming months.
Max Keiser of the Keiser report is also upbeat about bitcoin hitting $100k by next year. BTC has been on an upward trend for the last two months, breaking the $13000 price mark a few days ago. Crypto Group System was one of the most profitable trading robots in the boom of 2016/2017.
Analysts are upbeat that it will perform even better in the coming crypto boom. Thirdly, Crypto Group System is among the few high performing trading bots that are available to the general public for free. The free license may not last for long, and therefore it's prudent that you take advantage and register now.
There is enough evidence that Crypto Group is legit and profitable. This system is not only trending on Google but has great ratings on major publications.
We appreciate your feedback about this platform on the comment section below.
90% claimed win-rate
$/£ 250 Min Deposit
Requires less than 15 minutes per day to use
Yes! We have conducted in-depth checks on Crypto Group System and are satisfied by its reputation and performance.
The minimum balance required is USD250, but you can invest more for a higher return rate. Remember that Crypto Group System trades on high margin and hence invest wisely.
Yes! Crypto Group System is regulated through its high-quality partner brokers. These brokers are rated as tier-one by most review platforms.
Remember, all trading carries risk. Past performance is no guarantee of future results.
Source: insidebitcoins.com
Author: Article Info Author: Michael Last Updated: 26 October 2020
Diamonds Trading Signals Summary – Monday, October 26 2020
How does after spike forex news trading work?​
⋯⋯⋯⋯⋯⋯⋯⋯⋯⋯⋯⋯⋯⋯⋯⋯⋯
If between 10:00:00am and 10:00:30am, so during the first 30 seconds you see USDJPY move up or down by 10 pips or more, then enter in the direction of the initial spike at the very first 40% retracement if it doesn't take more than 90 seconds (till 10:01:30am) – and if spread is at 2 pips or less. Set stop/loss at 10 pips, and set take/profit at 10 pips immediately.
If the move either up or down was less than 10 pips during the first 30 seconds, then the actual number of the report did not generate sufficient interest in the market, and you simply skip the trade.
If by 10:20:00am, so 20 minutes after the report release, neither your stop/loss nor your take/profit points were hit, then close the trade automatically at market price of the time.
Source: www.forexpeacearmy.com
BEST NEW ALTCOINS TO 10X THIS MONTH (Low Cap Gem Coins!)
BEST NEW ALTCOINS TO 10X THIS MONTH (Low Cap Gem Coins!) – Comment Below your favourite coins…
To find out more about the trading competition and kickex, check it our here: https://kickex.com/en/contests/uni-vs-comp?utm_source=youtube&utm_medium=referral&utm_campaign=rockstartrading_unicompcontest_211020
Rockstar Trading Group is the ultamate trading community for trader's to work together to make consistent money from the market. http://therockstartradinggroup.com/ I am available in the group 24/7 around the clock providing market updates, trade signals, answering any questions you may have, mentoring, technical analysis, educational content plus a bonus strategy video series (only available for a short period of time so join now). http://therockstartradinggroup.com/trading-group/#gp Become a Rockstar Trader and star making money today.
Hope you enjoyed the video. If you liked and learnt from it please like this video and share it with your friend and family on Facebook, Twitter, Word of Mouth etc.
Due to high demand and many requests I have decide to create a telegram group where I will be posting daily. Click this link below to join the best cryptocurrency group https://t.me/rockstartrading
If you want the latest Cryptocurrency news, trading tips, trading signals, price predictions, ico and anything Cyrpto related to keep you guys safe in the crazy world of cryptocurrency markets then SUBSCRIBE TO MY CHANNEL NOW!
Coinbase is my preferred company as they are fully insured. They are the safest and most secure option available to us. Use the link below for free $10. https://www.coinbase.com/join/5a2b14e4d14ebd036cf2f485
My preferred exchange for altcoins is BINANCE. There are many exchanges that get hacked and do not have high trading volume, so please do your own research before transferring your money to the exchange. If you would like to join binance here is a link https://www.binance.com/en/register?ref=21383919 Use this link or the code 21383919 to get up to 20% discount in trading fees.
If you have any questions, please comment below.
Disclaimer: Rockstar Trading is not a licensed financial advisor! We have done extensive research and I have been investing and trading for a very long time but still this is not financial advise. We do not promote any ICOs, any stocks or cryptocurrency. Rockstar Trading will never ask for your money; we will never ask to send your money to manage so if someone is asking for money please ignore and report them. Trading is very risky and you can lose more than you invest so please do your research and trade/invest responsibly. Be safe, do your own research and dont invest what you can't afford to lose!
#crypto #trading #bitcoin
Source: cryptolearningvideos.com
Author: by admin
Ethereum Prints Pivotal Bullish Signal as It Holds $390 Region
Ethereum is expected to move much higher in the months ahead as the leading cryptocurrency prints a bullish technical signal.
As the chart shared below shows, ETH recently bounced off the $380-390 horizontal region, which marks a win for bulls. The chart shows that over the past few months and even stretching into 2018, the high-$300s were an important level for Ethereum to hold.
The coin managing to do so now bodes well for the bull case.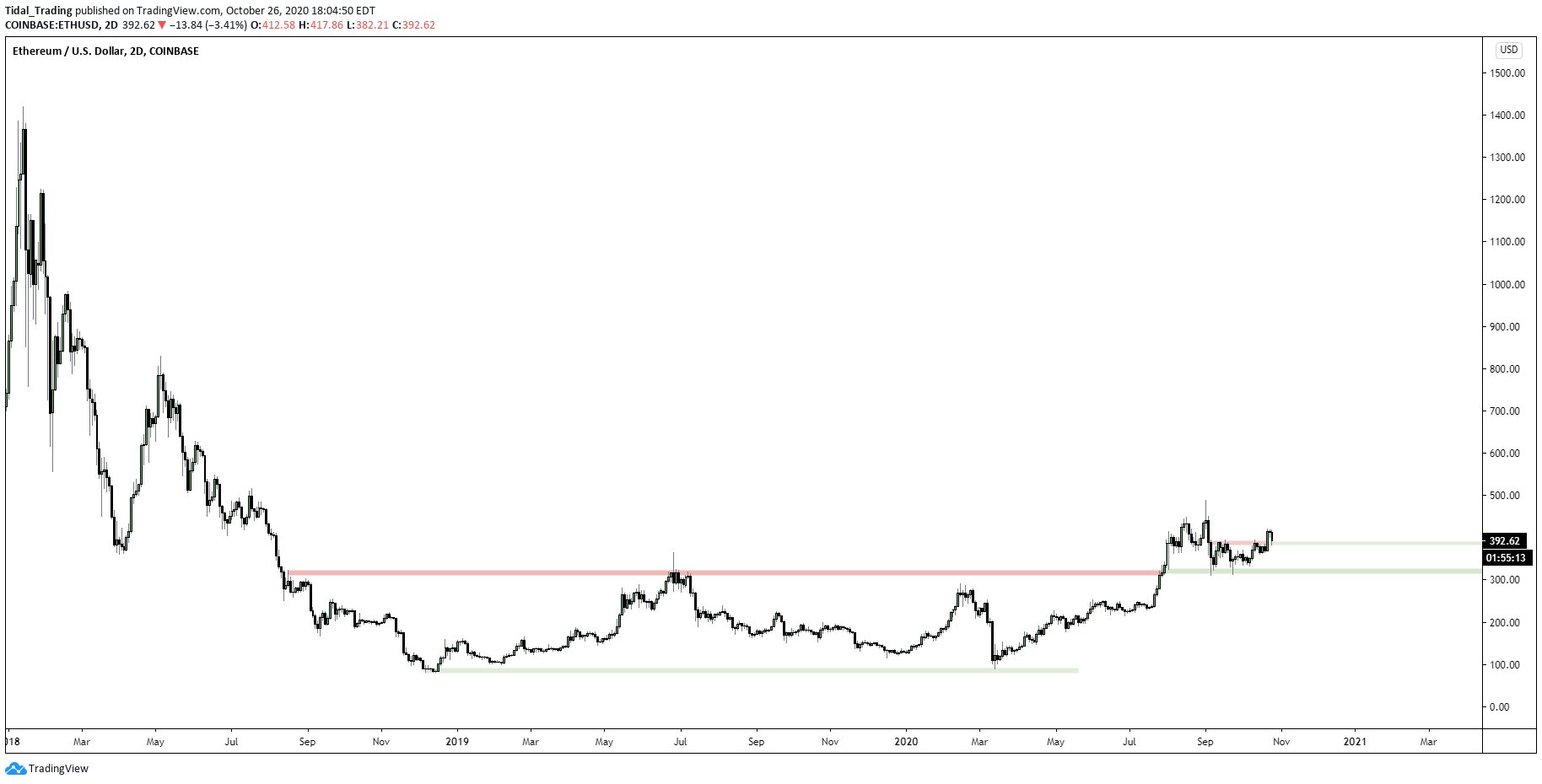 The aforementioned analyst isn't the only one that thinks Ethereum will undergo a strong long-term rally.
Leading Binance futures trader Logan Han shared the chart seen below earlier this month. It shows that Ethereum could see a macro rally towards $800 in the coming months as it undergoes an important bullish breakout from a descending triangle/wedge pattern.
This chart was shared shortly after he pointed out that ETH's price action now looks similar to that seen prior to 2017's exponential rally. That rally took the coin from the $300 region to highs of $1,400 in the span of a month.
Ethereum has long-term value accrual mechanisms that may drive the cryptocurrency higher.
For one, Ethereum Improvement Proposal 1559 is expected to be rolled out in the coming months or year. Analysts see this investment as pivotal for ETH's value accrual mechanism:
"The purpose of EIP 1559, according to Eric Conner, is to provide wallets and users a much needed improvement to the user-experience of gas management. The way that EIP 1559 solves the gas-management problem also improves Ethereum's monetary management system."
Estimates suggest that if EIP-1559 was activated over the past 12 months, nearly one million ETH would have been burned.
ETH's 3 value accrual pillars:
– Trustless SoV


– EIP-1559 (fee burning)

– Staking
Which leads to:
– Trustless economy (DeFi)
– Deflationary ETH
– In-protocol ETH yield
We've only got 1 out of 3 currently but ETH has a market cap of $46bil.
Imagine when ETH has 3/3.
— Anthony Sassano | sassal.eth
(@sassal0x) October 24, 2020
ETH2 is also expected to be activated in the near future. ETH2 will give Ethereum a natural staking premium where those looking to earn yields may buy ETH, then stake it to earn a passive income.
Source: cryptocoinfactory.com
AST/USDT signal on OKEX
WARNING: If you are seeing this signal outside of cryptoqualitysignals.com website, you may be victim of a SCAM. Contact [email protected] if you have any questions about it.
IMPORTANT: The information in this signal is meant for educational purposes only. Please, do not consider it as financial advice. There is no guarantee about the signal information or any results you may get by trading with it.
Source: cryptoqualitysignals.com
Author: cryptoqualitysignals