While US equity markets fell last week due to drops from Big Tech, the European market plodded along and the FTSE All-Share Index rose moderately. Bitcoin and a number of alts remained relatively steady, despite some momentary blips, as Bitcoin very briefly dipped below the $10,000 level last Monday and Tuesday.
Despite the drops we saw throughout last week, we failed to see a close below $10,000, and although the sentiment in the community is clearly not overly bullish, I would say that it remains relatively neutral. That doesn't always make for the most interesting story (and certainly not the punchiest line on which to hook a newsletter), but it does show a certain level of maturity in the sector.
US inflation data on Friday was higher than forecast – both on a month-on-month basis and year-on-year basis. Could this provide more motivation for investors, especially institutional, to add the 'digital gold' to their portfolios or balance sheet reserves?
Despite the discussed sub-$10,000 drops, Bitcoin's on-chain metrics continue to be bullish: the hashrate remains at an all-time high; Glassnode data shows that the percentage of Bitcoin that hasn't moved in over three years is at a two-year high of 30.9%; and Bytetree figures on the Miner's Rolling Inventory, which measures the inventory held by miners, shows that they are hoarding Bitcoin. All these metrics point to an increase in the hodling mentality.
In my view, any sub-$10,000 moves suggest a serious undervaluing of Bitcoin. Any consistent drop below that level could push the bulls to top up their holdings.
Following impressive runs over the summer, many altcoins spent a few weeks retracing slightly as investors took profits. Last week this pattern appeared to reverse, and we are starting to see signs of an upwards move.
One cryptoasset I'm adding to my watch list this week is Tron. Investors who have locked away their TRX to participate in the genesis mining of SUN tokens will be able to withdraw it on September 16th along with their SUN tokens. SUN token is a governance token dedicated to the development of Tron's DeFi (decentralized finance) ecosystem. The larger the amount of TRX, and the longer these are allocated to the genesis mining of the SUN tokens, the more the user will receive and in turn have a higher degree of 'say' for the future of DeFi on Tron.
Wednesday's release date could spark further price rises from TRX, with those that haven't yet participated in the SUN token genesis mining rushing to join for fear of missing out on the issuance.
Despite the fears of a DeFi bubble, perhaps there is much more room to grow?
This is a marketing communication and should not be taken as investment advice, personal recommendation, or an offer of, or solicitation to buy or sell, any financial instruments. This material has been prepared without having regard to any particular investment objectives or financial situation, and has not been prepared in accordance with the legal and regulatory requirements to promote independent research. Any references to past performance of a financial instrument, index or a packaged investment product are not, and should not be taken as a reliable indicator of future results.
All contents within this report are for informational purposes only and does not constitute financial
advice. eToro makes no representation and assumes no liability as to the accuracy or completeness of the content of this publication, which has been prepared utilizing publicly-available information.
Cryptoassets are volatile instruments which can fluctuate widely in a very short timeframe and therefore are not appropriate for all investors. Other than via CFDs, trading cryptoassets is unregulated and therefore is not supervised by any EU regulatory framework. Your capital is at risk.
Source: dailyhodl.com
Siacoin (SC) hackathon from September 15, 2020 through September 30, 2020
Siacoin (SC) focuses on providing an open-source low cost solution for cloud storage.
Sia Tweeted: "The hackathon runs from September 15th to the 30th. We hope that many hackers who submit apps for the primary near prizes might be able to double-up and take advantage of our bounty as well!"
The Hackathon is titled Hack the Rainbow. This is a Cooperative type of project that is Permissionless. This is applicable for beginner level experience. It provides for [1.5 million SC (~$4,800)] – A Near app with a Skynet-based UI.
The prize bounty provides for one grand prize, which is 1,000,000 SC, nearly $3,200 as of this writing. And, two runner up prizes,which is 250,000 SC approximately $800 each. It has been stated that as of this writing, for all participants the prize worth consideration will get 15,000 SC.
Sydney Ifergan, the crypto expert tweeted: "Talent and being competitive are two different things. SiaCoin (SC) Hackathon is a good event for those who are competitive to propel forwards."
The judgment is based on a few factors like a Near app with a Skynet-based UI, applicability of the project, usability by all, potential positive impact on SkyNet and Near Ecosystems, Workability on the Mainnet, greater appeal to wider audience.
The challenge that is given in this Hackathon is to create a next generation app or developer tool built on Near, with a front end UI that is hosted on Skynet.
A previously built "Near app" with the UI moved to Skynet is also acceptable. And, the original team who have made the Near app can complete the migration to Skynet. It is important for the core team to accept the SkyNet App merge request.
As a part of the submission request, it has been stated that the project should be open source. The Skynet should be implemented as a front-end UI for a new or existing Near app, and the app should be doing something useful, interesting, and entertaining. Completed submissions with demo videos are considered to be the best for judgment.
The recommended apps and ideas are Uniswap front end, balancer front-end, balancer instructions for deployment to Skynet, Mooniswap front-end, Mooniswap instructions for deployment to Skynet, Skynet Paste Bin. They also accept apps which are those similar to those in the Skynet App Store. And, also an application which is built on Near, but whose UI is hosted on the SkyNet.
Source: thecurrencyanalytics.com
Author: By
dan saada
Crypto Roundup: September 14th, 2020
Buyers have stepped back into the crypto market and are holding Bitcoin above $10K.
Each time the cryptocurrency has dropped below this level, bargain hunters have leapt into action—aggressively buying and pushing Bitcoin back up. On the chart, this price action is reflected in a series of long wicks around $10K, suggesting strong support.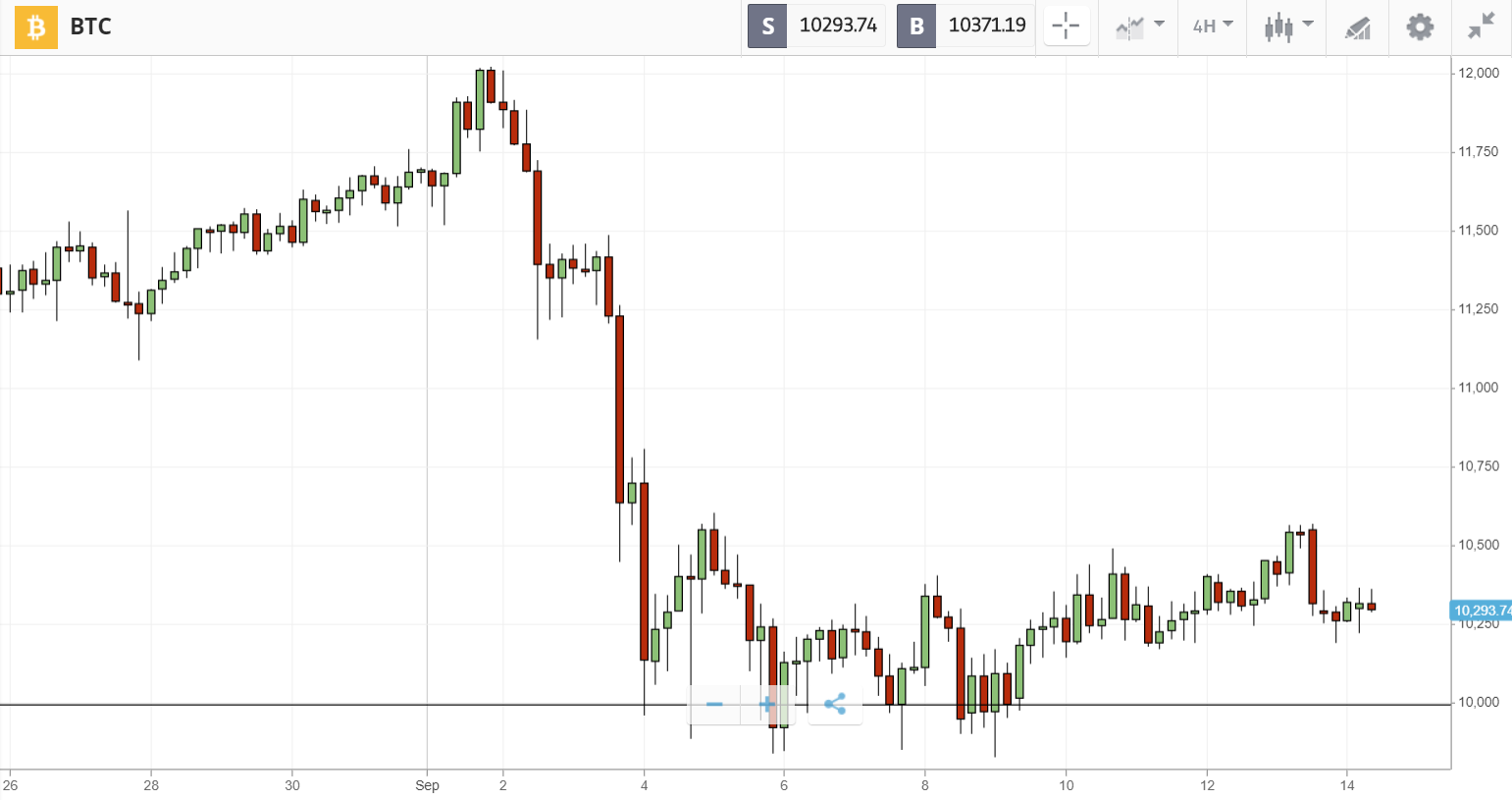 Elsewhere, Ethereum is moving up. The second-largest crypto has outpaced Bitcoin again this week, gaining 4% while the world's largest cryptoasset finishes flat. Even further ahead, small altcoins are winning big, with NEO and BNB making stellar gains on the back of new DeFi products.
This Week's Highlights
Altcoins Flourish on Yield Farming Frenzy
Soaring Hashrate Hints at Higher Prices
The launch of DeFi protocols on smaller blockchains is spurring demand for Ethereum's competitors. These altcoins aim to dethrone the smart contract leader by making yield farming more accessible to the masses with lower fees and faster transactions.
NEO is up 11% this past week, with funds flowing in as DeFi project Flamingo prepares to take flight on September 23rd.
Flamingo will compete with other liquidity swap protocols, including Tron's JustSwap and Binance's BurgerSwap, which are finding mixed fortunes in the market. Tron has sunk 5% over the past week, while Binance Coin has surged over 30%.
As the price of Bitcoin finds support, the hashrate is skyrocketing.
Data from Blockchain.com shows that hashrate is hitting all-time highs, with the seven-day average moving above 135 exahashes per second (EH/s) for the first time ever.
The higher the Bitcoin hashrate, the more mining power that is committed to the network, and the more secure the blockchain becomes. Historically, this increased investment in the network by miners has eventually reflected in higher prices, creating a long-term correlation between hashrate and price.
Presuming the critical $10k level holds, Bitcoin seems bound for further upside.
The ongoing DeFi frenzy continues to drive the broader market upwards, with billions poured into smart contracts over the past week as Tron, Binance, and other players branch out into decentralized finance.
Meanwhile, Bitcoin's safe haven appeal is stronger than ever. Data from Coin Metrics shows that the 30-day correlation between Bitcoin and gold is at record highs, with both assets likely benefiting from weakness in the dollar.
This safe-haven appeal might be bolstered on Wednesday as the Federal Reserve finishes its final meeting before the election. The central bank is widely expected to set new interest rate projections, which could spark volatility across global markets.
Source: otcpm24.com
Author: News Bureau
What is an altcoin and how people are making money with it?
"Altcoin" is a popular term these days, and usually comes along with Bitcoin and/or cryptocurrencies. The concept is very simple: every cryptocurrency that's not Bitcoin (BTC) is considered an altcoin (short for "alternative coin"). So, we can say most cryptocurrencies are altcoins, just because they're not Bitcoin. Easy, right?
Well, not every "coiner" out there thinks the same. Some of them think an altcoin refers to "alternative versions of Bitcoin", alternative digital currencies (decentralized or not) or maybe cryptocurrencies that have their own blockchain and aren't running on any other (like the numerous ERC-20 tokens inside Ethereum).
Thereby, we can say for sure the term doesn't have an "official" or "fixed" definition (Bitcoin either, so, don't worry that much), but is used by the crypto-users as convenient. For example, there's a thing with Bitcoin (BTC) and Bitcoin Cash (BCH). Some BCH adopters firmly believe this currency is the continuation of Bitcoin, so, they refuse to call it just an "altcoin".
Many others prefer the term "altcoin" when talking about BCH because, for them, there's only one Bitcoin and that is BTC. We're free to choose, anyway. The world won't be destroyed if you call "altcoin" to something that others don't considerate as it. The word is merely referential to name the big, big world of cryptos beyond the first one.
"Altcoin" isn't alone to refer to cryptocurrencies. We can call it as well tokens, cryptoassets, digital currencies, and there are even colored coins (not to mention shitcoins too). All of them are synonyms in one or another degree because they share the core feature of being "cryptographic coins", namely, coins built with cryptography.
However, there're some subtle differences we can apply to name properly these coins. According to CoinMarketCap, there're +7.025 in existence to date, and they're different from each other. Maybe they share some systems or purposes, but each one has something unique. That doesn't mean they can't be included in categories, though.
When someone uses the word "altcoin", is usually referring to those cryptocurrencies which have their own blockchain (beyond Bitcoin). For example Litecoin (LTC), Ethereum (ETH), Ripple (XRP), Monero (XMR), or NEM (XEM).
On the other hand, when someone uses the word "token", they're referring to those coins which don't have their own blockchain and works over another chain. They're easy to recognize because, in most cases, you'll need the native cryptocurrency of the main blockchain to pay transaction fees when you use these coins. For example DAI (running over Ethereum), USDT (Ethereum as well), the customized coins you can make in platforms like Counterparty, and, of course, the long list of DeFi coins (mainly from Ethereum).
Now, "digital/virtual currencies" is a term more suited for companies and organizations. If the cryptocurrency isn't decentralized but private, they'll probably call it a "digital currency".
"Cryptoasset" is used around investment circles to allude altcoins and tokens per equal, and "colored coins" is a very specific concept: they're tokens created over an existing unit of another cryptocurrency (like BTC), just by adding some extra information to the protocol. That way, they're marked as "special", representative or collectible.
As much as BTC, the price of altcoins is very volatile. It can go to the moon in no time, and it can crash as well in no time. That's depending on the project and its age. The new altcoins tend to go up and down in short periods, like a roller coaster. That's because they don't have enough liquidity to make a more solid price. Then, they're more prone to pump-and-dump schemes or simply get affected by whales (huge owners).
The crypto-traders out there take advantage of this volatility to make some money from arbitrage and some trading techniques. The first thing they do is investigate very well the cryptocurrency project they're planned to investing in. If it looks like something attractive, either for its price in the short or long term, they start to put some fractions of their portfolio in the coin and wait for the best.
Perhaps they decide to wait till the altcoin goes up to sell their early participation and earn the difference, or maybe they'll wait to buy the dip and re-sell later. Maybe they'll buy and sell every day, or hunt some interesting event (like a new function launch or exchange listing) to start the trading.
This is a risky practice, though. Probably the yield farming with DeFi tokens is even more, but the trading with altcoins may be deceiving as well. You must learn to distinguish between "shitcoins" (useless altcoins and tokens) and projects with real potential or even take advantage of shitcoins to make some money in the short term. It's almost an art, a whole career, and you'll need a lot of study and practice.
Some tips? Don't be greedy. Start slowly and cautious, with little. And never invest something you can't afford to lose.
Source: blog.alfa.cash
Author: Author
Isabel P.
Yearn Finance's YFI Reclaims $40K after Coinbase Listing
Yearn Finance's governance token, YFI, closed above $40,000 during the early trading session on Monday.
The YFI/USD exchange rate established an intraday high at circa $42,425 following a 13.74 percent rally. The strong upside move appeared despite a lackluster bullish trend elsewhere, with top cryptocurrencies Bitcoin and Ethereum trading under the weight of sellers.
YFI too experienced a sell-off near its session top. Traders booked their intraday profits, causing the cryptocurrency to plunge lower by 8.50 percent during the European session. Nevertheless, a support level lurking around $38,990 protected the price from falling anywhere lower.
Yearn Finance is looking to reclaim its all-time high. Source: TradingView.com
YFI/USD reclaimed some of its intraday profits after establishing its session support level. A continuation in uptrend expects to lead the pair towards its all-time high near $44,003, with a primary bullish target lurking near $50,311.
Conversely, breaking below the support level risks sending the price towards $35,070, with an extended downside target at $31,993.
The latest winning round the Yearn Finance market followed YFI's listing on Coinbase Pro.
The US-based crypto exchange announced earlier today that it is now allowing traders to deposit their YFI tokens into its platform. From Tuesday, trading of the DeFi cryptocurrency will commence. Excerpts from their announcement:
"Once a sufficient supply of YFI is established on the platform, trading on our YFI-USD order book will launch in four phases, transfer-only, post-only, limit-only and full trading. If at any point one of the new order books does not meet our assessment for a healthy and orderly market, we may keep the book in one state for a longer period of time or suspend trading as per our Trading Rules."
The news served as a milestone or YFI, a cryptocurrency that had already registered a record-setting bull run–40X price appreciation–since its launch in mid-July. The rally itself came as "yield hunters" picked YFI for its ability to govern a lending aggregator that was returning $700K in profits until late last month.
Traders flocked into the Yearn Finance protocol because YFI was practically worthless at the time of its introduction, thus cheaper to hold. But the token was still backing a profitable business model of picking the best-yielding DeFi pools for users and earning an income out of it.
"Given that most of the participants were already heavily embedded in the DeFi ecosystem, many have shifted their focus to working on Yearn Finance full time," noted Connor Demsey of Messari.
"With an army of incentivized volunteers, yearn.finance is shipping new features like crazy. As with yearn's yield-optimizing smart contracts, all of these new features are value accretive to YFI token holders."
That has made traders ultra-bullish for YFI. And with a Coinbase Pro listing, the bias expects to grow further into the year.
Photo by Jeremy Perkins on Unsplash
Source: www.newsbtc.com
Author: Yashu Gola
MiL.k, Bithumb and Yanolja Unite to Boost Crypto Adoption
The crypto industry is no stranger to strategic partnerships, and to the string of previous alliances, we can now add a new trifecta. In this instance, the accord has been struck by blockchain rewards integration platform MiL.k, South Korea's largest online travel agency Yanolja, and long-established crypto exchange Bithumb.
As part of the new business and marketing partnership, each company will pool resources and share infrastructure to promote their respective services. MiL.k and Yanolja already have a degree of familiarity: since April, Yanolja members have been able to connect the Yanolja app to the MiL.k app, enabling them to earn rewards and participate in MiL.k promotions.
While the existing audience of MiL.k and Bithumb is mostly crypto natives, Yanolja has many non-crypto clients which its partners will hope to onboard. Last year, the booking platform achieved a valuation of $1 billion and has had a banner 2020, with revenue growth of over 70% for the fifth consecutive year.
MiL.k operates in the travel, lifestyle and leisure sectors, and aims to streamline existing mileage and loyalty programs via a native crypto token, Milk Coin (MLK). Within the MiL.k ecosystem, the digital asset can be traded, used to purchase discounted rewards, and even converted into fiat currency via supporting crypto exchanges.
With the global market for loyalty programs expected to hit $201 billion by 2022, MiL.k intends to capitalize by partnering with global service providers such as hotels, airlines and Duty-Free retailers. Recently, the project launched a coupon payment feature for Jin Air, Korea's second-largest low-cost carrier, and a new staking service called MiL.k Pack has also gone live on the app's wallet.
"We are expecting to meet more users through this partnership," said Jayden Jo, CEO of MiL.k. "As a blockchain-based platform, we will try our best to benefit many kinds of users that are either crypto or non-crypto. MiL.k will keep adding more services on its platform app by making more alliance partnerships, and this will be beyond borders."
Prior to the partnership, the MLK token was available for trading on Singapore exchange KuCoin and South Korea platform Upbit. With Bithumb now onboard, the MLK token will be available to an extra eight million registered users. Bithumb and Upbit are South Korea's largest crypto exchanges by daily trade volume.
In a recent AMA, Jayden Jo suggested that MiL.k's token would soon be available to trade in China and that more domestic and international partners would join the ecosystem. "Our vision as a company, and as a project, is to bridge blockchain technology to everyday lives," he explained. "We will do our best to prove the mass adoption of the technology by offering beneficial service to our users."
While the three companies are tight-lipped about the specificities of the agreement, it is likely that MiL.k will be more deeply integrated into Yanolja's core infrastructure, while Bithumb will promote adoption of the cryptocurrency.
Source: www.newsbtc.com
Author: Thomas Delahunty