According to the Kucoin exchange CEO Johnny Lyu, the trading platform has recovered $204 million in crypto assets since October 1. The exchange executive says the hacking suspects have been "found" and the "police are officially involved" in order to take action.
On September 25, 2020, the crypto community found out that the Kucoin exchange was hacked for a great number of assets. Estimates say 1,008 BTC was stolen, along with 14,713 BSV, 26,733 LTC, 9,588,383 XLM, Omni and EOS based tether (USDT) worth $14 million, $153 million of ether and ERC20s, and over 18 million XRP. Following the hack, Kucoin revealed it was working with law enforcement and a number of blockchain projects to remedy the situation.
After a great number of token projects revealed recovering over $130 million from the Kucoin breach, the project developers were condemned for centralization. Further, the blockchain analysis firm Elliptic published a report that said the hacker spent over $17 million on decentralized exchange (dex) platforms. Elliptic noted that all the hacker's swaps on Tokenlon, Uniswap, and the Kyber Network can still be traced. On October 3, 2020, Kucoin exchange CEO Johnny Lyu updated the public in regard to the security incident.
"A quick update since my last live stream on Sep 30," Lyu tweeted. "After a thorough investigation, we have found the suspects of the Kucoin Security Incident with substantial proof at hand. Law enforcement officials and police are officially involved to take action. With great support from our partners in the industry, another $64 million in assets are now out of the control of the suspicious addresses, bringing the total value to $204 million since Oct 1."
The Kucoin CEO added:
Kucoin is coming back to full functionality. My team and I will continue to do our best to offset the impact of the incident. As of now, a total of 31 tokens have opened [for] deposits [and] withdrawal services, and more tokens including BTC, ETH, and USDT will follow.
At the time of publication it is uncertain as to who the "suspects" found are and whether or not they are in custody.
The community responses on Twitter welcomed Lyu's tweet and looked forward to the trading platform opening up deposits and withdrawals again. Lyu also thanked all the exchanges and blockchain projects for helping Kucoin resolve the security incident.
"A big thank you to all the institutions [and] individuals who supported us during this critical time— Together, we will build a stronger crypto world," the Kucoin CEO concluded.
What do you think about the Kucoin CEO's announcement? Let us know what you think in the comments section below.
$204 Million, $64 million, Bitcoin, Blockchain Projects, Breach, BTC, Cryptocurrency Exchange, ERC20s, Hack, Johnny Lyu, KuCoin, Kucoin CEO, Kucoin hack, Law Enforcement, Police, Recovered, security incident, Suspect, Suspects
Purchase Bitcoin without visiting a cryptocurrency exchange. Buy BTC and BCH here.
Disclaimer: This article is for informational purposes only. It is not a direct offer or solicitation of an offer to buy or sell, or a recommendation or endorsement of any products, services, or companies. Bitcoin.com does not provide investment, tax, legal, or accounting advice. Neither the company nor the author is responsible, directly or indirectly, for any damage or loss caused or alleged to be caused by or in connection with the use of or reliance on any content, goods or services mentioned in this article.
Source: news.bitcoin.com
Author: Exchanges by Jamie Redman
Hegic v888 Launch Ushers in Staking and Liquidity Mining Opportunity
Decentralized options platform Hegic today launched its beta mainnet following an audit from Peckshield. The launch marks the beginning of staking lots, allowing users holding 888,000 HEGIC tokens to begin earning lucrative rewards.
Hegic token holders with a balance above 888,000, more than $120,000 at press time, can now stake their holdings in lots. Hegic lot owners will earn 1% in fees on the options users buy to hedger their crypto trades. These owners are also responsible for governing the protocol.
With the v888 launch, users also have access to call and put options for Ethereum (ETH) and Wrapped Bitcoin (wBTC). These two assets are the most popular options contracts on centralized platforms like Deribit.
ETH options volume. Source: Skew
The key difference between market leaders Deribit and Hegic lies in the latter's non-custodial nature. And like many DeFi protocols, fees accrued within Hegic are distributed among agents in the ecosystem, be it lot owners, liquidity providers (LPs), and options holders.
The protocol's LPs and options holders will begin earning tokens as part of v888's liquidity mining opportunity. This marks the second token distribution event, following the IBCO in September.
The protocol will distribute 1,320,000 tokens proportionate to LPs' volume and another 330,000 tokens to options holders. According to marketing materials, this distribution is phase one of a three-phase liquidity mining program ending in 2023.
Before leaping into the beta smart contract, the project's pseudonymous creator, Molly Wintermute, has urged users to practice caution.
Despite Peckshield's security audit, Wintermute tweeted, "a thousand unknown security bugs/hacks vectors can still [be] in place. Use Hegic at [your] own risk!
Disclosure: One or more members of the Crypto Briefing Management team are investors in Hegic.
The information on or accessed through this website is obtained from independent sources we believe to be accurate and reliable, but Decentral Media, Inc. makes no representation or warranty as to the timeliness, completeness, or accuracy of any information on or accessed through this website. Decentral Media, Inc. is not an investment advisor. We do not give personalized investment advice or other financial advice. The information on this website is subject to change without notice. Some or all of the information on this website may become outdated, or it may be or become incomplete or inaccurate. We may, but are not obligated to, update any outdated, incomplete, or inaccurate information.
You should never make an investment decision on an ICO, IEO, or other investment based on the information on this website, and you should never interpret or otherwise rely on any of the information on this website as investment advice. We strongly recommend that you consult a licensed investment advisor or other qualified financial professional if you are seeking investment advice on an ICO, IEO, or other investment. We do not accept compensation in any form for analyzing or reporting on any ICO, IEO, cryptocurrency, currency, tokenized sales, securities, or commodities.
See full terms and conditions.
Source: cryptobriefing.com
Author: by
Liam Kelly
Ledger wallet company passes official security audit
Ledger, a crypto company providing a number of hardware wallet solutions, has obtained a successful System and Organization Controls, or SOC, Type 1 test.
Friedman LLP, a new York accounting firm, conducted a SOC 2 Type 1 test on Ledger, according to the statement:
"By obtaining the SOC 2 Type 1 report, we are now able to provide an additional layer of verified security to our clients, assuring that the Vault solution is secured at all times and that we have the processes in place to ensure availability."
A crypto storage solution for larger players and companies, Ledger Vault operates as a custody wing under the broader Ledger company.
The SOC 2 exam analyzes a company's security by way of an audit, verifying the proper handling of customer information by service-based entities. "As a proof of compliance to the AICPA auditing procedure, SOC 2 Type 1 report shows that a SaaS [software-as-a-service] firm has best practices in place," a blog post from RSI security explained. "It gives potential customers the assurance that a service organization has passed the said auditing procedure, and that their data is safe if they work with the SOC 2-compliant company," the post added.
In contrast, a SOC 2 Type 2 exam raises the bar, testing against more in-depth standards while requiring a longer time horizon for a green light.
During the SOC 2 Type 1 analysis, Friedman investigated Ledger on a number of levels, including its disaster recovery strategy and its security, as well as a host of other technical specifics. "Receiving this attestation is an achievement as it shows our processes and systems are streamlined, documented and overall secure," Ledger's chief technology officer, Charles Guillemet, said in the statement. Next year, the company aims toward securing a SOC 2 Type 2 approval, according to comments in the statement from Ledger CEO Pascal Gauthier.
The exam green light comes after Ledger suffered a database leak several months ago, which exposed customers' information. The popular hardware wallet company fixed the root of the problem following the incident.
Crypto exchange Gemini announced that it had similarly passed its SOC 2 Type 2 test in January 2020.
Subscribe to our groups in Facebook and Telegram and stay up to date.
Source: cryptoconsulting.info
Author: Cryptoconsulting
What is the exchange rate of USD (US Dollar) / HKD (Hong Kong Dollar) on Saturday October 10, 2020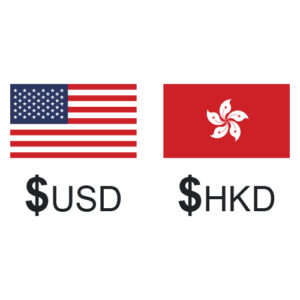 Ready for the mid-market exchange rate of USD (US Dollar) / HKD (Hong Kong Dollar) for Saturday October 10, 2020?
The current rates for USD (US Dollar) / HKD (Hong Kong Dollar) are available in this article. As a top finance news site the Born2Invest team has analysed the latest forex market data to bring you live information that enables you to make the right forex trading call every day.
Saturday October 10, 2020 1 USD (US Dollar) is 7.74998 of HKD (Hong Kong Dollar) .
Remember to always trade using a reputable broker. It's also possible to apply many forex concepts to cryptocurrency trading.
Forex trading is inherently risky and there are countless forex pairs to choose from. The only way to make a profit from forex trading is to understand how the market works. Luckily for you the Born2Invest forex team has collated some forex trading tips to get you started.
Forex trades are always made using currency pairs. Whenever you buy one currency you are selling another. In every pair there is a base currency, for example USD (US Dollar) and a quote currency, which would be HKD (Hong Kong Dollar).
The price of a currency pair represents the amount of quote currency, or HKD (Hong Kong Dollar), that you will need to spend in order to purchase a single unit of USD (US Dollar), the base currency. So using the current example you would need to spend 7.74998 of HKD (Hong Kong Dollar) in order to purchase 1 USD (US Dollar).
Forex pairs can be grouped into three main categories; the majors, the commodity currencies, and the cross currencies:
Major currencies are the most commonly traded currencies on the market. Different publications will use different criteria but pretty much every list will include EUR/USD, USD/JPY, GBP/USD, and USD/CHF
ll Commodity currencies are currency pairs that are closely linked to commodities such as oil, iron ore, and coal. Common examples include AUD/USD and USD/CAD
Cross currencies include all currency pairs that don't include USD. Examples include EUR/GBP and EUR/JPY.
Cryptocurrency trading shares many similarities to forex trading. Specifically the concepts of currency pairs and high price volatility. That being said there are some key differences. Cryptocurrencies don't operate like fiat currency and many are tied to a project or product. The crypto market is also highly unregulated, which makes it inherently risky compared to trading forex.
Additionally most cryptocurrency trades happen on exchanges. These are generally unregulated and come with a certain degree of risk that many investors would find unacceptable. One alternative is to trade using a CFD broker which allows crypto pairings, but this means you will not directly own and cryptocurrency you buy.
Source: born2invest.com