"Moonbeam represents the best of all the learning of Ethereum smart contracts on a super quick secure blockchain built within Polkadot," said KR1 CEO Keld van Schreven
() has invested in the Moonbeam network project, an Ethereum-compatible smart contract platform on the Polkadot network.
As part part in Moonbeam's seed funding round, the digital asset investment company invested a total of US$100,000 in the project and will receive a yet-to-be-determined amount of Glimmer tokens that will power Moonbeam's blockchain.
Moonbeam, which is currently in active development and is expected to reach mainnet by mid-2021, is "a new, powerful, scalable blockchain that makes it easy to build interoperable decentralised applications (dApps) that can integrate and run in parallel with other blockchains, including Ethereum and Bitcoin", KR1 said.
Its compatibility with Ethereum allows developers to deploy existing smart contracts using that digital currency to Moonbeam with minimal changes, while its presence within Polkadot should present benefits from the shared security of Polkadot and integrations with other chains that are connected to Polkadot.
Derek Yoo, CEO of PureStake and founder of Moonbeam, said: "KR1 has a strong track record of investing in Web3 technology that moves the industry forward, from Ethereum and Polkadot's early days to the DAOs and DeFi platforms emerging today."
Keld van Schreven, managing director and co-founder of KR1, added: "We've seen incredible growth in smart contracts on Ethereum and now, with the launch of Moonbeam, we expect to see high growth rates and developer engagement.
"Moonbeam represents the best of all the learning of Ethereum smart contracts on a super quick secure blockchain built within Polkadot. The potential for powerful new types of new DeFi applications and services is really limitless. Derek is an experienced hand steering the ship and we have great faith in him and his team."
Source link
Source: otcpm24.com
Author: News Bureau
Bitcoin rises against USD after Mnuchin promises second stimulus check
October 1, 20200 Comments
Bitcoin (BTC) may see a price boost this week as the U.S. dollar currency index (DXY) weakens and one analyst tells American voters to buy.
Data showed DXY dropping for a fourth day on Oct. 1, as negotiations over a new coronavirus stimulus deal continued in Washington.
DXY and BTC/USD have demonstrated a strong inverse correlation in recent months. Recent DXY gains did not translate into intense selling pressure for Bitcoin, but fresh losses could yet buoy BTC bulls in the long term.
The U-turn in DXY's fortunes comes as the United States Senate attempts to thrash out a new deal on coronavirus aid which could come with a $2.5 trillion price tag.
Speaking to FOX Business on Wednesday, Treasury Secretary Steven Mnuchin confirmed that talks were ongoing, but that any deal would include a fresh round of $1,200 stimulus checks for eligible U.S. citizens.
"The good news is we've reached an agreement that if there is a deal, there are direct payments similar to last time that are in the package," he said.
Mnuchin was speaking a day after a heated debate between President Donald Trump and presidential hopeful Joe Biden.
As tensions flared, popular trader Tone Vays sought to get viewers' attention online by arguing that no matter who takes over control of the White House, money printing, like that which finances stimulus packages, would continue to hurt the dollar.
"No matter who wins they will keep printing so BUY BITCOIN," Vays wrote in a live chat as the debate aired.
U.S. dollar currency index 3-month chart. Source: TradingView
The past days' retreat has meanwhile begun to alter the correlation between DXY and Bitcoin, data reveals.
Compiled by analytics resource Digital Assets Data, a comparison of Bitcoin 90-day returns correlations to DXY, gold, VIX and the S&P 500 shows DXY bottoming out at the end of September.
Bitcoin 90-day returns correlations comparison. Source: Digital Assets Data
By contrast, BTC/USD remains highly correlated with both gold and the S&P 500 into October as the price of Bitcoin recorded its second-best quarter in history, closing the month above $10,600.
As Cointelegraph reported, however, not everyone believes that the situation will last; Bitcoin should soon break away from traditional markets altogether.
Source: cryptobrain.net
Author: by admin
Blockchain & Crypto para Dummies | Explicación Corta
Right here we reply your issue, what is the Securities and Trade Commission, acknowledged as the SEC and what do they do. Explain to us what you feel in the responses underneath and don't ignore….. ✅Enter to Acquire $100 of BCH! 💰💰💰💰💰 🛑🛑🛑💰💰ATTENTION💰💰🛑🛑🛑 YOU Need to Abide by these steps[…]
Bitcoin, Cryptocurrency, Finance & Global News – August 16th 2020 Every week we cover all the latest Bitcoin, Ethereum, cryptocurrency, finance & economics … source
Source: coin4world.com
Author: Thompson Jerry
Bitcoin Sees 3rd Quarterly Close Over $10K, 3 Reasons This Time will Hold
Bitcoin just closed the 3rd quarter of the year with its best-ever performance, marking the third of only three quarterly finishes over $10,000.
All good things come in threes, so here are three reasons why this the third time is the charm, and the cryptocurrency will hold strong above the clearly critical level.
The first-ever cryptocurrency had a tremendous second and third quarter of 2020, after plunging to $3,800 as Q1 came to a close.
At the start of the year, Bitcoin once again flirted with $10,000 and held briefly before pandemic fears spilled over into markets.
The recovery spread across the spring and summer months, but with fall here, that's exactly what investors are hoping markets don't do.
Bitcoin price closed Q3 above the key level of $10,000 – making it only one of three quarterly candles to do so. Neither time before has it been able to hold, but this time around, there are plenty of reasons to hope for the best.
BTCUSD 3M Quarterly Close - One of Three Above $10,000 | Source: TradingView
Continued retests of $10,000 and even a fall below it on daily, weekly, or even monthly timeframes cannot be ruled out, but there are several reasons why when the bell rings on Q4, Bitcoin price will be above $10,000.
For one, Bitcoin's bear market is coming to a conclusion. A pandemic and widespread panic that tanked the stock market could not take the leading cryptocurrency by market cap to a lower low. The higher low could have in fact given bulls the confidence to push this high, and aren't going to let the momentum slip.
Even if some consolidation remains, unless a lower low is set, eventually Bitcoin price will make a new high. And the first step to that was closing the quarter back above $10,000 for the third time. A major support and resistance flip along with a breakout from the "meme" downtrend line from all-time high further add to the positive technical outlook.
DXY Dollar Currency Index Breaking Down On High Timeframes | Source: TradingView
The next major reason for the cryptocurrency rising is due to the dollar's decline. The DXY Dollar Currency Index demonstrates the dollar's weakness since Black Thursday, and things could get worse as inflation begins to spiral out of control. Due to Bitcoin's 21 million BTC supply, the asset is designed to appreciate as the dollar deflates. The dollar's weakness alone could keep Bitcoin above $10,000 for good.
Last, but not least, is if there is any truth behind supply-based theories like the stock-to-flow model, the fact the halving is now in the past should be enough to keep the crypto asset above the crucial zone for now on. If not, proponents of lengthening cycle theories will be proven right, and the crypto asset could be at risk of a selloff by those who aren't prepared to hold longer than the four years they expected.
Featured image from Deposit Photos, Chart from TradingView
Source: www.newsbtc.com
Author: Tony Spilotro
The Top Presidential Debate Takeaways for Investors
So, about Tuesday night …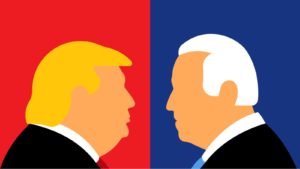 Was the first presidential debate "must see" TV?
Or was it "must NOT see" TV?
I'm sure it was entertaining to some … and extremely frustrating to others. Or, it might have been a mixed bag to everyone. It's difficult — if not impossible — to even name a winner.
Fortunately, as investors we don't need to know who won. We don't even need to know who will win in November to start identifying opportunities.
There is one thing we can be sure our next president will do, no matter if it's Donald Trump or Joe Biden. This is not about my political views or taking sides. It's about making money …
The thing that stood out to me from the debate was that neither candidate provided specific details about his plan for the economy.
That's fine. If there's one thing I do know it's that both would spend … spend … and spend even more while in office.
Trump will continue to allocate trillions of dollars to infrastructure. And if Biden takes over, his grand plan for clean energy will also lead to trillions in spending.
Ultimately, both are positives for the economy over the long term.
However, it could be a bit of a winding road to get there. That inevitable spending increase would lead to more printing of money. And as more dollars make their way into circulation, the value of the greenback drops.
All of that spending in the next administration will come on top of everything done since COVID-19 reared its ugly head earlier this year. Once the economy was shut down, the government stepped in with record financial stimulus — and that's likely to continue for the foreseeable future both in the U.S. and abroad. House Speaker Nancy Pelosi and Treasury Secretary Steve Mnuchin are right now talking about another $2.2 trillion stimulus package.
Plus, the Federal Reserve now says it will keep interest rates near zero through 2023, a whole year longer than initially expected.
All of this combined will lead to several things …
A Lower Dollar: This is good for U.S. exporters and will help boost the economy, specifically manufacturing.
Low Interest Rates: Low rates mean cheap money for companies and individuals. It also leads to low mortgage rates, which will help keep the housing boom going.
Stronger Stocks: Everything I just mentioned is good for stocks. And when combined with the highest level of checkable deposits, savings accounts, and net worth ever — yes, it's true — it will ultimately lead to a strong rebound for the economy and stocks.
A strong economy and stock market are exactly what we want to see as long-term investors. So, while I said I wouldn't share my political opinion with you, I can say this …
There will be opportunities with either a Trump win OR a Biden win.
I'm pulling together my complete election playbook for investors now and will be sharing it with my subscribers in the next few weeks, but I like what I see.
All that massive spending will help the economy and stocks, but as with most things, it's also a double-edged sword. There's one other thing that will come from more spending.
Inflation.
More dollars in the money supply leads to inflation, so smart investors will look for ways to hedge its impact. Cash won't work because returns are pathetic with rates so low. Gold is a popular inflation hedge, and it's done okay this year, up 25%.
But cryptocurrencies like bitcoin and altcoins are better hedges with significantly higher upside potential.
Cryptocurrencies are increasingly popular as a hedge because they cannot be manipulated by governments or anyone else. Many — like bitcoin — even have a fixed supply written into their software code. That makes them a great "store of value" holding.
Software company MicroStrategy (NASDAQ:MSTR), valued at $1.5 billion, recently became the first publicly traded company to move almost all the cash on its balance sheet into bitcoin instead of U.S. dollars. CEO Michael Saylor said the company sees bitcoin as "less risky" than cash or gold, which says a lot.
Now, take a look at the chart below, which shows bitcoin's price appreciation versus the U.S. Dollar Index over the last five years. Bitcoin is up an amazing 4,500% while the dollar has gained less than 2%!

The greenback is not even keeping up with inflation over the last five years, whereas bitcoin has surged.
All of this makes bitcoin and especially altcoins — alternatives to bitcoin — hot commodities right now.
But the story is so much bigger than that. When people wake up to the fact that altcoins aren't fantasy internet money or a wannabe version of bitcoin, there will be an enormous rush into this asset class.
Bitcoin pioneer Charlie Shrem and I call it the "The Awakening," and it will lead to mainstream acceptance of altcoins as a serious investment vehicle.
This awakening is lighting a fuse under the altcoin market — one that I expect will set off a huge explosion of wealth.
On the date of publication, Matthew McCall did not have (either directly or indirectly) any positions in the securities mentioned in this article.
Matthew McCall left Wall Street to actually help investors — by getting them into the world's biggest, most revolutionary trends BEFORE anyone else. Click here to see what Matt has up his sleeve now.
Source: investorplace.com
Author: By
Matt McCall, Editor, MoneyWire