Although the market was shaken as the regulatory hammer struck BitMEX at the start of October, it has since recovered. Bitcoin, the largest asset did notice sudden pressure given the panic in the market, but it managed to hold on and recover in the following days and reach a value of $11,731, which was unseen in a while.
Even when Square announced its investment in Bitcoin, the market absorbed the news and did not act too volatile. This has been a feature that was pointed as an issue by many traditional investors, but over time Bitcoin has gained maturity and along with it, the trust of institutional investors.
Bakkt, CME, LMAX Digital
According to data provider Arcane Research, the Bakkt Bitcoin exchange witnessed another record-high month from September to October. The rise in interest from institutions mainly followed the interest of companies like Microstrategy and Square.
Since the exchange is dedicated to institutional investors in the U.S. the above rise in volume suggested the growing appetite among institutions for BTC.
Arcane highlighted this growth by noting that there were 400 BTC contracts to expire in October on Bakkt. This was an increase of 14% from September. Whereas, the Open interest in Bakkt saw a gradual rise since mid-September. The OI on 15 October was around $18 million, however, it noted a decline of $3 million on 16 October.
Apart from Bakkt, other widely used platform by institutions were LMAX Digital and CME, which also have been noting an increased volume in October. According to Skew, LMAX Digital ranked second in terms of 24-hour BTC spot volume, after Coinbase.
LMAX Digital was however exceeding the daily volume of other prominent retail exchanges like Bitstamp, Kraken, and Gemini. Whereas the CME interest showed a strong upwards trend since the beginning of the month. It has moved from $345 million to $515 million, on 16 October. These were pretty evident indications of a strong demand coming from the institutions for BTC.
Source: cryptotimeless.com
Author: by admin
Industry Continues to React to OKEx Freezing Bitcoin Withdrawals
Yesterday, leading Bitcoin exchange OKEx revealed that it had frozen withdrawals of all cryptocurrencies, from Bitcoin to the altcoins it supports. The firm said one of our private key holders is currently cooperating with a public security bureau."
While the news was notable for Bitcoin on many levels, the price of BTC was relatively resolute in the face of this event. In fact, from the time the news was released to the local lows in the two hours after it was shared, the drop that took place measured 2.5% at its worst.
Many in the space commented that if this was 2017 or 2018, the responding move for Bitcoin would have been 10-20%.
This is a trend that many analysts have noted over recent weeks: negative news has had a decreasingly notable impact on Bitcoin's trajectory.
Many see this as a sign of two things: a maturing market and an underlying bid to the Bitcoin price that is keeping prices aloft. The latter is especially notable as it suggests that once there is positive news, the price of Bitcoin will appreciate even faster than it has. It's worth noting that much of the recent price action is not a byproduct of news events but rather, correlations to legacy markets.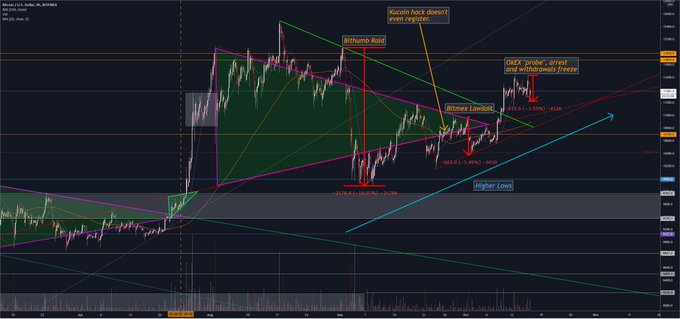 Chart of BTC's price action over the past few months with annotations of notable news events in the crypto space from crypto trader Stillman. Source: BTCUSD from TradingView.com
While OKEx has maintained the story it mentioned previously, there has been much speculation online as to what exactly is going on at the exchange.
Crypto market maker "I Am Nomad" is confused as to what exactly is going on, speculating that not all may be as it seems.
Whatever the case, company CEO Jay Hao says that all funds are secure on the platform. This should be a relief for users that were worried about losing Bitcoin due to this situation.
All operations @OKEx except digital asset/cryptocurrency withdrawals remain unaffected.
All your funds and assets are safe.
The investigation concerns a certain private key holder's personal issue only. Further announcements will be made.
— Jay_OKEX_CEO (@JayHao8) October 16, 2020
Source: icryptodesk.com
Author: admin
Bitcoin will be the BEST INVESTMENT of your LIFETIME…!
If you play this market right, Bitcoin could be the best investment of your lifetime for sure. Fundamentally Bitcoin serves as a hedge against inflation but is also heavily driven by speculation.
👇🏻SUPPORT THE CHANNEL BY USING MY AFFILIATE LINKS BELOW👇🏻
#Bitcoin #Money #Inflation
Source: bitcoindoors.com
Author: by admin