On a dry, windy cape in southern Antarctica, the ground is strewn with dead, mummified penguins. The rocks around them are littered with bones, pebbles and guano stains — the telltale marks of a freshly abandoned Adélie penguin colony.
Scenes like this are common around Antarctica's Ross Sea, which is home to millions of Adélies and other thriving penguin populations. Still, the sight at Cape Irizar puzzled biologist Steve Emslie, a professor at the University of North Carolina, Wilmington, when he visited in January 2016; he knew that Adélie penguins hadn't been spotted there in hundreds of years. Where had the remains of this ghostly colony suddenly materialized from?
Now, in a study published Sept. 18 in the journal Geology, Emslie offers an answer. A radiocarbon analysis of bones, eggshells and mummified skin samples collected at the site reveals that the seemingly fresh penguin remains at Cape Irizar are actually hundreds to thousands of years old. According to Emslie, the site has been occupied by breeding penguin colonies at least three times over the past 5,000 years, but the dessicated evidence of those occupations only just came to light, thanks to increasingly rapid snowmelt during Antarctica's ever-hotter summers.
Related: In photos: The emperor penguin's beautiful and extreme breeding season
"In all the years I've been working in the Antarctic, I've never seen a site like this before," Emslie told Live Science. "Mummies won't last on the surface in this windy area unless they've just been exposed."
Antarctica — and especially the Antarctic Peninsula, on the northern tip of the continent — is one of the fastest-warming regions on Earth. When Emslie visited King George Island, just north of the peninsula, 10 years ago, he was astonished by the melt he saw.
"Just millions and millions of gallons of freshwater pouring into the ocean every day, just from one ice cap," Emslie said. "It's sad what's happening there."
Cape Irizar, deep in southern Antarctica along the frigid Ross Sea, is different. Average temperatures are much colder there, Emslie said, and global warming in the region has been less severe. Within the last decade, however, "streamlets" of meltwater have begun flowing from nearby glaciers, flushing away snow cover and exposing the rocky ground beneath, Emslie said.
That recent melting is what exposed the long-lost Adélie penguin nests, Emslie wrote in his study. During his 2016 trip to the cape, he saw several mummified penguin chicks — withered and preserved by the dry air — sitting plainly on the ground at Cape Irizar. Mummies like these are a common sight at nesting sites in the area, Emslie said, but they don't last long in the windy air before collapsing. The mummies at Cape Irizar looked fresh, as did guano stains (penguin poop) scattered around the area. Nearby, large collections of pebbles had formed mounds — a common Adélie nesting behavior.
"The fresh remains on the surface looked like a modern colony. But no penguins have been recorded breeding there in historic times," Emslie said.
On a subsequent trip, Emslie and his colleagues excavated three of those newly-exposed pebble mounds, revealing dozens of chick bones and other remains. The researchers determined the age of these nests by analyzing the radioactive decay of an isotope, or version, of carbon within seven of those bones, plus a handful of eggshells, feathers and skin samples.
That radiocarbon dating confirmed what Emslie had expected: The seemingly fresh penguin remains were actually ancient, ranging from 800 to 5,000 years old. The samples showed evidence of at least three different penguin "occupations" at the Cape Irizar site, the last one ending nearly a millennium ago.
"The latest occupation was the one on the surface," Emslie said. The remains of this colony were likely "covered by snow and ice, beginning during the Little Ice Age about 800 years ago," before finally being exposed by recent summer melt.
According to Emslie, the past penguin occupations were likely tied to warm periods when nearby "fast ice" — or slabs of sea ice attached to the land — melted early in the summer, opening water access to the cape during Adélie breeding season. Penguins could have simply swam up to the cape and built nests on the beaches, Emslie said.
Today, fast ice around Cape Irizar melts too late in the season to make the area a viable nesting site. But that will probably change in the near future, Emslie said. As fast ice melts earlier each year in response to global warming, penguins will have more and more time to colonize the cape and start their breeding cycles. That's a good thing for the Adélie penguins of southern Antarctica; — but their northern cousins, which are rapidly losing their sea-ice habitats, will not fare so well.
"We talk about climate change 'winners and losers,'" Emslie said, referring to species that will either expand their populations because of climate change (winners) or be pushed toward extinction (losers). "Adélie penguins have the unique position of being both. While we see them declining in the Antarctic Peninsula, they're expanding or staying stable in East Antarctica and the Ross Sea."
The discovery of these ancient colonies is a reminder that penguins have been moving around Antarctica for millennia, Emslie said, migrating from cape to cape as sea ice ebbs and flows. But now, their habitat is changing more rapidly than ever before.
As warming escalates, the millions of penguins living in the northern Antarctic Peninsula may disappear in the next 20 years, he said, and Cape Irizar may once again become prime penguin property. Digging deeper into the cape and studying more remains of the ancient colonies that once lived there could provide a better clue of what's in store for the Adélies.
Originally published on Live Science.
Source: elexonic.com
Author: by elexonic
How Can You Spot That Your Crypto Exchange Is About to Scam You?
Cryptocurrency scams have reached new heights this year. With desperation in the air, people are looking to make a quick buck. However, they often fall into these cryptocurrencies and forex trading scams. While it is not new, cryptocurrency is also a fairly mysterious investment field. Many people have been trying to get in during this year and lots of shady exchanges are popping up. So, before making a crypto exchange or forex trade, be on the lookout for these signs.
Many people are scammed because of them being greedy or desperate. Bitcoin and forex scammers know this and target greed and desperation. They offer you very low risk and high return options. For example, a company named Plexcoin promised investors 1300 percent in monthly returns. If someone ever promises you to make a low investment and receive high returns, shut it down. You are probably dealing with a multi-level marketing scammer. They use fake bitcoin and forex accounts and scam millions of unsuspecting victims.
If an exchange company or individual approaches you with sweet promises of riches, watch out. Do your research well before committing any funds. Cryptocurrency success is widely based on developers. Don't believe the information given to you just because you see big professional names on a site. Scammers use fake profiles or websites that cannot be traced. Verify profiles by checking if their activity matches up with their followers and success rate.
Some of the scams coming up of late are orchestrated by professionals. watch how they respond when you call or email them. Are they pushy, rude, dodgy, and mean with information? If the sites have no 'https' in the address, that is a no-go zone.
Blockchain analytics recently launched a scam alert platform that helps you to identify sites that have been reported for scamming. We recommend using this platform to see if other people flag them as scammers.
Signal sellers are retail firms that pool their assets for a daily or monthly fee. They claim to identify the best time to buy or sell currencies based on their collective professional information. They promise quick wealth and they come with multiple testimonials. You hand over a certain amount of money for the privilege of trade secrets. Sure, some of them recommend a good trade now and then, but the money that they take from people is more than they give back.
Modern-day scammers have come up with algorithms that generate automatic trades. The system is called a robot trader because it trades automatically even when nobody is there to regulate it. Such systems prey on beginners and rookies who have no idea what they are doing in the forex field.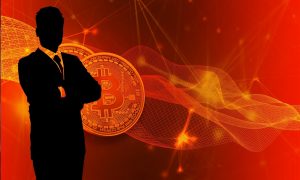 We live in the influencer age. Celebrities talk about products and just like that masses flock the shops and websites to purchase the said items. Two scammers from CentraTech used endorsements from Floyd Mayweather and DJ Khaled in a major ICO scam that raised over $32 million.
Twitter's stock received a major blow when hackers used big celebrity names to mint money off unsuspecting twitter users. They orchestrated the biggest bitcoin scam of all time. High profile accounts including those of former president Barack Obama, Jeff Bezos, Elon Musk, and Bill Gates were used to scam people into sending bitcoin to a certain address.
The bottom line, you need to do all rounded research before parting with your money.
Source: cryptoexchangers.com
UK FCA Derivatives Ban Signals Disapproval of Crypto
Besides ETN, FCA also banned other derivatives such as crypto futures, options, and CFDs for being 'ill-suited for retail consumers'.
A UK cryptocurrency exchange-traded notes provider CoinShares has reacted to Tuesday's definitive cryptocurrency derivatives ban that United Kingdom Financial Conduct Authority imposed.
CoinShares head of product Townsend Lansing expressed his disappointment about the FCA's decision in an interview with Cointelegraph, saying:
"We are extremely disappointed by the FCA's decision to include delta 1 ETNs in its ban on distribution of crypto derivatives to retail investors in the UK. We and many other industry participants put forward a number of reasons why such a ban would be ill-advised and would not benefit retail investors. Unfortunately, the FCA ignored those reasons, or dismissed them with little additional information."
According to the executive at CoinShares – a company known for cryptocurrency exchange-traded notes (ETNs) provision – the firm was one of the organizations that were hit hardest following the decision.
ETNs differ from exchange-traded funds in that there is no underlying asset ownership but are a means through which the returns of a particular index can be tracked. Therefore, the difference between ETN underlying index return and its initial purchase price is rewarded to the holders as soon as they mature.
From the regulator's point of view, the derivative nature of crypto products like ETNs poses risks as they are able to open leveraged positions that are highly risky. Lassing, on the other hand, said that CoinShares ETNs track the underlying prices one-to-one as they are "delta 1x" or completely unleveraged.
Besides ETN, FCA also banned other derivatives such as crypto futures, options, and CFDs for being 'ill-suited for retail consumers.' However, direct crypto trading – which often features milder leverage amplification – will remain open to retail investors as it is not affected by the ban.
The FCA stated that they are incredibly volatile, subject to abuse, and financial crimes since they lack a reliable valuation basis. Furthermore, the regulator added that retail investors have no "legitimate investment need" for the derivatives, and retail consumers do not adequately understand crypto-assets.
As a measure to save retail consumers from presumably trading losses amounting to almost $62.5 million, the ban is anticipated to take effect on Jan. 6, 2021.
The ban will likely produce an opposite effect, according to Lassing, since it will push UK retail investors to unregulated crypto exchanges – that offer far less protection compared to those that the regulated ETNs offered CoinShares and other providers offer.
CoinCorner crypto exchange CEO and Co-Founder Danny Scott supports the FCA bans. He said that the regulator has a pro stance approach with [crypto] assets but is just against products that an average person doesn't understand.
However, Lassing disagreed with those regulator's efforts, stating that FCA believes digital assets are fundamentally unsuitable for investment, as highlighted in their draft rules and initial consultation. He doesn't understand why the FCA's retail crypto trading ban included the seemingly lower risk profile ETNs. The agency could have otherwise opted for more mild restrictions to derivatives trading, like limiting maximum leverage.
For other cryptocurrency news, please, follow the link.
Altcoin News, Bitcoin News, Cryptocurrency news, News
Source: crytonow.com
Author: adminhttps://crytonow.com
ACT/BTC signal on HUOBI
WARNING: If you are seeing this signal outside of cryptoqualitysignals.com website, you may be victim of a SCAM. Contact [email protected] if you have any questions about it.
IMPORTANT: The information in this signal is meant for educational purposes only. Please, do not consider it as financial advice. There is no guarantee about the signal information or any results you may get by trading with it.
Source: cryptoqualitysignals.com
Author: cryptoqualitysignals
Analyst Who Predicted Yearn.finance (YFI) Drop to $14k Thinks $12k Is Next
It's been a tough past few weeks for the DeFi market, especially for coins like Yearn.finance's YFI token and the Curve DAO Token. Since setting its all-time high price of $44,000, YFI has corrected by 70%, falling as low as $14,000 earlier today.
An analyst that predicted the latest leg of the correction fears that the Ethereum-based crypto asset is primed to move even lower.
The market seems to be bullish, though, with the YFI futures markets of Binance, FTX, and other exchanges operating on positive funding rates.
After predicting the latest leg of the ongoing YFI prediction to $14,000, a trader asserted that the cryptocurrency is on its way to $12,000. As can be seen in the chart he shared below, YFI falling to $14,000 brings it under an important support level that is suggestive of a further decline to $12,000. The cryptocurrency dropping to $12,000 from current levels will mean it will need to correct 18%.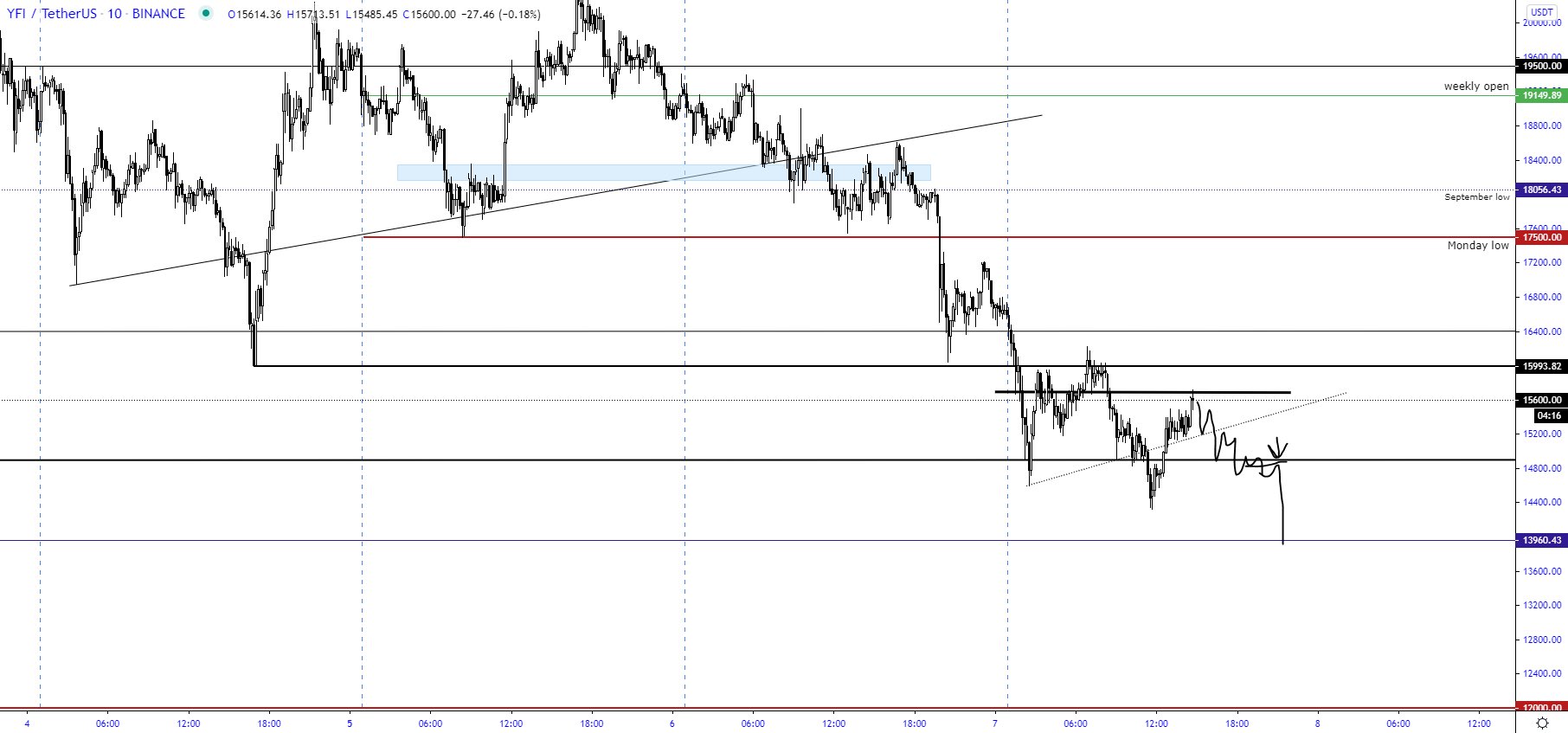 Chart of Yearn.finance's price action over the past four days with analysis by crypto trader TraderSZ (@Trader1sz on Twitter). Chart from TradingView.com
Despite the clear loss of momentum in the price of YFI, analysts remain more optimistic than ever about the project.
Andrew Kang, the founder of Mechanism Capital, recently noted that those that think Yearn.finance is now a valueless project due to declining yields are "missing the forest for the tree. He highlighted that the project's developers have a series of strategies to roll out that will allow it to generate relative value over other DeFi platforms.
"The argument that YFI / Yearn value is dependant on crazy yields is missing the forest for the trees. Yield opportunities continue to grow Future strategies: – 10x-100x leveraged short DAI – Basis/Funding trades – UNI Farming – BAL Farming – L1/L2 Liquidity Bridging – etc."
The argument that YFI / Yearn value is dependant on crazy yields is missing the forest for the trees.
Yield opportunities continue to grow
Future strategies:
– 10x-100x leveraged short DAI
– Basis/Funding trades
– UNI Farming
– BAL Farming
– L1/L2 Liquidity Bridging
– etc
— Andrew Kang (@Rewkang) October 4, 2020
This is just Yearn.finance's longer-term outlook. On a short-term basis, Yearn.finance developers have begun the development process for "v2 Vaults." These new Vaults purportedly will be much more scalable and profitable than the previous iterations.
The launch of Vaults should allow more value to be put in the hands of YFI holders. This should entice investment in the cryptocurrency despite it already dropping over 65% from its all-time high set just weeks ago.
Source: icryptodesk.com
Author: admin
Bitcoin Forms Rare Bullish Crossover Not Seen Since 2014 – Here's Why Analysts Are Preparing for a Big Move
Despite the uncertainty surrounding Bitcoin, the number one cryptocurrency just flashed a bullish signal that has not been seen in six years.
Crypto analyst Eric Thies is highlighting a trend indicator known as the KDJ, which has made a bullish cross on the six-month timeframe for the first time since 2014.
"BTCUSD Notes on this crazy high TF but I'll gladly give hopium when I see it 6M KDJ crossed bullish when it closed in July, confirming an unmistakably bullish 6M hammer at the same time. Last time KDJ crossed bull was 2014 with a $200 BTC low. Last cross bear at $17k high."
The KDJ indicator is an extension of the stochastic oscillator which is used by traders to predict changes in an asset's trend. The most recent KDJ cross suggests that BTC's trend in the long-term perspective is shifting from bearish to bullish.
Although Bitcoin may look bullish in the long-term timeframe, traders remain unsure of its fate in the short term. Pseudonymous crypto strategist and trader Smart Contracter tells his 64,000 followers that Bitcoin is about to make a move as the king crypto approaches the apex of a triangle.
"BTC looking average again and likely in some kind of triangle here, not sure which way it breaks but I will be watching the break and retest to trade whatever way that may be."
Smart Contracter is not the only trader who sees that BTC is about to make a major decision soon. Widely-followed crypto strategist Josh Rager tells his crew of 88,000 that the number one cryptocurrency looks primed to end its consolidation within the week.
"BTC Volatility building up. Compression continues for Bitcoin with a potential break coming this week. If Bitcoin can't break above the zone above ($10,900 to $11,150) on the next impulsive move, then Bitcoin likely continues to the downside sub $10,000, in my opinion."
While other traders wait for more clarity, trader IncomeSharks is already predicting that Bitcoin will stage a bull trap before plunging all the way down to $9,500.
"Expecting further chop until a fake breakout and drop. Lows of $9,500 to $9,600. Staggering bids at those dotted blue lines."
Meanwhile, closely-followed analyst Credible Crypto is still bullish on BTC as long as it holds immediate support at $10,400.
"Bear try to make number go down. But number go up. BTC"
Source: dailyhodl.com