Good morning traders,
Prices for the precious metal, GOLD, closed at 1,865.19, after placing a high of 1,884.47, and a low of 1,856.36. GOLD prices fell about 1.1% on Wednesday, due to the stronger US dollar and the optimism surrounding the potential COVID-19 vaccine, which has raised hopes for a quick economic rebound, ultimately driving investors towards riskier assets.
The strong equities and the strong US dollar and US Treasury yields made it hard for GOLD to continue to rally, and the yellow metal started to fell on Wednesday. The coronavirus vaccine news removed last week's flight to the safety of the precious metal, after the US election, and weighed on the GOLD prices.
The US dollar index rose by about 0.3% to a one-week high, making the GOLD prices weak on Wednesday. The chances of an effective coronavirus vaccine overshadowed the worries over rising numbers of COVID-19 infections, and increased the risk sentiment, putting further pressure on the safe-haven metal, GOLD, on Wednesday.
However, the vaccine breakthrough raises many challenges, including the distribution of hundreds of millions of vaccine doses once they become available. These challenges kept the losses in GOLD prices limited on Wednesday. Some analysts believe that the longer-term prospects for GOLD are still bullish, as the road to recovery for the global economy will be long. Further support from governments and central banks will also be needed, which will help GOLD move higher ultimately. The Federal Reserve once again highlighted the need for more targeted fiscal support from the government on Tuesday.
GOLD prices have gained about 22% this year, on the back of stimulus measures delivered by central banks, as GOLD is widely viewed as a hedge against inflation and currency debasement. However, some analysts believe that the reaction to the vaccine news in recent days has been very strong, which has caused an immediate increase in the downside risk for GOLD .
Meanwhile, on Wednesday, Federal Reserve vice chair of supervision, Randal Quarles, said that the Fed's backstop lending might not answer all issues facing state and local governments, and municipalities. No macroeconomic data was released in the United States on Wednesday, due to a Bank Holiday, so the GOLD prices continued following the market mood and vaccine news.
In addition to the US, Europe also imposed lockdowns again last week, which threaten to undermine the oil demand. As per the latest report, Sweden has declared a partial lockdown, ordering the shutting down of bars and restaurants for the first time since the virus started spreading across Scandinavia. Thus, the back to back lockdown restrictions will have an instant negative effect on transportation fuel, as more people will stay home in the evening hours.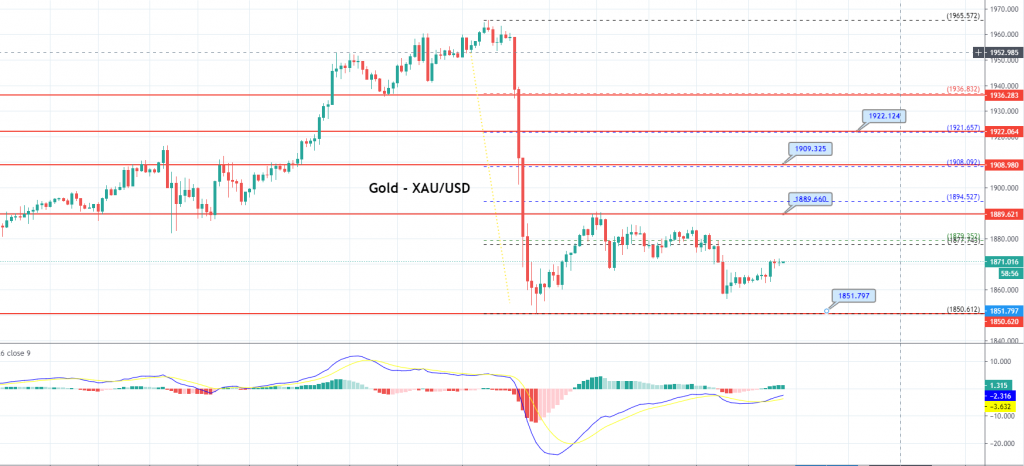 Source: www.fxleaders.com
Analyst: Hash rate signal that preceded Bitcoin's recent 100% rally will soon appear
The Bitcoin hash rate dove strongly in late October. The metric, which tracks how much computational power is being used to mine BTC, fell from approximately 170 exahashes to a low near 90 exahashes per second.
Bitcoin transactions subsequently became slow as block times naturally increased.
Worrying some investors, the "Hash Ribbons," a custom indicator that tracks movements in the hash rate, had printed a "capitulation" signal for the first time since the halving. Seeing that Bitcoin had just surged toward $15,000, a signal that often appears in bear markets or after halvings had no right showing up once again.
But according to the creator of the indicator, Charles Edwards, there is little to be worried about.
According to Edwards, the Hash Ribbons are about to print a "buy" signal in the coming weeks.
The Bitcoin hash rate has bounced 60-70 percent from the local lows, recovering as Chinese miners finish accounting for the end of the wet season, and thus the end of extremely cheap hydroelectricity.
Looks like we will get another Hash Ribbon Buy in November.
Hash Rates are recovering perfectly in line with the expected post wet season energy transition in China.
The #Bitcoin miner move from hydro takes 10-14 days to complete, and Hash Rates are now back at previous highs. pic.twitter.com/wvLHVT6u2c
— Charles Edwards (@caprioleio) November 10, 2020
The Hash Ribbons printing a "buy" would mark a win for bulls, according to historical backtesting of the indicator.
For instance, the indicator last printed a "buy" in summer, prior to the rally from the $8,000s to the $16,000 highs where Bitcoin is today.
His analysis has also indicated that the indicator has printed a "buy" at the bottom of all macro bear markets, like the $3,100 lows in 2018, along with similar bottoms in previous market cycles.
Should history rhyme, the Hash Ribbons printing a "buy" should precede a Bitcoin rally to new all-time highs and beyond.
As reported by CryptoSlate previously, on-chain data and market data shows that "institutional" players are increasingly bidding Bitcoin while investors that already own BTC have become increasingly hesitant to sell. Analyst "Light" commented on this "sell-side liquidity crisis":
"A lot of the buy pressure that is competing for tightening BTC sell-side liquidity these last weeks is coming from institutionals. They are buying from people who are in the disbelief stage."
Catalyzing renewed demand for Bitcoin are institutional investors, which are increasingly buying and promoting the leading cryptocurrency.
On Monday, one of the world's foremost asset managers, Stanley Druckenmiller, revealed that he is long on Bitcoin:
"Bitcoin… has a lot of attraction as store of value to both millennials and new West Coast money… I own many many more times gold than Bitcoin but frankly if the gold bet works the Bitcoin bet will probably work better because it's thinner, more illiquid and has more beta to it."
Druckenmiller is widely regarded as one of the world's best asset managers, having worked for billionaire George Soros and having made billions for himself and his clients running his own fund. His fund famously made an average of 30 percent per year for an extended period of time.
Analysts say that his entrance into the space will catalyze other institutional players, along with retail investors that respect him, to buy Bitcoin.
The post Analyst: Hash rate signal that preceded Bitcoin's recent 100% rally will soon appear appeared first on CryptoSlate.
Source: cryptomoneyteam.co
Author: By TeamMMG
Argentinian congressman to present crypto legal framework proposal
Congressman Ignacio Torres will present a bill on the legal framework for cryptocurrencies in Argentina
Some of the youngest of Argentina's deputies are deciding on a new legislation that should deliver on a national framework designed for crypto—which is reported to be discussed in the parliament in a week or so. Ignacio Torres, an Argentinian congressman will present a bill that addresses cryptocurrencies, paving the way to implement cryptocurrency regulation in the country.
It has been reported that Cointelegraph en Español has spoken with Efrain Barraza, Athena Bitcoin's Operations Manager in Argentina—along with the CEO of Bithan, Alberto Vega. They have all come together to collaborate on a legislation draft to discuss the legal framework for the implementation of cryptocurrencies in Argentina. Barraza and Vega have been known to converse regarding their vivid interest in the blockchain technology and cryptocurrencies being declared legal in Argentina—they're striving for such a decision to ensure that the country is not left behind considering the advances that various countries have made.
Efrain Barraza quotes: "We understand that the ecosystem, to grow, cannot be outside the law". He highlighted the importance of users and investors having some kind of protection. "If there is no regulation, things like scams arise, like Onecoin, for example". While on Alberto Vega's end, he exclaims that: "It is important to take into account where Argentina stands now and how we can get the benefits of being a pioneer country in the crypto sphere". Also, he says that: "Today we can see that the issue of Bitcoin regulation is not even on the table, nor in the political debate at a national level when in other countries they are already hard at work on it".
Vega has an understanding that for Argentina to further advance as a society, the country has to take an initiative and make efforts to put their economic system into a more advantageous state, overall benefitting the country. "We have been in the ecosystem for a long time and we see the problems in the industry. Some companies have their bank accounts closed for no reason. These are very arbitrary rules", said Vega.
That would be the reason why he believes it to be necessary that everyone at the table should discuss such technologies. He asserts that everyone may be benefitted from the projects that have arisen in Argentina.
Barraza claims that when considering common assets, each of them should have their own set of regulations so that people would have distinct rules to defend themselves from any misdeeds. He also warns that in the crypto world: "The nature of the token is that it can work for many different things in the real world", he explained. "We are trying in some way, to give it a framework".
Source: otcpm24.com
Author: By Lacie-Mae Durham
This project wants to recreate Ethereum on Polkadot
MoonBeam wants Ethereum developers to feel comfortable on Polkadot.
The MoonBeam project is planning on setting up a custom parachain that emulates the Ethereum Virtual Machine environment, effectively recreating Ethereum (ETH) on Polkadot (DOT).
Developers on Polkadot and some other interoperability projects usually need to set up an entire blockchain to host their decentralized apps. While Polkadot's Substrate framework is intended to make this process simpler, not all DApps need that level of control over their environment.
MoonBeam seeks to become a kind of Ethereum emulator for Polkadot, running on the same virtual environment that is currently powering all smart contracts on Ethereum.
The team says that this allows Ethereum DApp developers to only make minimal changes to their code and maintain use of developer tools like Truffle and Metamask. At the same time, the integration with Polkadot would allow for easy interoperability with the rest of the Polkadot ecosystem. Other Substrate modules will still be available, allowing developers to implement on-chain governance, social recovery for wallets, and other features with ready-made code.
The team claims that MoonBeam is a more affordable smart contract platform with strong on-chain governance — often emphasized by Polkadot co-founders as a necessity for blockchain systems.
MoonBeam will also be interoperable with Ethereum and Bitcoin (BTC), thanks to dedicated bridges built by other teams.
Nonetheless, the competition in the DApp scalability space is tough, as multiple layer-one chains compete with Ethereum-native layer-two solutions. While DeFi largely cemented Ethereum's dominance in the smart contract space, the limitations of its blockchain became apparent in the summer of 2020. MoonBeam and Polkadot are some of many projects looking to capitalize on this by providing an alternative platform. Other names include Solana, Binance Smart Chain, Near Protocol and Cosmos.
MoonBeam's launch date is yet to be determined, as it depends on Polkadot's Parachain offering auctions going live. While most expect it to happen around Q1 of 2021, no clear launch date is set.
The post This project wants to recreate Ethereum on Polkadot appeared first on BTC Ethereum Crypto Currency Blog.
Source: cryptomoneyteam.co
Author: By TeamMMG
PayPal now offering cryptocurrency services to all eligible US account holders

PayPal Holdings Inc. is now offering cryptocurrency services to all eligible account holders in the U.S. after announcing a soft launch of the service Oct. 21.
The service allows users to buy, hold and sell for bitcoin, Ethereum, Bitcoin Cash and Litecoin within their existing PayPal accounts. Using the service is as simple as account holders logging into their accounts and following on-screen instructions.
PayPal is not offering the service for free and at not particularly appealing rates either, reminiscent of its current transaction charges for money transfers. PayPal is charging a fee of 50 cents on transactions of up to $24.99; a 2.3% fee on transactions between $25 and $100; a 2% fee on transactions between $100.01 and $200; 1.8% on $200.01 to $1,000; and 1.5% on any transaction over $1,000.01.
Compared with existing cryptocurrency exchanges, the fees are arguably excessive. The world's largest cryptocurrency exchange Binance charges 0.1% on bitcoin trades for base users with discounts on that rate available for regular traders. Among U.S. companies, Kraken charges between 0.16% and 0.26% on a "maker-and-taker" or sender-and-receiver basis, with discounts available on the rate at higher volumes. Coinbase Inc. charges a maximum of 1.49%.
The move to make PayPal's cryptocurrency services available to all eligible U.S. account holders is said to have been driven by high demand. Along with the general availability of the service, PayPal also increased the weekly cryptocurrency purchase limit from $10,000 to $20,000 per week. Plans to bring cryptocurrency support to Venmo and PayPal international customers in the first half remained unchanged.
PayPal offering support for cryptocurrency is a huge boost for the overall sector given that PayPal has 286 million active users as of October, with around 60% of Americans making use of its services. That said, PayPal does not operate as a charity and it has clearly decided to enter the market since it sees it as a business opportunity.
Square Inc., a competitor of sorts to PayPal, at least on merchant payments, reported record revenue in its third quarter Nov. 5, driven by its support for cryptocurrency. Bitcoin trading alone accounted for $1.635 billion of Square's $3.03 billion in the quarter, driving the company's share price to record highs. PayPal clearly wants a slice of the action.
Show your support for our mission with our one-click subscription to our YouTube channel (below). The more subscribers we have, the more YouTube will suggest relevant enterprise and emerging technology content to you. Thanks!
Support our mission: >>>>>> SUBSCRIBE NOW >>>>>> to our YouTube channel.
… We'd also like to tell you about our mission and how you can help us fulfill it. SiliconANGLE Media Inc.'s business model is based on the intrinsic value of the content, not advertising. Unlike many online publications, we don't have a paywall or run banner advertising, because we want to keep our journalism open, without influence or the need to chase traffic.The journalism, reporting and commentary on SiliconANGLE — along with live, unscripted video from our Silicon Valley studio and globe-trotting video teams at theCUBE — take a lot of hard work, time and money. Keeping the quality high requires the support of sponsors who are aligned with our vision of ad-free journalism content.
If you like the reporting, video interviews and other ad-free content here, please take a moment to check out a sample of the video content supported by our sponsors, tweet your support, and keep coming back to SiliconANGLE.
Source: siliconangle.com
Author: by
Duncan Riley