Blockchain protocol Swag.Finance is turning Swag.live, Asia's biggest adult chat and porn site, into a truly decentralized community—complete with its own DAO, governance token and yield farming.
Published
11 mins ago
on
Blockchain protocol Swag.Finance is issuing its own tokens on Thursday to turn Swag.live, an Asia-focused porn site, into a truly decentralized community.
625 million governance tokens will be issued, of which 25 million will be used for its DAO and 60 million will be distributed to community and influencers.
Liquidity mining meets the porn industry? Welcome to the future, baby: On Thursday, blockchain protocol Swag.Finance plans to turn Swag.live, an Asia-focused porn site, into a truly decentralized community—complete with its own DAO, governance token and yield farming.
Swag appears to be based in Taiwan and claims to be the largest adult chat site in Asia. It has some 4 million users and tens of thousands of content providers. On October 15, the platform will launch its native governance token, SWAG. A total 625 million governance tokens will be issued, of which 25 million will be used for its DAO and 60 million will be distributed to community and influencers. The rest will be distributed to the public through two events: a First Swap Event (FSE) and a Subsequent Swap Events (SSEs).
What are these swaps and who is swapping with whom? The swaps are trading pairs on a decentralized exchange that permit users to do good old-fashioned yield farming. For instance, users can swap SWAG with USDC, or C.R.E.A.M on cream.finance while also earning extra SWAG tokens as rewards.
C.R.E.A.M ? Yeah. SWAG's founder is believed to be the founder of cream.finance: Jeffery Huang, who is not only a crypto OG, but also brother of a famous Taiwanese singer Stanley Huang. Indeed, it's possible that the SWAG project will help breathe a little life back into cream.finance, which has been on a downward trajectory of late.
To encourage community participation, SWAG investors will have the perk of watching swag.live for free. It designed an incentive program called SQUIRT: Users who actively contribute to the platform through proposals, building, staking and problem-solving, are rewarded with either stablecoins or SWAG tokens based on rules set in the SQUIRT smart contract.
"I was watching porn on swag.live anyway. Investing in the token seems logical to me," one anonymous investor told Decrypt. " What's the worst case? The worst case is that the token goes to zero, but I still get the chance to enjoy the platform."
This is not the first time that the adult industry has used crypto, of course.
From early public blockchain pioneers such as Spankchain to Pornhub, which accepts crypto as a payment method, crypto has always had a love/love relationship with the adult industry. Its unique characteristics help the industry tackle issues such as privacy, payment and censorship.
But SWAG.Finance could be the first to DeFi-ify the adult entertainment industry. Whether it ultimately works though is still uncertain. Despite swag.live having been profitable since 2017, it has largely functioned as a centralized entity. To decentralize it through token distribution is the first baby step. Crypto and the adult industry's love affair continues.
Malware users are targetting unsuspecting crypto users through an Electrum Wallet scam asking for their credentials. The malicious actors are targetting users that are still using an older version of Electrum. The attackers find victims by using fake Electrum servers to send popup messages to people using the old version of the wallet. These popups […]
Published
23 mins ago
on
Malware users are targetting unsuspecting crypto users through an Electrum Wallet scam asking for their credentials. The malicious actors are targetting users that are still using an older version of Electrum.
The attackers find victims by using fake Electrum servers to send popup messages to people using the old version of the wallet. These popups encourage people to install fake updates, allowing them access to their computer and wallet credentials.
The fake updates, prompted by the popup notifications, trick victims to install malware on their device. The attackers use servers to send these notifications directly through.
Once the install has finished the application requires a one-time password (OTP) from the user. On entering this code, the user has granted the attacker permission to drain funds from his wallet.
According to business technology website ZDNet, the attackers have already managed to accumulate $22 million through Electrum Wallet scam. This was estimated by taking a look at the attackers' wallet address. The address holds 1980 BTC that are worth around $22.5 million at the current trading price.
ZDNet revealed that this technique of phishing first emerged in December 2018. Since then, this attack technique has been used across multiple campaigns to defraud crypto investors.
The website tracked multiple criminal wallets that stored these stolen cryptocurrencies during 2019 and 2020. These attacks continued to occur during this period with some attacks taking place as recently as last month.
Many Electrum users confirmed this study in Bitcoin abuse portals. They revealed that their Electrum Bitcoin wallet application received update request following which their wallets were drained of funds. The funds were sent to the attackers' address.
Cybercriminals have been using a loophole in the operating method of Electrum wallets that allow them to set up servers and wait for users to randomly connect to their network.
When this happens, the attacker is able to send popup messages to the user and promote the Electrum wallet scam.
Published
26 mins ago
on
Disclaimer: The following article attempts to analyze the emerging patterns in the Litecoin short-term market and its impact on price.
Litecoin witnessed a boost in its value as the price of Bitcoin [BTC] rose on the charts. However, it has not managed to overcome its losses from earlier in September. Despite the low range movement, LTC overcame an important price point at $49.48, which was now its support. The digital asset was valued at $49.94, at press time, as its resistance remained at $51.41.
The value of Litecoin currently was consolidating between $49 and $51. The Bollinger bands indicated reducing volatility in the market, while the signal line was indicating a trend reversal may be on its way.
The converging bands indicated that the price action was getting restricted as the rising price was noting a dip. The signal line that had laid under the candlesticks for the past few days suggesting the price moving higher, might be crossing above the candles, indicating the reversal in the price trend.
This reversal in price trend could be due to the growing selling pressure in the market indicated by the Chaikin Money Flow. For the past week, the indicator had remained well in the positive territory noting a buying pressure in the market, however, on 13 October, the CMF dipped under zero and was at -0.07, noting the evolving selling pressure in the market.
Interestingly, the placement of the 50 moving average suggests that the bullishness in the market has not yet lost steam and might return to push LTC's value. However, in order to be in a full swing, the asset will have to break away from its resistance at $51 and surge higher. The resistance has been tested only twice since the crash in September, which meant it may take some more time to breach past it.
Meanwhile, in the current period, the point of control for LTC's value was lower at $46.24 as it was a highly traded range. The current price is not receiving much volume and may head towards the support at $48 before re-testing the resistance.
Source: https://eng.ambcrypto.com/litecoin-short-term-price-analysis-13-october
Source: news.coingenius.ai
Author: Published 1 day ago on October 12, 2020
By Republished by Plato
Big Regulation Coming For Big Tech
Breaking up Big Tech is a 19th-century competition solution to a 21st-century competition problem. There is a better way.
Helen Holmes (Instagram @TheOfficeMuse).
What should regulators do about the power of the big technology companies? In America, the House Judiciary Committee's antitrust panel have just completed a 16 month investigation into Amazon, Apple, Google and Facebook, finding that "Big Tech" has "monopoly power" in key business segments and have "abused" their dominance in the marketplace, in a full-throated condemnation of the giants. The panel complains that there is "significant evidence" to show that BigTech's anticompetitive conduct has hindered innovation, reduced consumer choice and even weakened democracy.
Breaking up big companies seems to me an already outdated industrial-age response in the post-industrial economy. Data is not the new oil.
So, what is to be done? I had the honour of chairing Professor Scott Galloway who is the author of "The Four", an excellent book about the power of internet giants (specifically Google, Apple, Facebook and Amazon – hence the title), at a conference in Washington a while back. He set out a convincing case for regulatory intervention to manage the power of these platform businesses. Just as the US government had to step in with the anti-trust act in the late 19th century and deal with AT&T in the late 20th century, so Professor Galloway argues that they will have to step in again, and for the same reason: to save capitalism.
Professor Galloway argues that the way to do this is to break up the internet giants. Should Congress go down this route? Well, one of the panel's own members, Ken Buck (Republican), while agreeing with the diagnosis, said that the Democratic-led panel's proposal to force platform companies to separate their lines of business (i.e. break them up) is not the right way forward. I agree. Forcing Amazon to spin out Amazon Web Services (to use an obvious and much-discussed example) won't make any difference to Amazon's role in the online commerce world.
The author with Professor Scott Galloway in Washington DC.
Google is not U.S. Steel and I do not think that data is the new West Texas Intermediate or that Facebook is the new Standard Oil. Yet the idea of focusing regulation on the refining and distribution of an economy's crucial resource has logic to it. We need this to protect competition in the always-on world of today and there, as Angela Chen explained in MIT's Technology Review last year, are plenty of alternatives to breaking up technology companies. Perhaps the most fruitful way forward is an approach based on a future capitalist framework along the lines of what Viktor Mayer-Schönberger and Thomas Range called in Foreign Affairs a "progressive data sharing mandate".
There are many informed observers who say that America should look to see what is going on in Europe in order to formulate this kind of approach: Here in Forbes last year, Robert Seamans and "Washington Bytes" highlighted data portability as a potentially valuable approach and pointed to the UK's open banking regulation as a source of ideas. I think this makes a lot of sense and that a good way to explore what some form of data-centric remedy might look like is indeed to take a look at Europe's open banking regime. More specifically, start with what it got wrong: because in that mistake are the seeds of a solution.
Back in 2016, I wrote about the regulators demanding that banks open up their APIs to give access to customer data; "if this argument applies to banks, that they are required to open up their APIs because they have a special responsibility to society, then why shouldn't this principle also apply to Facebook?". My point was, I thought, rather obvious. If regulators think that the banks' hoarding of customers' data gives them an unfair advantage in the marketplace and undermines competition then why isn't that true for Big Tech?
When I said that the regulators were giving Big Tech a boost in "Wired World 2018", no-one paid any attention because I'm just some tech guy. But when Ana Botin (Executive Chairman of Santander) began talking about the lack of any reciprocal requirement for those giants to open up their customer data to the banks, regulators, law makers and policy wonks began to sit up and pay notice. She suggested that organisations holding the accounts of more than (for example) 50,000 people ought to be subject to some regulation to give API access to the consumer data. Not only banks, but everyone else should provide open APIs for access to customer data with the customer's permission.
This is along the lines of what is being implemented in Australia, where open banking is part of a wider approach to consumer data rights and there will indeed be a form of symmetry imposed by rules that prevent organisations from taking banking data without sharing their own data. The Australian Competition and Consumer Commission (ACCC) has already had enquiries from international technology companies wanting to participate in open banking. The banks and many others want this method of opening up to be extended beyond what are known as the "designated" sectors, currently banking and utilities, so that if a social media company (for example) wants access to Australian's banking data it must become an "accredited data recipient" which means in turn that it must make its data available (in a format determined by a Consumer Data Standards Body). This approach would not stop Facebook and Google and the others from storing my data but it would stop them from hoarding it to the exclusion of competitors. As Jeni Tennison set out for the UK's Open Data Institute, such a framework would allow "data portability to encourage and facilitate competition at a layer above these data stewards, amongst the applications that provide direct value to people", just as the regulators hope customer-focused FinTechs will do using the resource of data from the banks.
Dutch bank ING CEO Bank Ralph Hamers (2nd R), CFO Koos Timmermans (R) and CRO Steven van Rijswijk … [+] (2nd L) attend the presentation of the company annual figures for 2017 in Amsterdam, on January 31, 2018. Leading Dutch bank ING said Wednesday it would press ahead with its strategy of digitalisation, as rising customer numbers helped boost profits last year. / AFP PHOTO / ANP / Olaf KRAAK / Netherlands OUT (Photo credit should read OLAF KRAAK/AFP via Getty Images)
At this year's SIBOS (it's a sort of Burning Man for bankers), the newly-appointed CEO of ING Steven Van Rijswijk (above) re-iterated the need for reciprocity, saying that he wanted the regulators to come up with an equivalent for banks so "the data flow can go two ways". Well, this may well be on the horizon. As the Financial Times observed, an early draft of the EU's new Digital Services Act shows it wants to force Big Tech companies to share their "huge troves" of customer data with competitors. The EU says that Amazon, Google, Facebook and others "shall not use data collected on the platform . . . for their own commercial activities . . . unless they make it accessible to business users active in the same commercial activities".
It seems to me that the U.S. regulators might use this approach to kill two birds with one stone: requiring both Big Banking and Big Tech to provide API access to customer's data. Why shouldn't my bank be able to use my LinkedIn graph as input to a credit decision? Why shouldn't my Novi wallet be able access my bank account? Why shouldn't my IMDB app be able to access my Netflix, Prime and Apple TV services (it would be great to have a single app to view all of my streaming services together).
This symmetric data exchange can lead to a creative rebalancing of the relationship between the sectors and make it easier for competitors to both emerge. Instead of turning back to the 19th and 20th century anti-trust remedies against monopolies in railroads and steel and telecoms, perhaps open banking adumbrates a model for the 21st century anti-trust remedy against all oligopolies in data, relationships and reputation. The way to deal with the power of BigTech is not to break them up, but to open them up.
Source: www.forbes.com
Author: David G.W. Birch
Top 5 Crypto Derivatives Exchange in 2020
Crypto derivatives are now among the most common financial products on any cryptocurrency exchange or trading platform, thanks to increased interest among the trading community. Trading crypto derivatives has its own advantages as it allows users to mitigate volatility-associated risks and hedge against potential losses.
There are various derivatives products that include Swaps, Futures, Forwards, Options and Perpetual Futures. With the right skills, on the right platform, traders can make the best out of these instruments and earn a small fortune in the process. However, finding the right platform is the key.
If one were to list five of the best crypto derivatives exchanges in the market, they would be: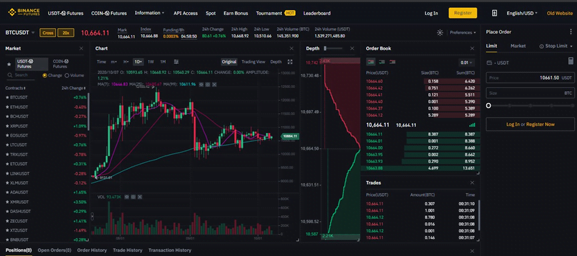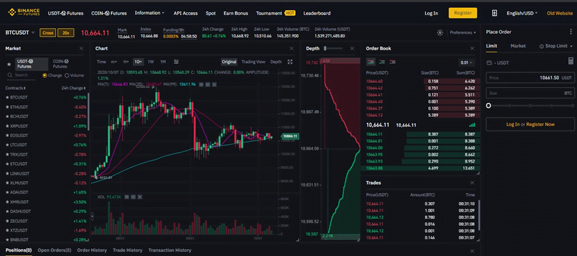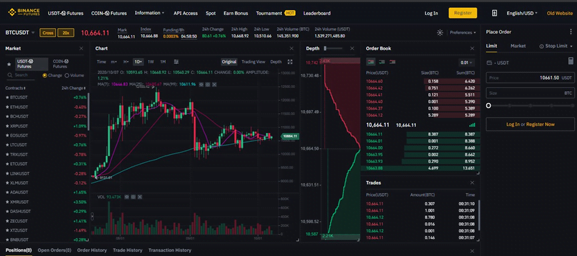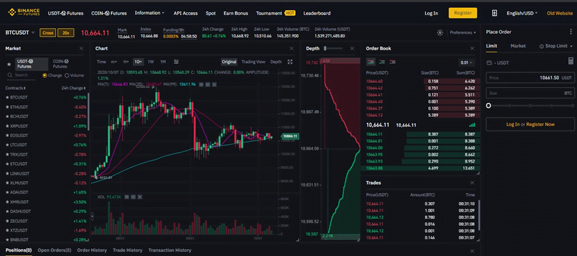 Taking the top spot on the list is Binance Futures, which leads the rest when it comes to 24-hour volumes. While it is popular for the spot trading feature, it also features margin and futures trading. Being one of the relatively older and a reputable crypto platform, trading on Binance is a straightforward process. It offers Perpetual Contracts with leverage of up to 125X and is found to be ideal for shorting Bitcoin and other cryptos without having to maintain a large BTC deposit in the user's account.
Traders can also benefit from the margin trading feature for BTC and altcoins with up to 1:3 leverage. Binance Futures generally has a low fee structure, supports more than 200 altcoins, and also offers an option to trade limited volumes anonymously. However, the platform is not available in certain geographies, including the USA, and doesn't support fiat payments.
FTX is a crypto derivatives trading platform that is designed by a bunch of traders with Wall Street experience. A relatively new platform, it offers a range of innovative trading instruments like Perpetual Futures, crypto indices, volatility contracts and more. In addition, it also has special FTX leveraged tokens that are ERC-20 tokens for leveraged exposure to crypto markets without many specifics.
Available in 14 different languages, the platform supports over 30 cryptocurrencies and some of the leading fiat currencies without any deposit or withdrawal charges. On the platform, traders can obtain leverage of up to 101x while paying some of the industry's lowest trading fees at 0.07%. FTX also implements some of the standard security features including the latest encryption, 2FA and more.
However, being a relatively new trading platform FTX is yet to gain a reputation in the market and expand to more geographies.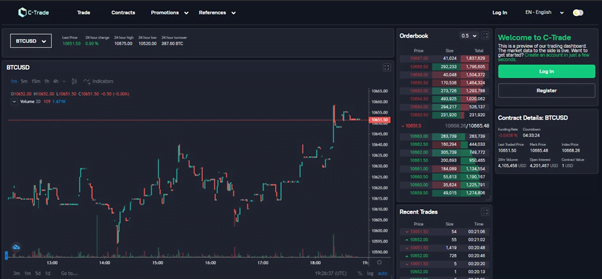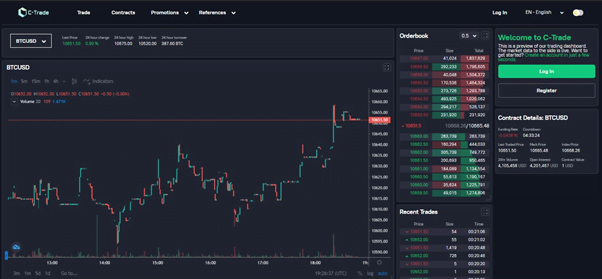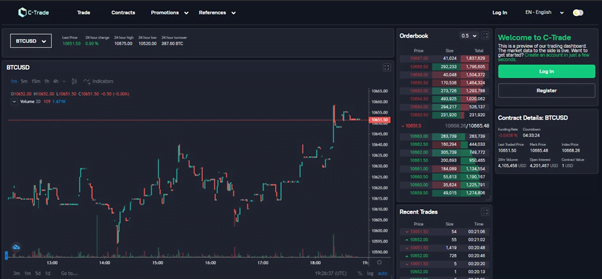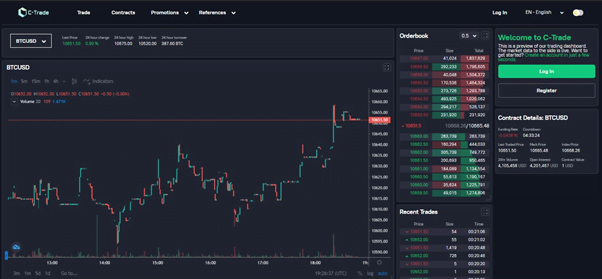 A relatively new, next-generation crypto derivatives trading platform, C-Trade has quickly risen in the market and aims to become a crypto derivatives marketplace. C-Trade has come to be known for its lightning-fast secure trading infrastructure offering cryptocurrency Perpetual and Futures contracts. The platform also has options, warrants and other structured products in the pipeline designed to suit the trading community's varying needs.
C-Trade is created by a team of tech entrepreneurs with expertise in traditional equity derivatives trading and crypto asset management. The team has an in-depth understanding of the market as well as the needs and preferences of traders, which has enabled them to create a reliable, secure, and user-friendly crypto derivatives platform.
C-Trade employs a highly capable matching engine that can handle over 100,000 TPS, which along with updated Spot Price Index and Mark Price Index systems, ensures the reliability of trades. Along with a maximum leverage of 150x, C-Trade has a low fee structure and approves withdrawals in minutes. It is also known for exceptional customer service that can be reached through multiple channels including live chat, contact form, email, or social media. The support team at C-Trade is highly qualified and capable of answering the queries in no time.
Even though the trading volumes are lower than its counterparts, which is quite common among young platforms, C-trade finds a place for itself as one of the hottest emerging crypto derivatives trading platforms. Currently, C-Trade is running a BTCUSD Perpetuals trading competition and offers a rewards program where users can earn up to $200 as rewards.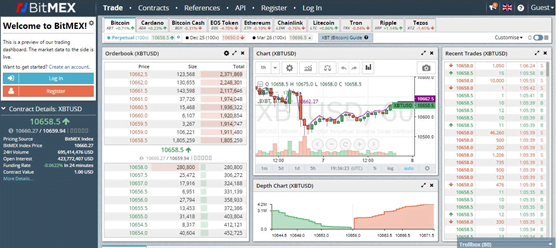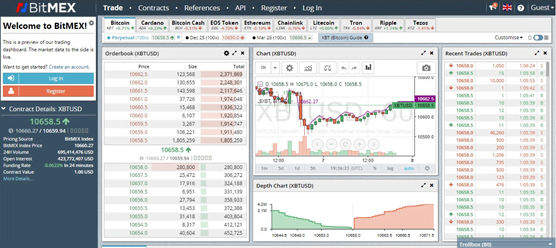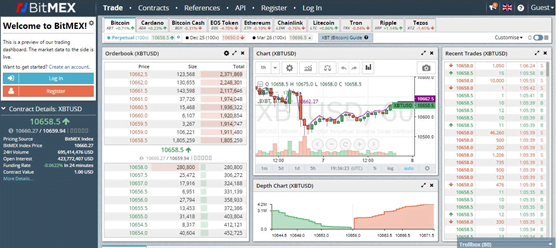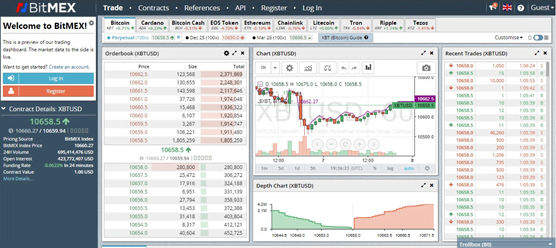 Short for Bitcoin Mercantile Exchange, BitMEX is one of the largest Bitcoin trading platforms that has been operational since 2014. It is a Bitcoin-only platform that accepts deposits and withdrawals in the flagship crypto alone.
BitMEX has a comprehensive, feature-rich trading dashboard with all the tools and charts necessary to make trading decisions. The platform implements adequate security and risk management measures including an insurance fund, auto deleveraging capabilities, and price manipulation protection.
Currently, users on BitMEX can avail up to 100X leverage and the trading fees are on par with those of its industry peers. While the platform is highly reliable and has gained the confidence of the crypto community, it is best suited for experienced traders which makes it an attractive platform for crypto whales and institutional investors.
However, the list of cryptocurrencies supported on BitMEX is limited compared to others. It is also known to experience occasional system overload problems causing inconvenience to the trading community. It is also a target of multiple lawsuits.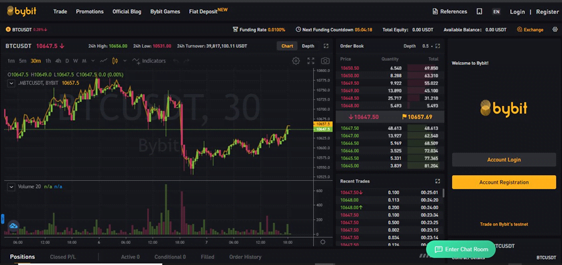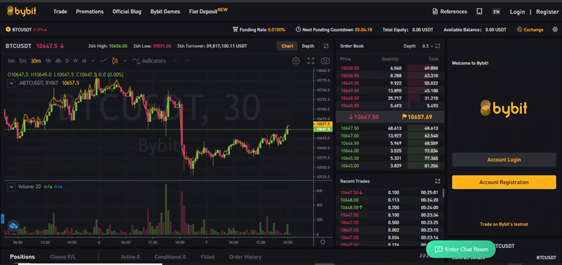 The Singapore headquartered Bybit is yet another fast-growing crypto derivatives platform with daily trading volumes that puts it among the top 10 exchanges in the market. Started in March 2018, Bybit offers a user-friendly, intuitive, and smart platform for Perpetual Contracts trading with up to 100x leverage. The platform offers flexible deposit options which include BTC, ETH, EOS, XRP and even fiat currencies that can be used to make deposits as less as $5 to start trading.
Other notable features of Bybit include real-time market data, customizable trading dashboard, reliable customer support, insurance fund, and ADL for risk management. However, the number of contracts offered on the platform are limited to 4-5 compared to the likes of C-Trade.
Each of these five platforms come with their own strengths and weaknesses. For example, Binance is one of the leading crypto platforms with the highest volumes and userbase. On the other hand, users on FTX can experience lots of new crypto trading products as it works on building its userbase. Competing closely with FTX is C-Trade, which is also a relatively new platform offering an attractive welcome bonus, quick withdrawal, and the best leverage. Apart from round-the-clock security and high-performance matching engine, the platform also scores high on the customer support department.
Meanwhile, BitMEX is the pioneer of crypto derivatives exchange and has been around for a long time. But the recent litigations and the system overload issues remain to be a concern. And finally, Bybit offers a user-friendly crypto derivatives platform with limited trading products, which it makes up for with its transaction processing capabilities.
These five crypto derivatives exchanges are just a tip of the iceberg, as there are many platforms out there offering a variety of trading products and features. Traders looking to pick the right platform to suit their needs can always try as many as they wish before making a selection. Some of these platforms also offer an attractive welcome bonus for new users, which can come in handy during the decision-making process.
This post was originally published on www.newsbtc.com
Source: www.cryptoalphanews.com
Author: cm_team