A bitcoin exchange where countless of cryptos and derivatives are traded daily, FTX, is one of the biggest contributor to the Joe Biden campaign according to Open Secrets.
FTX donated $5.2 million to the Biden 2020 campaign, not far off from Google's Alphabet which gave $6.4 million.
Bloomberg is the top donor with $57 million, but FTX stands out as this is the first time a crypto exchange has donated millions to what may well be the president elect.
Biden's position on bitcoin and cryptocurrencies is not know, but he is likely to promote innovation which may well translate to some of the research and development funds going towards this space.
In addition the American administration needs to maintain a lead against China in the tech race which includes artificial intelligence, space exploration, wi-fi technology, machine learning, autonomous vehicles and shipping digitization more generally, as well as blockchain utilization and capital formation digitization through tokenomics.
FTX itself is a relatively new crypto exchange by Sam Bankman-Fried who successfully used to run Alameda Research on Bitmex.
The exchange has somewhat quickly gained trading volumes, $170 million a day in spot crypto trading and $1.6 billion in derivatives.
It's not clear whether they donated to the Trump campaign as well or whether the exchange picked Biden, but markets are betting the latter is the winner with the conclusive results yet to be announced.
That may well mean cryptos and Biden get off to a good start, but whether that will indeed be the case remains to be seen.
Source: www.trustnodes.com
What is the exchange rate of USD (US Dollar) / CHF (Swiss franc) on Thursday November 5, 2020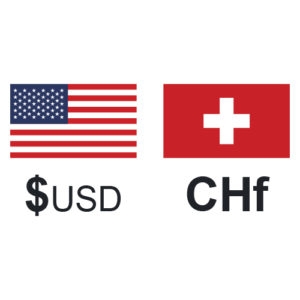 Get the latest mid-market rate for USD (US Dollar) / CHF (Swiss franc) for Thursday November 5, 2020 right here.
The latest rates for USD (US Dollar) / CHF (Swiss franc) are available below. As a leading finance news site the team at Born2Invest collates and analyses the latest Forex Market data to bring you live information to help you make the right forex trading decisions.
Thursday November 5, 2020 1 USD (US Dollar) is worth 0.906065 of CHF (Swiss franc) .
Remember to always trade with a reputable broker. It's also possible to apply forex concepts to cryptocurrency trading.
Forex trading is inherently risky and there are countless forex pairs to choose from. The only way to make a profit from forex trading is to understand how the market works. Luckily for you the Born2Invest forex team has collated some forex trading tips to get you started.
Forex trades are always made using currency pairs. Whenever you buy one currency you are selling another. In every pair there is a base currency, for example USD (US Dollar) and a quote currency, which would be CHF (Swiss franc).
The price of a currency pair represents the amount of quote currency, or CHF (Swiss franc), that you will need to spend in order to purchase a single unit of USD (US Dollar), the base currency. So using the current example you would need to spend 0.906065 of CHF (Swiss franc) in order to purchase 1 USD (US Dollar).
Forex pairs can be broadly separated into three categories; the majors, the commodity currencies, and the cross currencies:
Major currencies are the most traded currencies on the market. Which currencies make the cut will vary, but almost all lists will include EUR/USD, USD/JPY, GBP/USD, and USD/CHF
Commodity currencies are currency pairs where their value is closely tied to a commodity such as oil, coal, or iron ore. Examples include AUD/USD and USD/CAD
Cross currencies are currency pairs which don't include USD. Examples include EUR/GBP and EUR/JPY.
Cryptocurrency trading shares many similarities to forex trading. Specifically the concepts of currency pairs and high price volatility. That being said there are some key differences. Cryptocurrencies don't operate like fiat currency and many are tied to a project or product. The crypto market is also highly unregulated, which makes it inherently risky compared to trading forex.
Additionally most cryptocurrency trades happen on exchanges. These are generally unregulated and come with a certain degree of risk that many investors would find unacceptable. One alternative is to trade using a CFD broker which allows crypto pairings, but this means you will not directly own and cryptocurrency you buy.
Source: born2invest.com
News of News For Bears and Bulls
The snail speed vote counting of election 2020 has given way to the more exciting bitcoin and ethereum show.
For the first time in three years, bitcoin just about crossed $15,000. Not to be left too much behind, ethereum finally moved a bit to $415.
All are probably looking to see what is going on here, and in this session of news of news, there's plenty to go through.
"In the early stage of the Bitcoin ecosystem, the mining reward was evenly distributed among miners, but later became more concentrated to a few highly active miners. For most of miners, their active duration is less than one year, and the interval between consecutive mining actions is more than 100 days. By further examining the transaction flows, we find that a significant portion of bitcoins have been hoarded for over 5 years, and the hoarding phenomenon becomes intense in recent years."
So says a new study with their analysis of this hoarding probably interesting as it might shed some light on bitcoin's behaviour.
"Crypto specialist Aaro Capital taps into digital asset surge with trio of hires," says HedgeWeek, suggesting expansion time maybe is beginning to be here for crypto companies.
"Hong Kong bans retail trading of digital currencies, requires crypto exchanges to be licensed in crackdown on fraud, money-laundering."
Otherwise said, China continues the annexation of Hong Kong and as always this sort of foggy political stuff gains some crystal clarity when it reaches bitcoin.
Russia's "En+, one of the largest aluminium and power producers in the world, is venturing into crypto mining."
That could potentially give Russia direct access to bitcoin if they came under sanctions strain or as an alternative to the global banking system with it unclear whether their central bank has somewhat stealthily diversified into bitcoin after they bought tons and tons of gold.
"Notary office in Shanghai applies blockchain technology with success." Notable because it is the Ministry of Justice of the People's Republic of China saying it.
That's just one among a barrage of blockchain stuff from China. "Shanghai Launches Insurance Blockchain Innovation Centre." And a more interesting one:
"The financing settlement application scenario for the New International Land-Sea Trade Corridor (ILSTC), a pilot cross-border financing blockchain platform, went online in Chongqing on October 19.
On that day, pilot banks handled five logistics financing and trade financing settlements for four enterprises, with their combined amount reaching over 3 million yuan.
It has diverse functions such as related document transfer, verification, and available amount control. More importantly, it can provide full-process logistics information on banks' credit management and improve financing accessibility and efficiency for trade and logistics enterprises.
After the platform went online in Chongqing, five application scenarios have been put into service. This significantly facilitates cross-border payment and trade financing for enterprises in Chongqing.
Over the past year, nearly 30 banking institutions participated in the pilot program in Chongqing. 'With this platform, enterprises can submit export document information for trade financing online, and banks can also complete export declaration information inquiry and authentication online,' said a relevant head from Chongqing Foreign Exchange Management Department. 'As such, data can be shared, procedures can be streamlined, and efficiency can also be greatly improved, which brings great convenience to enterprises.'"
This isn't quite a blockchain as we know it but it is a digitization of shipping and logistics which can be very beneficial as it replaces paper with the equivalent of digital paper documents.
"The University of Wyoming is launching a new Center for Blockchain and Digital Innovation."
"Pacesetters in the UK, US and France are leading the race when it comes to applying blockchain to supply chains, reveals a global survey by Capgemini."
Wouldn't want it any other way obviously, with it unclear whether Bitcoin Suisse is a pace-setter, but they're going in on staking.
"Over the past 12 months we have gone from offering one token for staking to currently six, with the seventh one upcoming with the launch of Ethereum 2," Mikael Bondum of Bitcoin Suisse says.
Ethereum 2.0 is around the corner now with some 23,000 eth already ready to stake on the new blockchain just hours after the deposit contract launched.
Bitcoin however has things like Fidelity basically saying: buy it. As well as things like one bitcoin now worth more than a trillion dollars in Zimbabwe.
But eth and bitcoin are generally complementary. So what's good for one is good for the other, with both rising this November.
Source: www.trustnodes.com