Bitcoin has undergone a strong drop since the weekend highs of $14,100. After failing to pass that pivotal resistance level, the price of the leading cryptocurrency has dropped to $13,400 as of this article's writing. At the lows of the past 24 hours, BTC traded for $13,200.
Analysts think that the coin could move even lower in the days ahead, analysts say.
Commenting on Bitcoin's medium-term technicals, one analyst shared the chart seen below. It shows Bitcoin has formed bearish divergences and failed to pass the weekly supply region of $14,000. This indicates that the coin could drop toward $13,000, then potentially even lower in the days and weeks ahead, analysts say:
"$BTC looks like it needs to reload. Daily SFP into weekly supply, failed break above 2019 high, bear divs flashing on the daily time frame… Bring on the election dip."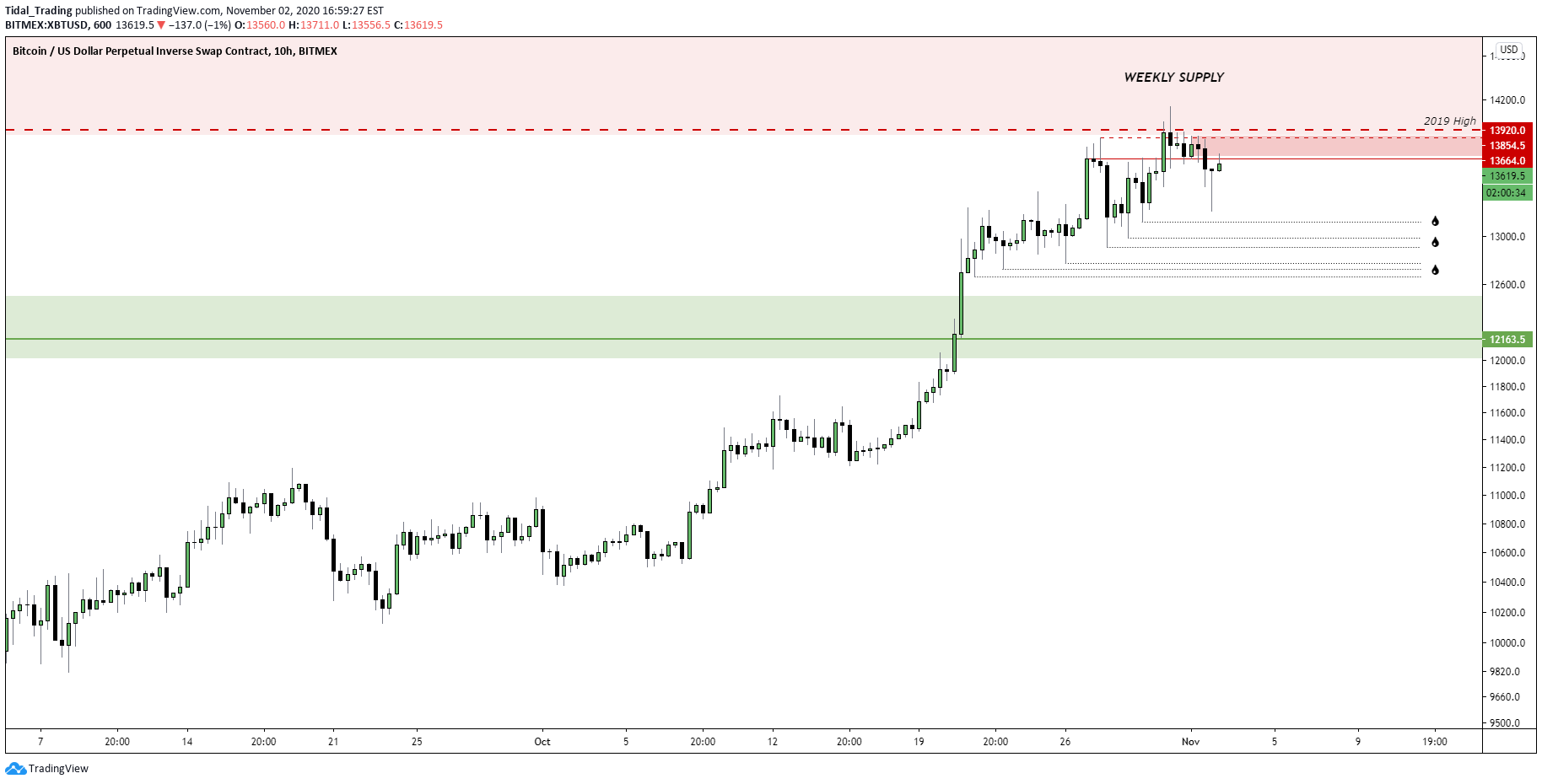 This trader isn't the only one that thinks Bitcoin will reverse to the downside from here.
As this outlet reported previously, analysts noted that Bitcoin moving higher on the weekends indicates that it will not follow through once the weekday trading session arrive. One analyst commented on Sunday on the matter:
"I think bitcoin is putting in a temporary top. Price action to the upside when futures are closed gives me further indication that we'll see a continued pullback into the election."
Thus far, Bitcoin has pulled back as he expected and may continue to do so as there remains uncertainty about the election as Election Day has arrived.
Adding to the chance that Bitcoin reverses to the downside, there has been a number of bearish news events recently.
Reuters just reported that Hong Kong regulators will "regulate all cryptocurrency trading platforms operating in the financial hub." While this does not sound as heavy-handed as mainland China, some in the space see this as a clear attempt to clampdown on cryptocurrency activity in the region.
There have also been strong regulation attempts in the U.S. and in Europe as the space continues to enter a period of growth once again. These regulations could make it much harder for retail investors to get involved in digital assets.
Source: cryptocoinfactory.com
Bearish Divergence Signals Trouble for Bitcoin's Election Night Rally
Bitcoin retraced its way back to the $14,000-level on US election night as investors pinned hopes on a clear win for Joe Biden.
The Democratic nominee promised to launch a vast infrastructural spending program to counter the coronavirus pandemic and its impact on the US economy.
One of the primary components of Mr. Biden's expansionary policy is a fat stimulus aid for American households and businesses that suffered the most during the pandemic-driven economic lockdown. The proposal has reached an impasse in the US Congress for months due to Republicans' disapproval. Donald Trump administration offered a smaller package.
Investors anticipate at least $2 trillion worth of financial aid from the Democratic administration.
As more liquidity enters the economy, they also expect the US dollar to continue its decline. The greenback's plunging purchasing power could lead the "speculative assets" like gold and bitcoin higher – as it did after the first stimulus aid of $2.2 trillion.
Ty Young, Researcher at data aggregation firm Messari, noted that the stimulus package has always resulted in an upside rally in the S&P 500. The 2009 Recovery Act, for instance, prompted the US benchmark index to swell by 170 percent in the next six years.
Similarly, the CARES Act signing in March 2020 led the S&P 500 up by 43 percent in the next five months. Mr. Young noted that an uptick in the stock market is a signal of further strength for Bitcoin.
"The correlation between the S&P 500 and bitcoin has increased in 2020, most notably following the coronavirus outbreak and March market crash," the researcher wrote. "If previous statistics show validity on a weaker dollar, stimulus package passing, and an administration change, bitcoin could continue its bullish trajectory corresponding to the S&P 500."
On Wednesday, Bitcoin gyrated during the Asian hours partially because of a strong selling sentiment near $14,000.
The cryptocurrency's earlier attempt to close above the level on October 31 had met with similar rejection. It showed that the US election remains a narrative to build a Bitcoin rally, not a one-and-only catalyst. A technical outlook, meanwhile, proved weakness in its uptrend to another extent.
A pseudonymous analyst spotted a bearish divergence on Bitcoin price charts. In retrospect, Bearish Divergences occur when an asset's price reached a new top while its momentum oscillator moves lower. It demonstrates that bulls are losing grip on the market – and that a potential downtrend move is around the corner.
"You should not bet against divergences in Crypto," the analyst warned. "It's too dangerous."
The momentum oscillator slows down also because of a looming macro risk. Mr. Trump has warned that he would contest the election if he losses, alleging fraud in mail voting. A delay in results could further the stimulus impasse by at least one month. That could push the risk-on markets lower, including Bitcoin, and the US dollar higher.
Source: crytonow.com
Author: adminhttps://crytonow.com
Bitcoin breaches $14,000 on election day, up 1,900% compared to 2016
Home / Bitcoin / Bitcoin breaches $14,000 on election day, up 1,900% compared to 2016
The price of Bitcoin rose more than 2% in two hours as poll workers in US states began to count ballots.
Source link
Tags ad Bitcoin Breaches Compared Day Election
Previous Bitcoin surpasses $14k: negative funding shows it can still run higher
Next Bitcoin Just Saw Its 2nd Largest Negative Mining Difficulty Adjustment Ever
12 mins ago
1 hour ago
2 hours ago
Bitcoin has undergone a strong rally since Monday's lows of $13,200. The leading cryptocurrency currently …
Your email address will not be published. Required fields are marked *
Comment
Name *
Email *
Website
Save my name, email, and website in this browser for the next time I comment.
Source: icryptodesk.com
Author: admin