The Australian Securities Exchange, or ASX, had delayed the launch of its blockchain-based alternative to its equities clearing and settlement system. The system will now see itself delayed until at least April of 2023.
On Wednesday, ASX had announced the new go-live date, which was extended from the previous launch date established earlier for April of 2022. The project itself had its original launch date set at the end of 2020, but the project had seen multiple delays ever since.
The proposed decentralized system is aimed to replace the CHESS system of the exchange, which is considered a legacy system by today's standards. The goal of this replacement is to create a more efficient infrastructure, overall.
ASX, in its press release, highlighted that the latest delay had its decision made after 100 organizations had given their feedback to ASX. All of these organizations highlighted the damage the COVID-19 pandemic had done to the industry at large.
Dominic Stevens stands as the CEO of ASX, and explained that the exchange decided to listen to the regulators, industry, and its technology partners throughout the project's entirety. As such, Stevens stated that ASX had recognized the large impact that COVID-19 has done and is still doing on the industry, ASX included. As a result of this, the ASX shareholder has made new expectations for the replacement of the CHESS system.
As such, ASX highlighted that the stakeholders are actually capable of meeting their ends in order to launch the decentralized infrastructure by April of 2022. Even so, many members are pushing for added functionalities to reduce manual processes, as well as extra industry testing.
In the meantime, the massive amounts of market volatility that was experienced in March mandated that the requirements for exchange infrastructure have now been raised. As such, ASX is currently seeking a higher level of scalability and throughput capacity for its CHESS replacement.
Stevens explained that the capacity, functional scope, scalability, and testing for the CHESS replacement system in current development is more significant than it once was. This is due to it capturing the increase in requirements of ASX and the industry at large, lowering the risk in delivering them. Alongside this, it runs in tandem with ASX addressing expectations laid by regulatory agencies that CHESS should be replaced as soon as it's possible to be safely done, with the new system needing to meet the market needs as well.
Source: www.cryptovibes.com
DBS Digital Exchange shows crypto has gone mainstream in Asia: JST Capital
DBS Digital Exchange shows crypto has gone mainstream in Asia: JST Capital
A now-deleted webpage announcing that Singapore's largest bank is planning to launch a "digital exchange" supporting crypto asset trading is the latest sign of increasing institutional adoption of virtual currencies.
The document, which appeared briefly on the DBS website, announced the new exchange will support Bitcoin (BTC), Ether (ETH), Bitcoin Cash (BCH), Ethereum Classic, (ETC), and Ripple (XRP), alongside the fiat currencies of Singapore, Japan, Hong Kong, and The United States. The announcement also noted plans to support asset-backed security tokens.
Speaking to Cointelegraph, JST Capital co-founder Todd Morakis, described the move as a likely catalyst for other major banks and financial firms in the Asian region to reveal their strategies for the crypto asset sector within "the next three to six months."
"You're going to see other banks come out and start saying what they plan on doing with [crypto] It's really going mainstream."
Morakis noted the page specified the exchange will be regulated by the Monetary Authority of Singapore (MAS). While details concerning the type of licensing the exchange is seeking were not included, Morakis said he believed the exchange would comprise the first digital asset exchange "in Southeast Asia that is regulated."
Morakis emphasized that DBS' digital exchange will offer a trusted fiat on-and-off-ramp for a wider audience to access the crypto sector, predicting the platform will be seen as "a direct link to DBS wealth management."
"It's a ramp now for more of the community to get access to invest in this asset class, and it brings in the banking community […] I think the people who haven't entered the crypto space are going to feel very comfortable trading on DBS's exchange"
JST's co-founder also expects the DBS Digital Exchange will reach beyond Singapore, stating: "For DBS to back it, it's going to be for their clients who are everywhere."
Morakis described the past month as being one of the most significant for institutional adoption in the digital asset sector, noting Square's recent $50 million investment in Bitcoin and PayPal announcing plans to launch cryptocurrency trading services in 2021.
Source: inula.org
Author: About The Author
admin
The $750 Million Pre-Halloween Bitcoin Options Expiry Has Started to Spook Traders
Even though cryptocurrency traders have been exuberant over the price rise, a number of analysts are focused on the large bitcoin and ethereum options expiries set to end before Halloween. Data from Skew.com shows $750 million in Bitcoin options is set to expire and prices could get volatile.
The price of bitcoin (BTC) touched an all-time 2020 high at $13,490 on Tuesday across global exchanges. The price spiked when the news leaked about Southeast Asia's largest bank DBS launching a digital asset exchange.
Despite the major price climb this month, bitcoin and ethereum markets are expected to be volatile at the end of the week, as a great number of options are set to expire on October 30. The professional data and analytics firm Skew.com discussed the situation on Twitter on October 25.
"60k [in] bitcoin options are expiring this week, $750mln+ notional," Skew tweeted. The major expiry not only coincided with the price rise but also the 12th year anniversary of the Bitcoin white paper will be celebrated the very next day. In addition to Skew's statistics, the exchange holding the most bitcoin and ethereum options contracts, Deribit, published an article about the "trading uncertainty" tethered to the expiry on October 30.
Deribit published a chart that shows the current term structure of Deribit BTC options. "Due to the time value of options, the term structure tends to be upward sloping," the Deribit report notes.
"However, the humps demonstrate an expected sharp price movement in a particular period of time. Similar to the traditional markets, the BTC market has priced in potential volatility in the election week of October 30 until November 6. The increased volatility is expected to continue at least until the end of Q4," the crypto derivatives exchange added.
According to Deribit's crypto derivatives channel on Telegram, a recent signal on October 26, 2020, explained that there's currently 61k BTC options set to expire on October 30 of which 40k is held at Deribit. Additionally, 190k ETH options ($76 million) will expire on the same day of which 164k is held at Deribit.
Deribit's crypto derivatives signal channel poses the question further:
This month we have seen a significant flipping of the [one] month skew and Bitcoin testing yearly highs. The 30 Oct '20 expiry comes just a few days before the eagerly watched US election. With over 7% of the expiry open interest fixated on the 13,000 strike, could any early unexpected US election news or movement in the partially correlated stock market trigger Bitcoin to cross the strike and trigger a run on volatility?
On Tuesday, Skew tweeted about Deribit's October expiry and said that dealers are likely long. "On Deribit for October expiry, 12k, 12.5k, 13k, and 14k calls are all open for 2k+ bitcoin options," the researchers tweeted. The largest strike is the 9k put with more than 5k options open. Judging by where the October vol is marked, sub 40, it's likely dealers are long against overwriters."
Of course, speculators have put a lot of weight into crypto futures and options markets and lots of times these secondary markets do nothing. For instance, traders and analysts often talk about CME gaps that never fill and big options expiries that are extremely boring. For instance, crypto traders expected lots of volatility after speculating on more than 87k worth of bitcoin options that expired on September 25.
Similarly to the upcoming pre-Halloween bitcoin and ethereum options expiry, data from Deribit had shown the exchange held 67k worth (77%) of the 87k September 25 contracts. That day historical BTC price statistics show bitcoin opened on the 25th at $10,248 and closed at a high of $10,771 later in the afternoon. Options markets had no effect on spot market prices going forward. Bitcoin markets did not end up being turbulent at all after the large expiry and ended up rising 24.4% since then.
What do you think about the $750M + bitcoin options expiry on October 30? Let us know what you think about this subject in the comments section below.
The post The $750 Million Pre-Halloween Bitcoin Options Expiry Has Started to Spook Traders appeared first on Bitcoin News.
https://news.bitcoin.com/the-750-million-pre-halloween-bitcoin-options-expiry-has-started-to-spook-traders/
The post The $750 Million Pre-Halloween Bitcoin Options Expiry Has Started to Spook Traders appeared first on BTC Ethereum Crypto Currency Blog.
Source: cryptomoneyteam.co
Author: By TeamMMG
Curve Finance (CRV) Spikes 100% on Peaking Trade Volume; What's Next?
The price of Curve Finance's governance token CRV spiked by more than 100 percent as the decentralized exchange (DEX) experienced a massive surge in trade volume.
Curve Finance processed about $2.8 billion worth of trades on Monday, almost 450 percent higher than its previous record high in September 2020. The jump in its trade volume coincided with a similar spike in the UniSwap decentralized exchange – of about $2 billion.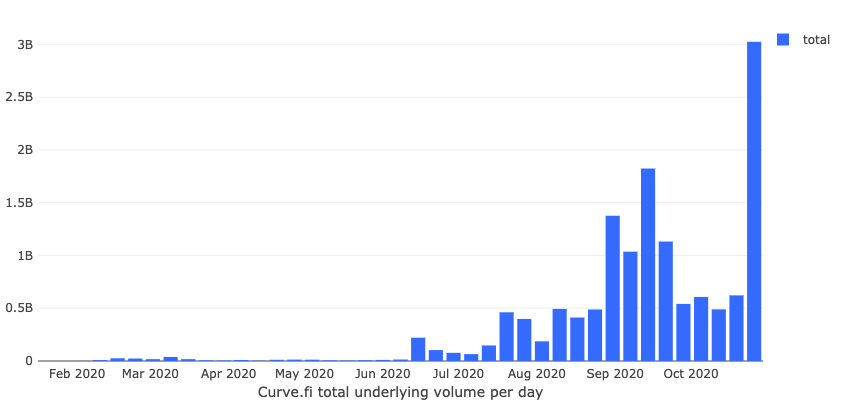 Curve.fi total underlying volume. Source: Dune Analytics
Together, the DEX platforms reported a $5.8 billion in total volume on Monday. Nevertheless, the reason why their daily trade activities rose to a record high was a hack at Harvest Finance, a liquidity pool that lost about $25 million to a flash loan exploit.
Researchers found that both Curve and UniSwap enabled the hacker to purchase, sell, and swap borrowed USDC and USDT tokens automatically by offering their liquidity pools. They, in turn, earned higher trading fees, with the Curve pool adding about $1.14 billion in CRV fee reserves on Monday alone.
The earnings partially explain why the CRV/USD exchange rate rose by 61 percent on Monday as it established a multi-week high at $0.689. Meanwhile, the rally came as a part of a modest retracement that started earlier on Sunday. That, overall, brought the CRV/USD's gains up by 108 percent.
Nevertheless, the latest rebound also came as a part of a broader downtrend. At its all-time high, CRV/USD was changing hands for as much as $25.17. But as soon as the hype surrounding the DeFi space faded, the pair started correcting lower from its overbought region.
It eventually crashed to 0.327 on October 25, 2020, down 98.7 percent from its record peak. The Curve Finance's latest bounce also came as a signal of bottoming out, so says a list of prominent traders.
"CRV up 45%. Perfect kind of setup and play with risk to reward," said a pseudonymous analyst. "The only bad part is that I didn't take this trade."
He forecasted that the CRV/USD and CRV/BTC would rise by as much as 10 times their current rates.
The $CRV trade I shared in the newsletter is already up a cool 40%.
— The Wolf Of All Streets (@scottmelker) October 28, 2020
Nevertheless, CRV was already showing signs of correcting lower as its price fell 17.88 percent during the Wednesday trading session. So it appeared, the jury is still out on whether or not the token could reclaim its record high.
"Genuinely VERY weird to see it not dump for a day," said market analyst Teddy Cleps. "I'm in full disbelief."
Source: icryptodesk.com
Author: admin
StockDoc Podcast: CEO of Australia's largest crypto exchange on regulatory momentum, market resilience and more
Seasoned financial advisor, investment manager and corporate director Dr Nigel Finch is back in the radio booth for another instalment of The StockDoc Podcast.
This week, the good doctor sits down with Caroline Bowler, CEO of BTC Markets.
Since founding in 2013, BTC Markets has grown into the largest, most liquid cryptocurrency exchange in Australia.
The company has seen over 270,000 Australians trade over $10.5 billion on its platform via its cutting-edge technology.
BTC Markets recently published an article on Stockhead discussing how central bank digital currency could be Australia's monetary future.
Click below to hear Nigel's chat with Caroline.
On mobile? Click here to listen with Apple podcasts, here for Spotify or here for Google Podcasts.
Like to listen to podcasts through another app? Just search for The StockDoc Podcast with Dr Nigel Finch and subscribe!
Subscribe to our daily newsletter
Join our small cap Facebook group
Follow us on Facebook or Twitter
Sponsored Articles
Source: stockhead.com.au
Author: Dr. Nigel Finch